Our grandfathers heard all the curses and accusations against Russia that were heard at the recent Warsaw NATO summit, on the eve of 1941. This time, the NATO Secretary General Stoltenberg calls on Russia to "restrain and frighten" Russia. His puppeteer, the American deputy. NATO Secretary General Alexander Vershbow, as befits the boss, is more solid and vague, he said of a "serious tension with Russia."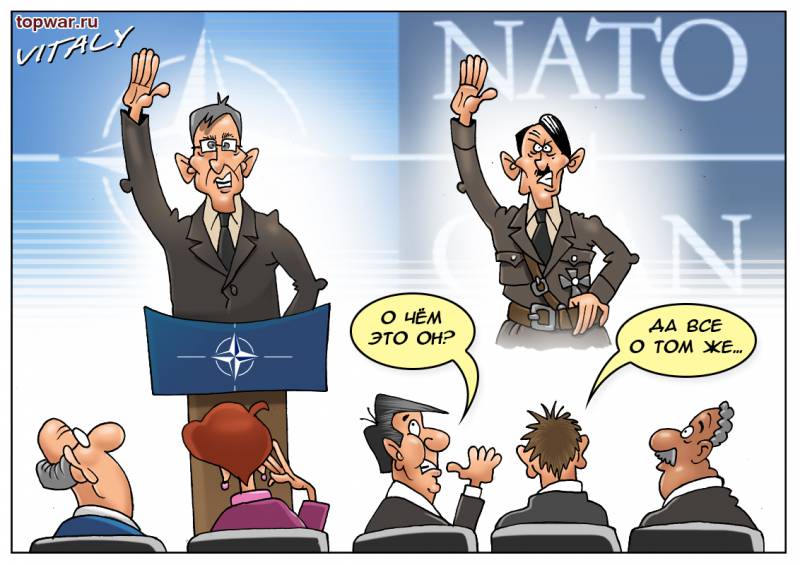 Especially "pleased" Anthony Macherevich, just Goebbels
historical
revelation: it turns out that "Russia gave impetus to the Volyn massacre", although Macherewicz is only the Minister of Defense of Poland. And as this minister-historian finished: "Any aggression comes from Moscow!"
Yes, Russia is to blame: the Bandera coup d'état in Kiev did not recognize, did not allow the Crimea to turn the Crimea into Khatyn and the American base, and did not surrender the Donbass ... But these Warsaw humanoids do not see the Odessa Khatyn and Donbass Volyn.
And Russia sees ... not only the Warsaw lie, but also the avenue to them. Bandera in Kiev, and US missile defense bases in Poland and Romania, even M.S. Gorbachev noted that "NATO is preparing for a real war with Russia" ... All this was, adjusted for the twentieth century, before the 1941 year. And England again separated from the continent plunging into the brown plague.
"Attitudes toward Russia will not be the same," they scare in Warsaw. They were scared ... More importantly: how will Russia feel about all this today? What should Russia do with all this?
"Such friends for the trunk are in the museum," Yevgeny Satanovsky, a well-known political analyst, suggests, however, in this case, it's worth taking a pause, because, in reality, Macherevich, and similar quasi-Nazis, whose name is legion, can be useful Russia in the collapse of NATO, for they are also "useful idiots", according to the European classification.
"Useful idiots" at high posts in NATO will do such things - and we will not find it enough. Perhaps, it is possible to establish an order: "A useful idiot for Russia", by whom we award our foreign "friends", besides their will, providing services to Russia. Anthony Macherevich is worthy to receive the IDE award 1.
Macherevich's historical discovery of the "Russian push" of Bandera's is simply congenial. Since Russia again gives a "push", now through Macherevich, who managed by one statement to put in a foolish position both Warsaw and Bandera.
After all, who benefits from Macherevich's discovery? By and large, Russia. Macherevich doesn't bother to prove himself - a lie does not need proof. Therefore, the political effect can exceed all expectations: Bandera is declared the brainless tools of Moscow, and the Poles are invited to kiss with their killers in Volyn!
In general, Russia needs to draw conclusions from all this ... It is impossible to "save Europe" any more, as in the Great Patriotic War, whatever happens to it today! Curse and forget, all non-brethren, and traitors, calling on occasion to the Slavic roots. Cain and Abel were brothers, but it did not save, but Abel was killed!
It's time to finish the Bandera party with America. Declare Shah: declare a Bandera-Nazi regime in Ukraine, and demand its immediate denazification. Introduce sanctions against Bandera for disrupting the Minsk agreements and shelling of Donbass, terror in the occupied southeastern territories of Ukraine. Energy, transit and other sanctions.
Put before the West the question of denazification of Ukraine as a condition for the normalization of relations. And "to strengthen the spiritual foundations and material well-being of the country," as V.Putin said on Valaam, that is, the army, the Navy and the Russian Aerospace Forces. For some reason, it seems that Putin on Balaam did not just pray like that, together with the Patriarch, but he was going with the spirit to make important decisions ... Which ones? We will not hurry ...
In general, maybe we should listen to Gorbachev that NATO is preparing for a real war, and regard the Warsaw Summit, with its battalions and missile defense bases, as a reason for declaring war on NATO? Why not? Wait until they misster base missiles with long-range missiles? It may be better, without waiting for it, to bomb these missile defense bases, for sure there will be no worse ...