Ukrainian authorities decided to take a step towards the development of Ukrainian
fleet
, who is literally the other day the leader of "Azov" Biletsky
call
"Amusing." A step in the direction of the "development" of the fleet was the realization that the format of the Odessa Maritime Academy in the Navy is no longer enough. As a result, at today's meeting of the Cabinet of Ministers of Ukraine, it was decided to reorganize the academy, in which future Ukrainian naval officers are trained.
On the basis of this decision, an entire Institute of the Naval Forces of Ukraine is being created in the structure of the Odessa Maritime Academy. Earlier (when there were significantly more ships in the Ukrainian fleet, and a couple orders of magnitude less of the Maidan pathos), the naval faculty was in short supply for training Ukrainian military naval "wolves". Now the government believes that the faculty is not serious, but the institute is another matter.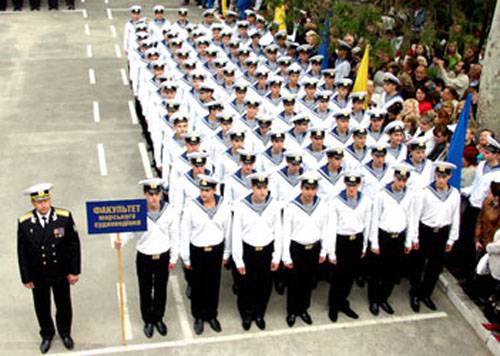 About when the country's naval forces will begin to replenish not only graduates of institutions and new admirals, but also full-fledged warships - the Ukrainian government has not yet reported. Nor does he comment on the information that Ukraine was going to "revive" before the 2020, as much as an "efficient" submarine fleet.
It should be recalled that at the beginning of the year the Odessa Maritime Academy was renamed and the National University "Odessa Maritime Academy" (NU "OMA") was transformed. This was reported by the university management at
the official website
. It is strange that the university has not yet been given the name of Stepan Bandera in the new Ukrainian tradition.