After considering a complaint by the Philippines about China's misconduct in the South China Sea (SCS), the Court of Arbitration (PCA) in The Hague ruled that Beijing has no
historical
rights to uninhabited atolls and islets. In response, the Chinese said that the decision of The Hague was not a decree for them, writes
Expert Online
.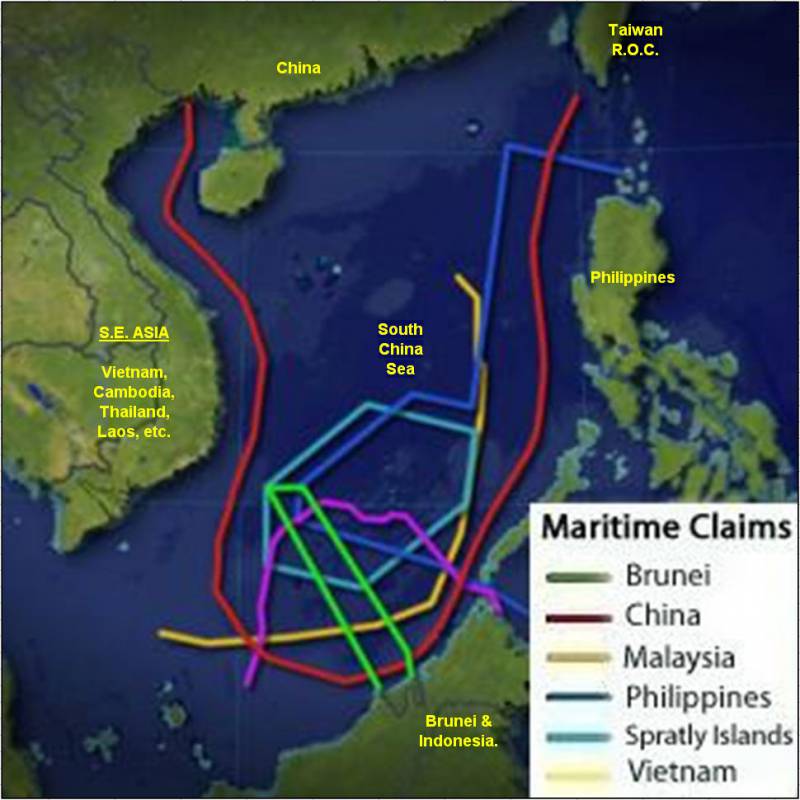 "Although the rulings of the Permanent Court of Arbitration do not have an enforcement mechanism, the Filipinos did a great job. They accused the People's Republic of China of non-compliance with the UN Convention on the Law of the Sea, which the Chinese, by the way, ratified, and created a precedent that all participants in territorial disputes in the SCM can now use, the article says.
The publication reminds that China "claims more than 80% of the SCM water area, while the states of the region: Vietnam, Taiwan, the Philippines, Malaysia and Brunei that have interests in the SCM do not agree with these requests."
Probably, they could succeed in challenging the territories, if they acted together, but there can be no talk of a coalition, since they all have claims to each other.
"The complaint says that the Chinese seized Scarborough's reefs in 2012, which Manila also claims to be. Beijing refused to provide documents to the Hague court confirming its rights to the islands, but in December 2014 of the year stated that the dispute with the Philippines is a dispute between the two states and does not fall within the jurisdiction of the Hague Court. The PCA, however, rejected this argument, "the newspaper writes.
After three years of litigation, the judge finally ruled in favor of the plaintiff, saying: "There is no evidence that China in the past had exclusive control over the sea and its resources. The Chamber came to the conclusion that China has no legal basis for presenting historical rights to resources that are within the nine-point demarcation line, which was held in Beijing. "
"As for China, the court decision does not oblige us to anything. The Chinese government has repeatedly made it clear that it does not recognize him and will not fulfill that our representatives will not be present at the trial, "said Chinese Admiral Sun Jianqu.
Judging by the statements of high-ranking Chinese politicians, Beijing is determined to be decisive, and does not intend to yield to anyone.
The RSA decision is unlikely to ease tensions in the region. "On the contrary, it will only strengthen it. Despite the fact that all parties declare their commitment to peaceful methods of resolving conflicts and disputes, the possibility of military conflict continues unabated, "the paper concludes.