Maydannaya authorities of Ukraine continue to present their arguments about why in the Toretske occupied by the Ukrainian security forces (up to 2016 - Dzerzhinsk), local residents are protesting against the presence of Ukrainian military in the city. Recall that in recent times, residents of Toretsk (Donetsk region) are active in order to ensure that Ukrainian troops leave the city. Maydannaya power, clearly not wanting to affect the fact that people are simply tired of the war and looting of Ukrainian "zahistnikov", trying to look for "scapegoats", as if responsible for the protests of the population.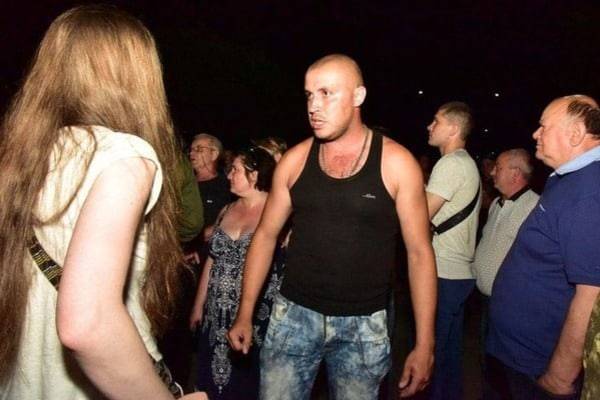 The man who calls himself the head of the General Directorate of the National Police of Donetsk Region, Vyacheslav Abroskin, announced that the authorities of Toretsk (Dzerzhinsk) are to blame for everything. Mr. Abroskin presented his "logical" calculations on his page in
Facebook
. The author's text is given without changes (copyright spelling and punctuation are also preserved):
Toretskaya local authority acts on the sly and despicable. Where help and support is needed by our military, they "attract" public organizations of veterans loyal to them and issue appeals for support to local authorities, about the need to withdraw Ukrainian troops from the city. Civilians are used for their own purposes. Experienced city managers are forcing and provoking people already tired from constant shelling. Instead of communication and support of the residents, similar appeals are poured on the official (!) Website of the city authorities.
Work out the order of the invaders, prepare the ground for a meeting of "militias"? Wrong time. It is no longer a 2014 year, but law enforcement officers will not allow blocking of our troops and "referendums for the people's republic." The Ukrainian military has repeatedly declared and adhered to these promises - they do not place equipment in the residential sector and do not hide behind the backs of children, old men and women, as the militants of the "DPR" do.
I recommend the local authorities to find the courage and soberly see what led to their many years of rule in the city. Toretsk is not a "garden city" at all, where people do not live thanks to, but in spite of. Well, after the assessment to draw conclusions and make the necessary decisions.
In the meantime, preventive testing of Toretsk and its environs by the Donetsk region police continues. Withdrawn
weapon
and drugs.
"Prophylactic testing" is a phrase that clearly reflects the terminology of Nazi Germany.
Against this background, the statement of the head of the so-called Donetsk OVGA Pavel Zhebrivsky draws attention to itself. It looks like this:
We promise all fans of the "Russian world" a hard sweep.
And it is also very similar to the Nazi echo.
In fact, all of these are regular episodes from a huge evidence base, suggesting that the Maidan authorities are ready to suppress any dissent with the help of force of arms, especially if it is aimed at restoring peace in the land of Donbass.