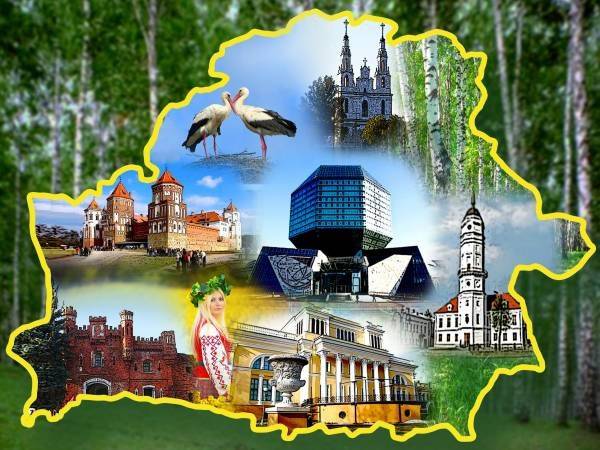 "Friend Arkady, do not speak beautifully ..."
"I never believed in mirages ..."
They say that the word has magic power. It is said that the word can heal or kill the sick. Some believe that the word can change the current reality. But I do not believe. So here I am incredulous. I have been writing in Belarus for a long time and articles, and comments. Belarusians read and take offense. Very offended and put a lot of minuses. Fun enough. There is such a straightforward logic: if a person responds poorly about the prospects of our country, then he does not love her. Moreover, the Russian-Belarusian friendship is being destroyed and the prospects of Belarus itself are rotting at the root.
So here: I personally do not believe in the "magic power of the word," I do not believe at all. I just read too many beautiful articles and heard many too beautiful speeches. That is why the brain, as a rule, filters them "on the machine". Any advertising slogan flies in my "trash". For I know that if a person reads adverts to you, then he wants either to put spaghetti on your ears, or to "sell the Brooklyn Bridge".
You know, such a common expression: "Too good to be true"? Here I am exactly about that. At the end of 80, the beginning of 90, a whole wave of similar information fell on Russia. We were popularly explained how "to live in a new way". Everything that was before was aggressively ridiculed, and new standards of thinking and new values ​​were imposed. Many have forgotten about it, but I remember it. And today it is enough to turn on the TV, radio, computer, just take a ride around the city / walk through the shopping center ... you will be flooded with spam. Alas, it is. Modern Russians have already developed means of protection. Protection on the machine.
Due to my professional experience, I am extremely suspicious of any "over-positive" information. If "everything is super" and I am "in such a guy", then first of all it is urgent to understand where I was, so to say, deceived me. Professional deformation, smack her in the root. Can not in the current reality
all
information on a large project to be extremely positive. It does not happen.
Therefore, even when I once heard about the "radiant" Ukrainian European integration (many years ago), certain nasty doubts immediately crept into my head. The option, when some kind Europeans come and give lots and lots of money to everyone, didn't immediately inspire confidence in me: there was the sad experience of the GDR before my eyes. The East Germans were also promised a very long "moon from the sky", and then they were extremely hard to throw. Having destroyed the East German economy, the Western Germans have explained popularly that "in order to live well", you must work very well. And everyone here is for himself. They could have said this before, but then the "wall collapse effect" would not have been achieved.
But when the Berlin Wall collapsed, and the economy of the GDR was destroyed, the "Aussie" popularly explained that "you are not here." In principle, "kidalovo" and impudent "razvodilovo" are the cornerstones of "western democracy". People are "composted with brains" for a long time, after which they "make a choice", the results are recorded. Hi everybody. No one in East Germany even tried to ask a simple question: "Where do the necessary resources for the Western standard of living come from?" A ridiculous question. That is why the factories in the GDR were closed down, and people were thrown into the street (by the way, did these plants work in many respects for Russia, doesn't they resemble anything?)
Somehow it all ended unexpectedly, right? The funniest, but the East German experience was especially brazenly ignored in Russia. But already at the beginning of 90-s everything was very clear: the economy of the GDR was much more modern than the Russian one, allegedly with all its might helped by the "weight", but it all ended with the closure of plants and mass unemployment. This is how the Germans treated the Germans. But for some strange reason, this experience was completely unclaimed. Everyone continued to believe in the "miraculous power" of the free market. But I already began to doubt ...
Now we all have the good fortune to observe about the same in Ukraine. Here people do not teach
history
, even the newest history, but in vain. What happened in the GDR, then repeated in Poland and Czechoslovakia (which ceased to be Czechoslovakia), in Hungary and Bulgaria, in Yugoslavia and Latvia. Dismantling of the economy and massive unemployment, plus massive "guest workers". In Ukraine, absolutely nothing new happens. All this has already happened more than once. Ukrainians do not shine with "guest workers" (no one needs them anymore). And so everything is strictly according to the scheme.
The local plant is closed, the local farmer goes bankrupt, and you can always buy goods in Germany. No money? No problem! You can get a loan in a German bank! The Fuhrer thinks of you (joke). That remained "unacquired" one Belarus. Well, and forgive, what awaits her? What options can there be? Just in fact? There is experience of the GDR, Hungary, Czechoslovakia, the ESSR and others. And it is absolutely identical. Dismantling of the economy and credit slavery.
Why the fate of Belarus will be different? Where does this come from? Where, strictly speaking, is a positive experience? If you are talking about Poland, when they cancel the "Eurocredit pumping" and when "Gaster" return from England, then I will look at the "Polish miracle" with interest. Here I want to definitely say something good about Belarus, but it does not work. Because, as we all already understood, Belarus does not want to integrate categorically with Russia. Belarusians dream of Europe with its values ​​and standards.
By the way, this is the reason for all misunderstandings and fights between "Russian and Belarusian". Here is the "root of evil." For Belarus, there would be nothing easier than integration with Russia. Especially 10 years ago. But there is no process. Stopped. But the thing is that Belarusians do not need it. They do not want this. And it's not even in Lukashenko. Their dream: "independent Euro-Belarus". Of course, the "friendly" Russia. It was with this dream of Europe that they reached the very edge ...
Firstly, it is necessary to explain that "euro-integrated" Belarus will inevitably be extremely Russophobic. Vivid examples: Poland, Lithuania and Ukraine. If you disagree, just call back examples when the country successfully "euro-integrated" and maintained excellent relations with Russia. I do not know such examples. Eurointegration of the Republic of Belarus will mean only one thing: sooner or later, the Russians and Belarusians will become enemies. Approximately, the Serbs are offered to introduce sanctions against Russia as a condition of "further joining the EU". The EU, unfortunately, is a fully Russophobic project (but one hundred percent "gomofilsky", and this is good news).
Such cases, no one is to blame. Therefore, the sweet dreams of Europe automatically mean a confrontation with Russia. And this is just one of the facets of the "European integration of Euro-Belarus". And without this nowhere: the Belarusians will simply be forced to do it. Why am I so confidently talking about the "European integration vector" of the "main ally"? Where does such iron confidence come from? The thing is that I have been watching the throwing of the official Minsk for a long time. And man, I'm attentive enough.
Many times I asked the same obsessive question to "fraternal Belarusians": "Why did you not recognize Yu. Ossetia?" They answered a variety of things, and I, in principle, know the answer myself: Russia's past and present for them, and they see the future in Europe. From here all mutual insults and misunderstanding. But they cannot tell us directly that Russia is no longer very interesting to them. Not to recognize Yu. Ossetia is to quarrel with Russia. Bad, but not fatal. To recognize Yu. Ossetia is to quarrel with the very Europe. Thereby destroy your "future". Each puzzle has its own clue ... In 2011, the Republic of Belarus stood on the brink of bankruptcy and collapse, but did not recognize Ossetia and Abkhazia. The dream of Europe turned out to be more expensive. That is one call from Brussels: "If you recognize South Ossetia, then you will not see Europe ..." And that's all, the game has been played.
Everything is very simple, understandable and logical. Westerners know how to trade a dream. "American dream", "European dream" - business, nothing personal. Sorry, business on suckers. You can invest in a dream for a very long time. Infinitely long. Then it will be popularly explained to you that evil Russians have destroyed your euro spot and that you need to go to war with them because of this. In Ukraine, we are seeing exactly this picture. Salaries in 2 will be thousands of euros, but after the collapse of Russia. Something like this.
That is why I do not trust all the "explanations" of Belarusians? They are not completely sincere, moreover, when you start "beating" them with direct questions on the foreign policy of the Republic of Belarus (never pro-Russian), they professionally begin to "leave the line of impact". Masterfully leave. Such feints and eights lay that you admire. Meanwhile, "telling the truth is easy and pleasant." So what's the deal? There is no language barrier. But they can not be completely frank. Not so simple with the Russian-Belarusian friendship. And Belarusians here are much more in the subject than naive Russians, who can not understand things that are quite obvious to a Belarusian.
What is Russian friendship for? This is holy. This is not exchanged. Belarusians are a little different: friendship of the Republic of Belarus - the Russian Federation concerns
only
RB and Russia, no one else. The Republic of Belarus has the right to build relations with all the rest without looking back at Russia. This is something they cannot understand and are very offended, but everything is simple. By the way, the Belarusians in response to us are also very much offended: why do we tell them who to be friends with. That is, from their point of view, after the destruction of the Su-24, Lukashenko may well communicate with Erdogan and remain at the same time Russia's close ally.
Perhaps this view will seem strange and even wild, but try to understand it. People put a slightly different meaning into the word "friendship", and as a result we cannot understand each other. Such was between us "non-exclusive" love. Why do not Belarusians explain this? A little awkward. Instead: endless feints and dodge. Isn't that right? All wrong? What's the truth? The fact is that I have been reading Belarusian posts for already seven years. Eye already zamylilas. If a person is ready to explain everything as it is, then it does not take too much time.
But when it is necessary to communicate, but one cannot speak the whole truth ... Then everything begins. In principle, with the start of the operation of the VKS in Syria, I did not expect any support from Belarus. Generally no. I was not mistaken. Europe does not approve, because no. And the Belarusians themselves are not very interested. Although it seems like VKS fought with terrorists ...
Simply, there is a lot in Belarus that Belarusians prefer not to spread in Russia. This and anti-Russian sentiments among a large part of society, flowing into anti-Russian demonstrations, this and sympathy for the Ukrainian nationalists, and this young people in pickets with portraits of Bandera and Shukhevych ... When you point to these things, the reaction is: "And this ..." That is all well aware, but prefer not to discuss it with the Russians. Why to wash dirty linen in public? Guys, I think you are not completely frank with us ...
And I somehow do not observe the pro-Russian sentiments, organizations and demonstrations. Instead, I hear funny stories that: "Russians and Belarusians are brothers forever," and only certain reptiles (like me), who do not believe in this grace, prevent this.
For Belarusians (
especially young
) The light in the window is Europe, but not Russia. This is a fact, and this must be considered. Europe cannot offer anything to Belarusians. And this is also a fact. But nobody wants to reckon with this in Belarus. It is here in this "double deception" (Europe makes a fool of Belarus, and that one is trying to deceive Moscow) that lies behind the clue of the hole into which Blue-eyed failed.
Ukraine, in principle, with a reasonable leadership could "hook on the corner" for Europe. The economy in theory is more self-sufficient. Belarus, in principle, has no raw materials, no sea, no chernozem, nothing. Former assembly shop, yazvi it. Assembly shop, built according to Soviet standards. And let's imagine that Frau Merkel set herself the task of integrating the Republic of Belarus at any price. Brad, but let's say. To compensate, so to speak, the dark past of mutual relations. Oscar Paul Dirlewanger began to appear in the dreams of an old woman, so she decided to sin and pray.
First problem: Lukashenko and his
"Redhead"
(emphasis on the second syllable). Lukashenko can "consume" any amount of resources, and the regime will only become more beautiful from this ... In the sense that he is not completely reforming. No way. I am considering only politics so far. So, the "red" will have to clean. No other way. But this will automatically mean chaos in the country. That's when we will find out how Belarusians are "peaceful people". I would rather find out from
News
but by no means personally.
Any attempts to reform the regime, relying on the "old frames", will lead to its reload in the new edition. To create a new system of power in a couple of days or even a couple of months is absolutely impossible and will not work for anyone, including Savchenko. Tell me, how do you see the political transition of Belarus to the Euro-Belarus? Technically? I see no options other than rolling into bloody chaos.
At the same time, I also eliminated the intrigues of all external players, including Putin, with a strong-willed decision, and left Merkel and Belarus alone. However ... the decision is not pecked, it is not viewed. Even in the ideal case. But we still forgot to mention the economy ... And here it is still more interesting: the economy of Belarus is completely tied to the Russian Federation. Are you suggesting that you completely dismantle it and build from scratch a new, radiant post-industrial economy, powered by the clean energy of wind turbines?
And sorry, who will pay for this pleasure? In the face of growing problems of the European Union? Even if the European Union were on the rise, as at the beginning of the 90, Belarus would inevitably repeat the fate of East Germany in a more sad way. Simply, these countries have something in common: a compact, relatively developed, homogeneous country with the main employment in the production of goods, and not raw materials. And high-quality agriculture and hard power: Lukashenko, why not Honecker? And where is East Germany now? At the same time, keep in mind that Belarusians are never Germans (completely foreign to Europe).
Here are the very first attempts "on the fingers" to estimate the bright future of the Euro-Belarus to lead to a dead end. No, of course, as young children dream of becoming astronauts or banksters, you can also dream about something beautiful, for example, about European integration. But dreams in most cases remain dreams. Fine, but not feasible. I now wonder, and what options does the "Western coalition" actually plan for Belarus? In order, so to speak, not to give money, and so that everyone is satisfied? Any suggestions?
Here again, what is the difference between Russians and Belarusians? Russians already have a clear understanding of all the charms of "friendship with Europe". We had moods like Belarusians, but in the 90s. Until Yugoslavia-98. Then our views have changed somewhat. For me personally, the bombing of Belgrade was an absolute shock. Somehow I could not believe until the last moment. But alas - it turned out to be true. Conducting direct analogies, Yugoslavia-98, it's as if Russia carried out a series of missile-bombing attacks on major Ukrainian cities in 2014 in order to exert political pressure.
So, what is interesting: Russia has not done this, but for many Belarusians it is like a suspicious aggressor. And the European Union, which was actively involved in such matters, is all so white and fluffy. I read both Ukrainian and Belarusian press and comments to it quite a lot, the air war against the Serbs took place quite recently. However, nobody remembers this either in Belarus or in Ukraine. And in Kazakhstan and Armenia, this is somehow not very fond of remembering.
That is, as we all understand, such a fact certainly took place: a military attack was committed on a sovereign state and part of its territory was taken away from it. At the same time thousands of people died and hundreds of thousands became refugees. There were strikes against civilian objects and, as a result, enormous destruction. Fact? Fact. But neither Ukrainians, nor Belarusians, nor other residents of the post-Soviet republics (with the exception of Russia) are interested. But they all remember that Russia "attacked" Ukraine. Dangerous neighbor. Here we have that classic case: "
A lie repeated a thousand times becomes true
". And it's useless to prove something to them: they already live in this world.
That is, there are some very unpleasant facts: Yugoslavia, Iraq, Libya. And here comes the "watershed line": the attitude to these events in Russia and Belarus is very different. Fundamentally different. By the way, pay attention to this. If Iraq was attacked primarily by the United States, then aggression against Libya is mostly a European idea. It was precisely this war that finally undermined Russian-European relations: it is impossible to be friends with someone who, like that, easily and simply attacks their neighbors.
But Belarusians have a bright dream of Europe, so there were no negative emotions about the aggression against the Libyan Jamahiriya and the murder of Gaddafi. You know, any friendship needs verification. So, the Russian-Belarusian friendship did not withstand such a test even once. You just have to leave the Moscow-Minsk line and try to consider some serious political event outside of Russia / Belarus. And compare the reaction of Moscow and Minsk. And be amazed.
You see, while conversations are conducted on the principle of Russian-Belarusians, we are brothers, etc. (namely, that is how the representatives of Sineoki prefer to lead them), then it is almost impossible to prove / disprove something. But if you leave this line ... The picture changes dramatically: the shelling of Donetsk and the "hunt for refugees" did not cause any rejection in Belarus, in the war in Syria I don't recall the support of Assad and the condemnation of terrorists, the Crimea, the Caucasus ...
And every time the Russians have one opinion on the problem, while the Belarusians have a completely different opinion. Sadly Here the Belarusians actively invited to the "VO" to visit the "Stalin Line" ... It's funny, but if Sevastopol come, by the masses, all are in vests, caps with St. George ribbons and the flags of Crimea ... And what will happen? Will you accept? Or better not worth it? Europe will not approve?
You see, what a sticking point is politics, how can it embroil two fraternal peoples? The paradox is that, for example, Chechens and Kadyrov are their own today, unlike Belarusians with Lukashenko. Such is the historical paradox. Do not touch politics? Well, then you can easily "fraternize" with anyone - from Germans to Japanese (Papuans and Sioux Indians). Therefore, how many do not say warm, friendly, beautiful words - the situation in the Russian-Belarusian relations will not improve. Words, they only describe reality, but do not change it.
The truth is that conducting an "independent" foreign policy for some strange reason did not bring Belarus any bonuses, but spoiled its relations with Russia coolly (paradoxically, the official Minsk could quarrel with both Brussels and Moscow at the same time There are far fewer problems with Moscow and Brussels). And the truth is that pursuing such a policy further means complete discord in Russian-Belarusian relations. It is also the bitter truth that Belarus had no prospects for "European integration" from the very beginning.
Therefore, when I read the Belarusian press and comments to it, it becomes sad and surprising for me: people discuss absolutely unrealistic options for development. Europe will not massively invest in Belarus, will not buy Belarusian goods and will not finance structural reforms in the Republic of Belarus. With or without Lukashenko. Never for anything. Russia, in turn, is categorically not interested in someone's European integration at its own expense. This was demonstrated by the example of Ukraine.
Information for analysis collected mass: GDR, Lithuania, Bulgaria "dived into the EU", but did not acquire special grace. Today the European Union is in the deepest crisis. But the only prospect seriously considered in Minsk is "rapprochement with Europe". Although a carcass even stuffed, while maintaining Lukashenko and friendship with Russia. The USSR and World War II go farther and farther into the past. But modern Russia and Belarus have little in the sphere of common political views.
World War II ended 70 years ago. A long time ago. The USSR collapsed a quarter of a century ago, a generation has also grown up that simply does not remember it. And what connects modern Russia and modern Belarus? Good question. Just almost always, when you ask Belarusians about such things, they are immersed in history. History is good, but what do we have today? Over the last 25 years? General?
Russia does not share the "European values" and is not going to integrate there. The choice is made. Ukraine is very timely and certainly extremely well Euro-integrated. Everything, there is no more such country. Lithuania seems to be there, but there is very little population left. What do Belarusians actually want? By itself, the Republic of Belarus is a rather small country and does not possess either natural or financial resources for independent navigation. Infinitely cheating Moscow is also impossible.
The slide of modern Belarus to us is sharply down explained very, very simply: the very Soviet resource has been eaten. For a long time it was enough for almost twenty years, considering the assistance to Russia. And here he is finished. The paradox is that even for the "Minsk strategists" it came as a complete surprise. Is there economic planning in Belarus? Oh well. The "Belarusian miracle" had two sources: help from Russia and the Soviet backlog. And here they are exhausted. And then it turned out that Belarus does not have any "own" economy.
The "westward" maneuver is a purely political maneuver: to demonstrate its "independence" and show that Belarus has options. Belarusian classics: "Russia will not help, China will help." For some reason, an "independent" Belarus constantly needs someone to help, and yet there is no such thing with independent states. There is such a tragic paradox: Lukashenko managed to convince the Belarusians that they were not Russians, but he could not build a self-sufficient economy (the wrong person had been doing 20 years).
In Europe, a lot of good, especially money. But it's like European money, and the Europeans don't scatter it. Again, the British showed the classics of the genre with their high salaries. Tired of the invasion of the "Europeans" from Poland / Lithuania / Latvia, they went to the exit from the EU. And rightly so, why feed the "rogue"? The British figured out how much they are losing on the "united Europe" and its numerous beggars the "new European members". And they decided to leave this hospitable organization. What caused the terrible "batthert" among Brussels officials, who can also be understood: if all donors run away, who will pay them? And they have wages hoo! European wages!
And in connection with the growing economic problems inside France and even Germany and Brexit, an unexpected question arises: what about the millions of labor migrants from Eastern Europe? In Britain alone, about a million Poles settled, and on the very first day after the referendum they were very persistently asked "with things to go." We asked simple, patriotic British, who very logically believe that local people need jobs in the British economy, not newcomers.
The same touched the proud Balts. They, too, aggressively pointed out. And how well it all began ... What perspectives were drawn ... The funny thing is that "re-emigration" will lead to a political crisis at home. There are no vacancies in the Baltics or in Poland, but there is already a political crisis. Only one way out - in the army of them! And the war with Russia, which is to blame for everything. So the reasoning about the "movement of Belarus to Europe" is a bit late. Six years exactly.
Why then all these "jumps and grips" around the Republic of Belarus? Well, for the Belarusian authorities this is the last opportunity to stretch time. And for Europeans - a means of political manipulation. That's all the reasons for games around European integration ... European integration for Belarus and Ukraine is like a horizon that is constantly moving away as it moves to the west ... The thought is definitely beautiful: there is some kind of magic structure that has a lot of money and freedom and gives you all of them with a generous hand suffered from poverty and tyranny.
Only small children and Eastern Europeans can believe in it ("Suddenly a magician will arrive in a blue helicopter ..."). In general, the scam of the "enlargement of the European Union" ends right before our eyes. And the Minsk authorities only just finally got together to invest in MMM ... I'm wondering how they will live now? So, gentlemen, as the wise ancient Romans used to say: "Veritas vos liberabit" ("The truth will make you free"). Do not waste your time analyzing "informational garbage".