Polish elites, who were clearly impressed by the fall of Petro Poroshenko's knees in front of the Polish memorial to the victims of the Volyn massacre, decided to use the Ukrainian point of view on the Volyn region's 1943 events. So, in the Polish newspaper
kresy.pl
There were statements by the Polish Defense Minister, Antoni Matserevich, who blames the genocide of the Polish population on (attention!) Russia ... it was Russia that "stood at the origins of the massacre in Volyn." Not Putin? ..
Matserevich recognizes the Volyn events 73-old-year-old as genocide against the Polish population, he also acknowledges that the massacre was organized by Bandera. But then the "logic" of the Polish minister causes, to put it mildly, surprise. According to Matserevich, the UPA detachments "could act according to the plan of the NKVD." If so, then does it mean that Macerevich blames Bandera for links with the NKVD? And how will the Bandera fans in Ukraine look at this?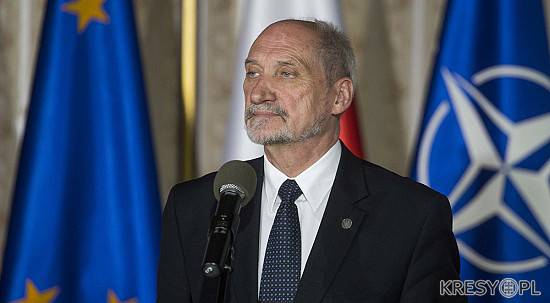 In fact, this completely repeats the "version" of certain representatives of the Maidan authorities of Ukraine and pseudo-historians of the "nezalazhnaya" state that the "oaths of Muscovites", namely the Soviet special services, were involved in the events in Volyn. At the same time, thousands of proofs that the massacre of tens of thousands of Poles was staged by Bandera executioners, who swore allegiance to Nazi Germany, are not at all interested in such people. Apparently, they are not interested in Pan Macerevich, who in his Russophobia clearly reached the obvious insanity, making absurd conclusions upon rejection
historical
facts.
Against this background, Poland is in no hurry to admit the obvious: its own crimes committed against thousands of Red Army prisoners of war who found themselves in concentration camps in Poland at the beginning of the 20s. According to historians, in Polish concentration camps (including the notorious concentration camp in Tucholi) thousands of Soviet prisoners of war disappeared to 80. Until now, from the side of Warsaw, there is no official recognition, no apologies, no compensation to the relatives of the victims, or a memorial complex.
PS In the case of the Polish minister, the term "Warrant" in Russian appears to have the right to life ...