Farewell ceremony for Army Colonel who died in Syria today took place in Kuban Korenovsk
aviation
Ryafagatem Khabibulin. By the decree of the head of the Korenovsky district of the Krasnodar Territory, Sergei Golobrodko, July 12 in the city and the district was declared the day of mourning. Information Agency
TASS
reports that hundreds of residents of the settlement, including co-workers, as well as relatives and friends of the commander of the 55-th separate regiment of army aviation, gathered in the central square of Korenovsk to honor the memory of the soldier who gave his life.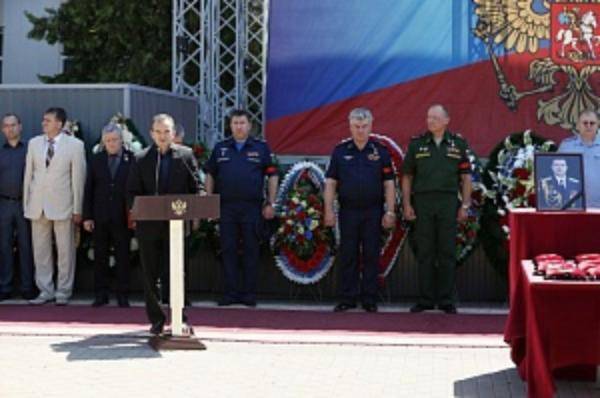 During the farewell ceremony, the son of the deceased pilot Ruslan Khabibulin delivered a speech:
Father died as a hero, doing everything he could. He taught us to go only forward and always be human. I ask young people to look again at the example of the father and try to be like him.
After the mourning ceremony, the coffin of the pilot's body will be delivered to the Samara Region by aircraft of transport aircraft. In Syzran, the cadets of the Higher Military Aviation School will bid farewell to Colonel Khabibulin. After that, the body of Colonel Khabibulin will be delivered by helicopter to his home village of Elizabay Guy, located in the Ulyanovsk region. The soldier who died in Syria will be buried in the village cemetery. Local authorities ordered to assign Komsomolskaya Street, on which Riafagat Khabibulin lived, his name, and also to erect a monument to the deceased pilot.
Relatives and friends of the pilots reported that when he went on a business trip to Syria, he said: "If something happens to me, bury me in my native village."
Today (according to other sources - tomorrow) another Russian pilot who died in Syria - Yevgeny Dolgin will be buried. In the last journey of Yevgeny Dolgin in his native village Sokolovy of the Saratov Region, relatives, relatives, friends and colleagues are conducting. The question is being considered that in honor of the pilot one of the streets of the village will be named.
Recall that Ryafagat Khabibulin and Yevgeny Dolgin, according to official information of the Ministry of Defense of the Russian Federation, were killed in Syria as a result of the shelling by the militants of their helicopter from the ground. Unofficial sources as a cause of a helicopter crash see the abnormal triggering of an unguided rocket from the rotor wing ammunition.