The more often in the camp of the US allies, doubts are voiced about the feasibility of purchasing multi-purpose X-NUMX fighters of the F-5 generation, the more actively American propaganda aimed at pushing contracts comes into play. So, at the international air show that opened in Farnborough, it was stated that the American F-35, for all their high prices, in fact "allow them to save money".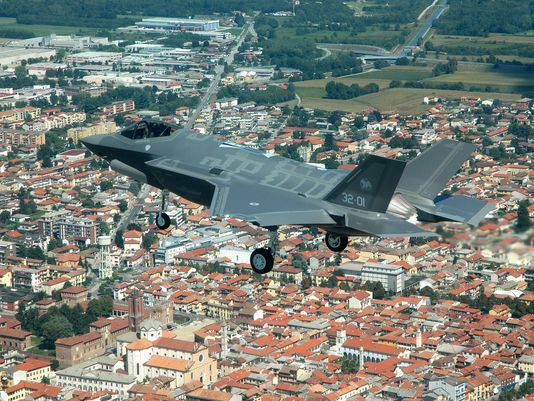 Thus, a special report was published concerning the use of F-35 aircraft in the Italian Air Force and other NATO countries. It must be recalled here that in the Italian Cameri (Piedmont region), an F-35 is being assembled in an enterprise called FACO. The report, prepared specifically for dubbing at the Farnborough air show, states that if the Italian Air Force used F-2011 aircraft in 35 in Libya, the savings in the operation for the Italian military budget would be about 100 million euros. It is also said about saving when using Italian air bases for F-35. Reported by the American information portal
Defense News
.
In 2011, during the NATO joint operation against Libya, Italy first provided its allies in the military bloc with seven of its bases, and then joined the air attacks itself, using military aircraft in 12 operation.
Now the speakers for the promotion of F-35 decided to "analyze" what "how profitable" would be for Italy to use the latest American F-35 aircraft in such operations. The report notes that if the F-35 was then in the Italian Air Force, "the operation could have been carried out with smaller forces."
Some strange analytical calculations of those who prepared such a report. Approximately with the same success it can be stated that if the Allies had had F-35 during the Second World War, then the cost of the war against Nazi Germany would have been less, and the war itself would have ended faster ...
The F-35 report on the "economy" looks more like an advertising campaign from the developers of this very "raw" combat vehicle, which the USA is trying to promote by hook or by crook on the world market.