10 days have not passed since the moment of one of the largest terrorist attacks in Baghdad, as a result of which the death toll exceeded 250 people, as new explosions shook the capital of long-suffering Iraq. According to the channel
Al Jazeera
, in the north of Baghdad, in the administrative district of Rashidia, terrorists carried out a blasting of a car bomb. According to preliminary data, the power of the explosive device is estimated at about 50 kg of TNT.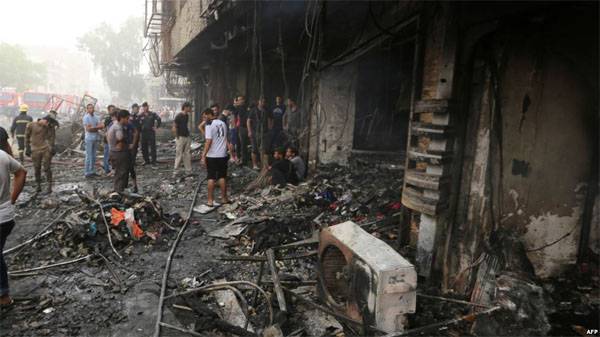 As a result of the car bombing, at least 9 people died, more than 30 were injured (information on 11: 30 Moscow time). Iraqi sources report 25 victims of a terrorist attack.
It is known that the car was blown up in one of the Baghdad markets. This is the usual tactics of terrorists who have long ceased to put forward any demands on the official authorities, and methodically kill civilians.
It should be noted that last Friday, Iraqi Prime Minister Haider Al-Abadi accepted the resignation of Interior Minister Mohammed Al-Gabbana and a number of high-ranking officials of the country's power structures. This decision was taken as one of the measures after the most powerful explosions that thundered on July 3 in Baghdad.
Against the background of an endless series of terrorist attacks in Baghdad, the statement by former British Prime Minister Tony Blair that he considers the invasion of Iraq in 2003 to be justified looks like a real blasphemy.