Amid numerous
News
About obscurantism of the Maidan authorities of Ukraine and the next anti-Russian attacks by NATO functionaries, I absolutely do not want to ignore information about Russian people who today bring glory to the Fatherland with their labor and dedication. Sometimes such people seem strange to someone, sometimes even fanatical, but their enthusiasm cannot be envied. One of such people is the famous modern traveler, the conqueror of the seas and oceans, Fedor Konyukhov. His circumnavigation is a reminder that the Earth is our common home, despite all the differences and conflicts that exist in this world.
Having already made dozens of unique journeys and crossings, Fedor Filippovich (born in Zaporizhia region) intends to conquer another height. And the height in the truest sense of the word. At 2 o'clock at night (Moscow time) 12 July Fedor Konyukhov on the world's largest balloon "Morton" is sent to the new Around the World. The start of the journey of the world famous explorer will take place in Australia - at the airport of the city of Northham.
The assistants of Fyodor Konyukhov report that at the first stage of the journey according to the plan - the crossing of Australia takes about two days. To do this, the ball must enter a powerful air flow, the speed of which exceeds 200 km / h. The final goal of Fyodor Konyukhov is to become the first person on Earth who will make a round-the-world flight in a balloon without stopping at the first attempt.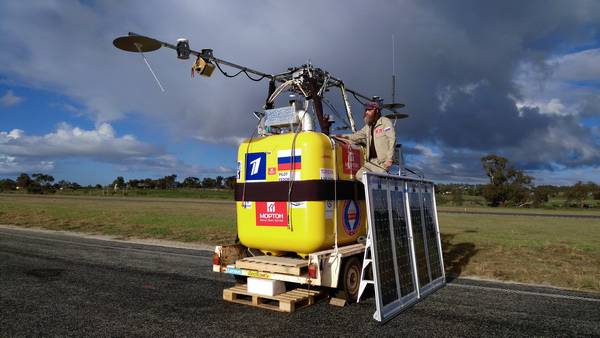 For reference: Fedor Konyukhov is a Russian traveler (born 1951). Graduate of the Bobruisk Vocational School, the Odessa Navigator and the Theological Seminary of St. Petersburg. He has the rank of archpriest of the UOC of the Moscow Patriarchate. Fyodor Konyukhov was awarded the Order of Friendship of Peoples.
Of the numerous achievements of Fyodor Konyukhov: the conquest of Everest, the world record for the intersection of the Atlantic in a rowing boat, the intersection of the Pacific Ocean alone in a rowing boat with a world record.
Now Fedor decided to conquer the ocean of air. We wish Fyodor Konyukhov success!