The head of the Estonian command of the defense forces, Lieutenant-General Riho Terras, said that the appearance of Russian journalists at the NATO summit was "the main reason for exacerbating the unhealthy situation around the summit." Terrace, which refers to the Estonian edition
Eesti Päevaleht
, reports that Russian journalists, with their publications about the Warsaw summit of the North Atlantic military bloc, "inflate the anti-NATO issue" and "even compare NATO with Nazi Germany." According to Terrace, this leads to a "nervous situation" in Estonia itself, fearing "unpredictability" of Russia.
At the same time, Riho Terras urged all Estonians to calm down. For this, the commander of the country's defense forces picked up a "weighty" argument. According to Terrace, Estonia has nothing to fear, since "on defense" she has three nuclear powers at once. Apparently, the Estonian general meant the United States, Britain and France, which are members of NATO and have nuclear potentials.
Terrace:
Many states want to contribute to the northeast and southeast (EU). I mean the Baltic countries, Poland, Bulgaria and Romania. I think we can be pleased. And we should calm down a little, bringing to the public that this is not a war at all. This is a peaceful time.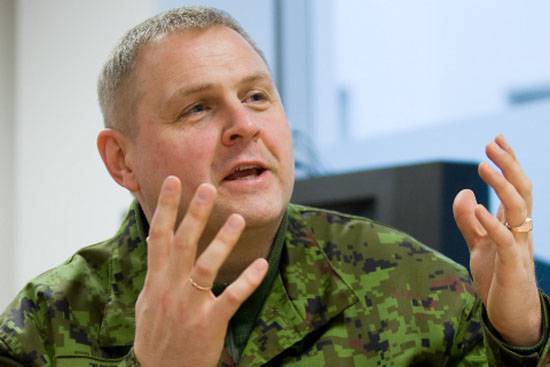 Apparently, the own rhetoric of the Estonian authorities has so intimidated individual members of society that Estonians cannot always figure out what time outside the window: peaceful or military ...
Terrace:
We are supported by three nuclear powers. This is a powerful message.
Then the Estonian commander switched to the way in Warsaw, with his British colleagues, discussed how to arrange for representatives of the Armed Forces of the Royal Armed Forces in Estonia. According to Terrace, the question of where the British military could rest was discussed, "
drinking a pint of beer and eating fish chips
"(This is a direct quote).
Terrace:
No need to pay attention to Russian propaganda. In peacetime, we must ensure the normal life of the soldiers - such as they have at home.
Interestingly, and the Estonians will also prepare flowerbeds for those NATO soldiers who want to skip a pair of foamy mugs?