On Saturday, the patrol ship of the 11356 project Admiral Makarov, built by the Yantar plant, was transferred from Kaliningrad to Baltiysk to pass the sea trials, the blog reports
bmpd
.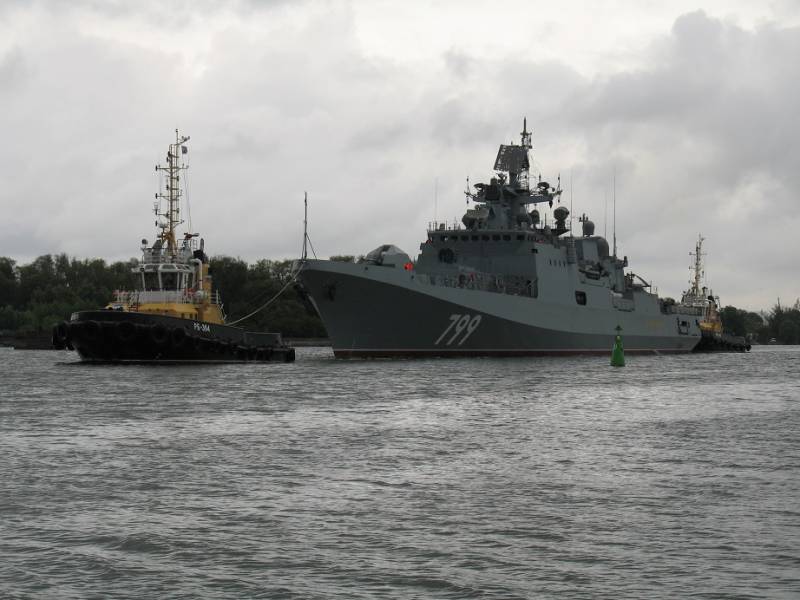 The first exit of the frigate at sea is scheduled for the end of July.
"The construction of ships of the modified project 11356 (sometimes referred to as project 11356R or 11357) is carried out by the Yantar Shipyard in Kaliningrad under two contracts for three ships each, concluded with the Russian Ministry of Defense on October 28, 2010 (the first three) and September 13, 2011 (the second troika). The cost of each contract is 40 billion rubles. All six ships were originally planned to replenish the Black Sea
fleet
", - said in a commentary on the blog.
"Admiral Makarov" completes the top three ships. It was laid in February 2012 g, launched in September 2012.
The first (head) frigate, the Admiral Grigorovich, was transferred to the fleet in March 2016 g, and arrived in Sevastopol 9 June.
The second - "Admiral Essen" transferred to the Navy 7 June 2016.
"The construction of frigates of the second three was also launched at Yantar: Admiral Butakov (laid on July 12, 2013 of the year, 2 March 2016 of March launched), Admiral Istomin (laid on November 15 of 2013) and Admiral Kornilov ( Bookmark has not yet been officially made). The construction of the ships "Admiral Istomin" and "Admiral Kornilov" is currently suspended until the issue of completing their main power plant is resolved, "the author recalls.