Greetings to you, my faithful friends, readers! The next notes about our life are already in my head. It remains only to try to translate their feelings into words. I am sure that most of you know how hard it is. You feel so much that vocabulary is simply not enough. Well, remember at least your first declaration of love.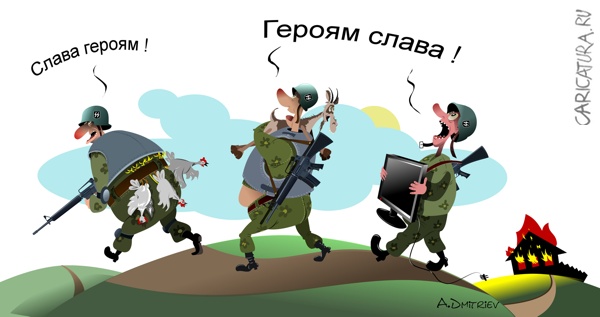 Yesterday Tarakanushka asked (yeah, let it be so) to "bring up" one of our Tarakashechek. Completely strayed from the clutches, a tomboy. Elder does not listen, all nonsense transmits. From the TV. In short, rolls to the level Vyshivanka. One joy - educated and able to think. In me. Well, with logic, everything is in order.
And now, I bring him up, which means, but in the words "get up on the right path" I've been wedged. Likewise, my father told me when we were "surrounded" with the neighboring garden for apples in childhood. Well, what can you do. The neighbors are always apples, pears, cucumbers, all sorts of tastier. This is still not understood my law. And, probably, not only by me.
Here you go. I felt my father's words, got up on this very "right way". I stand ... And then what? It's boring to stand for a long time, but no one says where to go. Just like now in Ukraine. Chose the European path of development. Condemned all the real and imaginary flaws of the past life. Most of the monuments were demolished and passed for scrap. Painted the country in the colors of the national flag. Killed the economy. We kill the population.
We got on this very "right way". Periodically we even hear about some kind of "road map". Is it like a car navigator? "Turn to the right" in a nasty voice ... And we have been standing for two years.
And the organism is alive ... It's not only necessary to feed him. With this in our land, so far order. In the fall, we sell those excavators that grow in the garden, if you forget the shovel in the spring in the garden. The body, it also produces these ... waste products. And it was here that the problem appeared. For two years. Where to put them now?
Talked here with one type. A sort of snob. From bumblebees. Well, those who are low-over the ground ... So you know what decision they made in relation to the people? Do not believe it. They now do not bite the Ukrainians! Just before death. When some Svidomo foolishly foolish. And so - no. Just ignore this view as a given. Be afraid to get dirty.
I do not know how people, but I, like a cockroach, would feel insulted for such an attitude. If someone does not believe, go ahead to the scientists. They will confirm.
You know, reading your comments, noticed an interesting trend. "Laughter through tears". Nothing like that! Tears are gone. There is only laughter. It's like a Japanese kamikaze in World War II. There is a plane full of explosives. You fly. But the chassis to land, no. And there is no parachute. And fuel close to each other. Only just to reach the goal. And what options? You yourself chose the path of the "last heroic flight." You yourself became a hero in life. So are we. I described our "airplane" in previous notes. But fly ...
And the "hut" our stew is also not required. What's the point of this? You quenched her a quarter of a century, so what? Extinguish one corner, and we set fire to another at this time. We understand that fools. But ... mentality. Let the rich neighbor be on the border of a poor burnt out.
We have a week, I tell you, it was interesting. Wherever you throw, everywhere is funny. Therefore, I'll start with the "black humor." Not invented, but the present. Our Kiev. A sort of Kiev cake, with a taste of ... Kiev, but not cake.
Countrymen gathered for a drink, a snack ... To talk about life. The normal thing seems to be. Moreover, the future son-in-law of one of the participants took part in the bride. It was on the Boulevard of the Supreme Council. Well, this nasty boulevard played its role. Argue the future test and son-in-law. So much so that the problem could only be solved at a duel.
I know many of you know our
news
. Read, watch. Therefore, they have already built a logical Ukrainian chain for themselves. The dispute, the pomegranate and ... broads. And they were wrong. Ukrainians are already Europeans! We do not have what you have. We have fencing.
But Europe does not accept us in the EU. Therefore, with swords while strained. But there are skewers! They are the truth of the "scoop" remained ... for now. Not everyone on the barbecue switched. A lot of quilted jackets are just frying.
The fight was in front of her daughter (she is the bride). Because each of the duelists sought to show all their capabilities. Dad won! Defeated to death. These are not funny cases occur today.
The paradox of modern Ukraine. In the last century there was a famine. And in this all turned upside down. If by analogy, then the vertebra. Today they die of food more often than they starve. I am waiting for someone to explain this completely wild fact to me.
And the case that occurred in Rawa-Russkaya? Well, at the customs crossing in Zhovkovskiy district on Monday? Imagine, are men on a crosswalk. Do not touch anyone. Reach the end of the road, remember something and back. They have a right! And they recall that the Poles closed the passage for Ukrainians to visit Poland. The main thing is that nobody was closed, but the Ukrainians were closed.
Let the Russians go to this NATO summit, but not Svidomo? I'm already talking about Belarusians, Kazakhs and others. Although the Kazakhs do not seem to have common borders with Poland. Well, before it was. Before the advent of American aircraft carriers off the coast of Belarus. And now, the devil knows. We must see the speeches of the State Department on this issue.
They go mean, they think, but here again ... The Poles rush on their Peugeot. Hurry for some kind of symposium or something. What the hell is that attitude towards people? Took and drove on the poor men. Three of them were sent to the hospital. True, the video is not visible. Fast and crippled just did not enter the frame. And not especially Ukrainians, especially svidomye, like to be photographed. We are modest!
And what the Poles are! His version posted. Yes, and a bunch of videos on the Internet placed under different nicknames. Well, the boys wanted to shake off the dust from this Polish "Peugeot". There is nothing to smuggle European dust into our environmentally friendly country! That rocked the car. And the wheels themselves pierced. Maybe the Pole in his Poland somewhere caught the nails? And so what with the fact that the wheels are cut with a knife? Maybe in Europe such nails ...
And already about that Cossack, who danced on the hood of the gopak, it is generally embarrassing for the Poles to write. This is gopak! This is folk art! And the Poles in the car just doing art. Even some letter in the nose of our boys popped. Just think, a couple of times on a frontal leg hit ...
Our country is flat ... And we have the same dances. Wide. And the hood of the Peugeot is tiny. So it happened ... Incidentally!
But most importantly, what are these vengeful Poles. We tell them. And they ... They took and did not let the European group from Exactly to themselves on tour.
"In the context of the NATO summit and in the context of the fact that in a week we will celebrate the 73 anniversary of the Volyn Massacre perpetrated by Ukrainian nationalists, I did not agree that by any means the public order for which I am responsible or the safety of our people countries have been violated, "- said Interior Minister Marius Blashchak.
100 thousand Poles cut the UPA ... Read the correct
history
. We do not hide books. Take and read. Our scientists proved that only a few thousand Poles died and more than 10 thousands of Ukrainians. So who cut whom? We did not expect that the "scoop" in Poland is so strong. What do they remember some Volyn massacre there?
Nadia had to run. She doesn't care anymore. She is a hero-hero. Can lie anything.
According to the press service of the party, during the meeting N.Savchenko noted that it is worthwhile to approach the events that took place 73 a year ago in Volyn from a historical point of view.
"Let's try to approach this historically, and not politically. It's not necessary that politicians earn dividends for themselves," she said.
So let the Poles now think what and how.
Oh, I feel that soon the Europeans and all Americans will come to us to learn democracy. Recently I witnessed the heights democracy can achieve! On our soil.
Well, you know that in Kiev there were demonstrations about the increase in utility tariffs. And the fact that Klitschko makes some attempts to somehow save the situation, too. That one of the starving miners fell into a coma, too. But these are manifestations of democracy that can be seen in any country. Even you. Even fist fights do not surprise anyone. Asians out thresh each other much more beautiful. School ... Karate is different, Thai boxing ... Then this ... kungfu. Our street "waggles" do not look ...
But the deputies' strike until you saw it! And we saw! Here it is, a real democracy. Everyone can strike. Even those who make laws ... about strikes.
"We are moving to a different form of protest. We will not fight here ... We declare a sit-in strike." "The authorities did not want to compromise" - this is our most radical radical, Lyashko proclaims.
You understand salaries, benefits, immunity, but they do not want to fight! No, really! Paid! So what's there - "Fight!". By the way, I haven't written about the "hand of the Kremlin" for a long time. So, during the strike, Lyashko and Parubiy called each other Putin's agents. And in the end, 272 agent Putin sat down on the floor and began to protest against the actions of other Putin agents. Along the way, waiting for instructions from Putin! Here you are such a "many-armed" neighbor.
The people are waiting too. Hey, in the Kremlin, give instructions there to make the plants work, and this damn war stopped. At least those who remained in the chairs. Though those who moved to the floor. What are you worth?
And we began to fulfill dreams! Not all, of course. So far, only those recognized as heroes. In particular, the great dream came true (his dad would have slipped) Stepan Bandera. Do you think Bandera cared about Ukraine and Ukrainians? No, he really wanted to destroy Moscow. Well, the dream came true! True, in part. In Kiev, Moscow Avenue was renamed Bandera Avenue.
Well, it all turned out in our way! Just do not fall out of the chair. Now you will learn all about the right tolerance.
Now in Kiev, Petlyury Street is stuck in a monument to Shchors. And Bandera Avenue in Moscow Bridge! Postmodernism in Ukrainian. Even the sausage "Moskovskaya" will be renamed to "Bandera". We will live, I feel ... However, there is still the Moskovsky railway station ... Maybe it can take some time off from being "alive."
And how are you? Will you take counter sanctions? Kiev station to rename in Moscow? Or there, Kiev highway? But the most exciting question is how to deal with Kiev cake and Kiev cutlets? I really want you to have idiots. Still, the brotherly people ... In the past.
We also became a belt this week! Not one to support stockings or belly in pregnant women. We are more likely to become a belt like a shell! Who was engaged in martial arts and hockey, understands what I mean. A necessary and even irreplaceable thing. Otherwise, later, as I wrote at the beginning of the article, there will be nobody to educate. More precisely, there will be nothing to make those who need to be brought up.
Together with us this very belt became Georgians. Two belts at once. Right now I am considering the human anatomy. Trying to adjust the second belt. Well, in the sense of shell. It turns out that one of us will have to cover, sorry, ass.
This is in the battle on the tatami often get on the "front". In real life, the opposite is true. Bum suffers more often.
"The Minister of Defense of Ukraine Stepan Poltorak, meeting with the Chief of the General Staff of the Armed Forces of Georgia Vakhtang Kapanadze, said that Ukraine and Georgia are a kind of security belt for European countries." The main thing for us is to deepen relations between the two defense ministries and come forward with a common position, after all, both Ukraine and Georgia are a kind of security belt for European countries, "said the head of the defense department."
I understand that you were waiting for me today Ukrainian look at the events in the Donbas. I understand that you are interested in our attitude to the NATO summit. But I don't touch blood on purpose. Blood on both sides. Blood that absolutely no one needs. Yes, and mothers that have lost their children, wives, that they became widows sorry. Someday I will write a serious article about this time. Then I will say everything I think about the situation, about the government, about the commanders of the Armed Forces of Ukraine and the punitive battalions. You can not write with humor about the war. You can write with humor about the military.
The only thing that needs to be considered in this part is the law on amnesty for all who directly participated in the ATO. You all the time say that we do not fulfill the Minsk agreements. Is there such a point there? There is! I personally checked.
"The Verkhovna Rada adopted in general a bill on amnesty in 2016, which applies, in particular, to participants of the antiterrorist operation (ATO) who did not commit particularly serious crimes. 4255 of people's deputies voted for the corresponding bill No. 247 at a meeting of parliament on Thursday, July 7 Thus, it is proposed to release the convicted persons who defended the independence, sovereignty and territorial integrity of Ukraine, took direct part in the ATO, received the status of a combatant. "
Well, here it is! Fulfilled! True, in its own way, in Ukrainian. And how to demand from us to perform differently? Here one familiar director in his ear whispered that he was writing a film script on this topic. In continuation of the once thundering movie "Cold Summer 53-th." The working title is "Bloody Summer of 2016". In principle, everything is already written. It remains to add the actual material and all. And with the material, the director thinks, there will be no problems. Will release the most frostbitten even among the frostbitten "Aydar" and "Azov".
And I will finish with an interesting observation. Not mine. I heard from someone from the young. "Life is a cool thing!" I want to add your own. And she makes fun of this life for some reason all the time above us. So let these jokes be friendly. May every day be joyful and bring only good news. Happiness to you and your loved ones!