Our train is flying forward
In the commune stop ...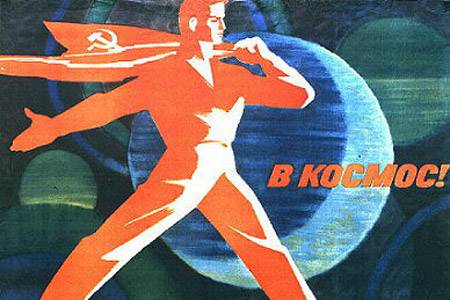 Much time has passed since I published articles on the site.
about socialism in one
individual region. But the cycle has not been completed yet. The problem that remained unresolved is perhaps the cornerstone one. You can offer an ideal model of society and public relations. This has been done more than once.
stories
, but these samples and experiments are called utopias. Why so? Because any, the most ideal system that a person can invent, will spoil a person. Ruin his peculiar greed, envy, greed, lust for power and laziness. Everything is so, after all, even the most successful utopia at the moment - the Soviet Union was ruined by these vices. The Soviet Union collapsed when the old elite of the USSR rested on its laurels, and the aged party members left political Olympus only with their feet forward, when their offspring — the Komsomol leaders, not wanting to work, betrayed socialist ideals. They surrendered the country to the enemies in order with their consent to secure for themselves the privileges that their predecessors earned by hard work during industrialization and won in the Great Patriotic War. That is why I have not been able to start writing this article for so long. Because an irresistible wall in front of me was a gray-green image of the "sausage train". Because any socialist slogans and any benefits that socialism can give, fade before the image of this quintessence of the Soviet consumer.
And indeed, now we know how much we have lost with the collapse of the USSR, but many still stubbornly bend their line: socialism is a line, empty counters and an iron curtain. Do you want socialism - go to the DPRK. And that means that we'll better plow in three shifts and without days off for the businessman Vasya, who is profiting from our work, we'll rather find fault with the government, which allows price increases, education and health deficiencies, we will go to debtors with bloodsucker-bankers until the end of our days for one-room Khrushchev somewhere on the outskirts. Better we will humiliate ourselves before bureaucrats and rich people, who insolently say that pride is too expensive for the poor. But at the same time, we will stick our teeth into a hamburger or jamon, and we will be a week or ten days a year in the style of "all inclusive" to lick the Turks from head to toe, looking angrily, if we can't even bring down some of our aircraft ... for our money.
Is this not a complete analogue of how the Soviet people choked in overcrowded stuffy electric trains for the sake of the cherished piece of meat? Complete analogy, however, brought almost to its extreme, almost to the point of absurdity. And recently I asked myself. Could the Komsomol first builders who landed from the ship on the deserted shore of the Amur, so that, wintering in barracks and dugouts, build a garden city, choke on "sausage electric trains"? No, they could not, yes they would smash their heads to the one who would have suggested it. Where is heroism and where is sausage - things are completely incompatible. Then why are their descendants (and many of his contemporaries) capable of it? The point is the idea. In order for a person to give all of himself and, at the same time, he did not think about what he has, and even about what will happen to him, an idea is needed. Because a rational man who can strive for the ideal can always suppress the more base desires of the stomach or the reproductive system.
In the West, the capitalists have a simple idea - you have to plow like dad Carlo in order to eat tasty, in order to multiply with beautiful women, in order to become one step higher than others and be able to break away from them for their humiliations from their superiors. Very good, by the way, is shown in the series "Kitchen". I do not like to watch TV, but sometimes the brain also needs rest. So, there is just such a ladder shown - the hero Nagiyev kowtows before the oligarchs and the wealthy, in turn, coming off on his co-workers. At the same time, workers are willing to endure anything, just to keep their work in Moscow. Is it beautiful? In my opinion, disgusting. But for this idea they, and now we are ready to give all their health and strength. And why did the Soviet people of the Stalin era give their strength, health and even life? No, not for communism, "of which they knew only that then there would be no money," although, of course, this "freebie" wanted a stratum of surviving unshakable bourgeois dug in the depths of the workers' districts. People had a desire for excellence. Starting from what if
TO ME
don't like dirt and trash in the wasteland by the house,
Я
I take a shovel and go to the clean-up day, and drag a log near Ilyich.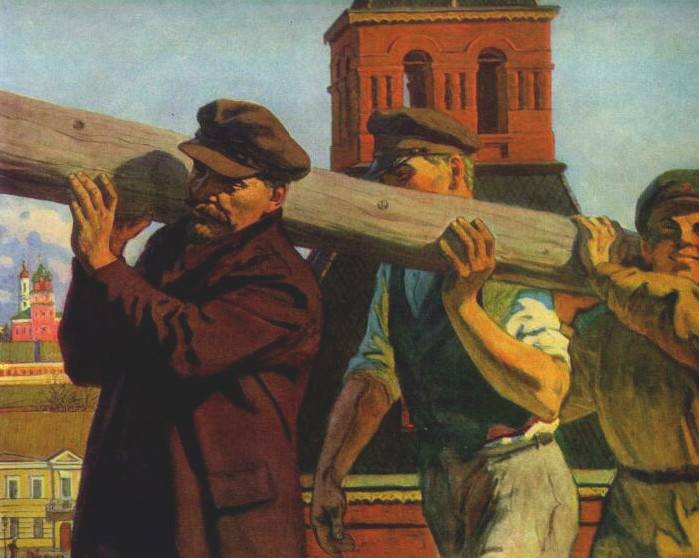 And to the extent that
TO ME
I wonder what's in the depths of space, and
Я
I am flying to an unknown blackness on a fragile spacecraft, quite surely knowing that even if this is my last flight, those who fly after me will leave their traces "on the dusty paths of distant planets." And then, under Khrushchev, perfection was replaced with the slogan "catch up and surpass America in terms of meat consumption (as well as milk, vodka, etc.)." And in the end, even those people who used to live for the sake of an idea began to live for the sake of consumption.
This is the idea of ​​perfection and we need to interest people in the new socialist society. At first it will be a race with the neighboring Russian capitalist regions, but the race is not for a big piece of meat, but for general economic indicators, for the best roads, more beautiful houses and streets, for the fastest and most powerful cars, etc. Then you need to leave behind the leading capitalist powers. And then continue the race into space stopped by the consumer society - to fulfill the dream of mankind. And such an idea will be enough not for years, not for centuries, and not even for millennia, because we do not even know the boundaries of the universe. And, therefore, the boundaries of knowledge, to which you can strive.
You ask me, but why do I think that the idea of ​​improvement is stronger than the idea of ​​consumption? Everything is simple, the idea of ​​consumption - it is selfish. In order to consume you need to save life and health. Therefore, the consumer is most afraid of losing them, afraid that he will not be able, he will not have time to taste the fruits of his labor and his deprivations. And so he tries to get his faster, and this is only possible through deception and theft. For this man will go over their heads, and crush the weaker. Naturally, only those who steal and lie can profit from theft and deception, and even then, if they don't, it's not for the public that such "successful people" are of any use. While a person fighting for an idea is capable of self-sacrifice, which means that society will receive much more benefit from him and less harm.
However, this does not mean at all that I suggest that those who choose socialism live in mud huts and eat water and bread, slaughtering their hunger with the sight of interstellar rockets taking off. We are not North Koreans after all. But the improvement of the welfare of the people should become the idea of ​​the state, and then the people following the idea, not being distracted by base needs, will raise this state to such heights that the capitalist consumer states have not dreamed of. We have already seen it with our own eyes. Hope we can see again.