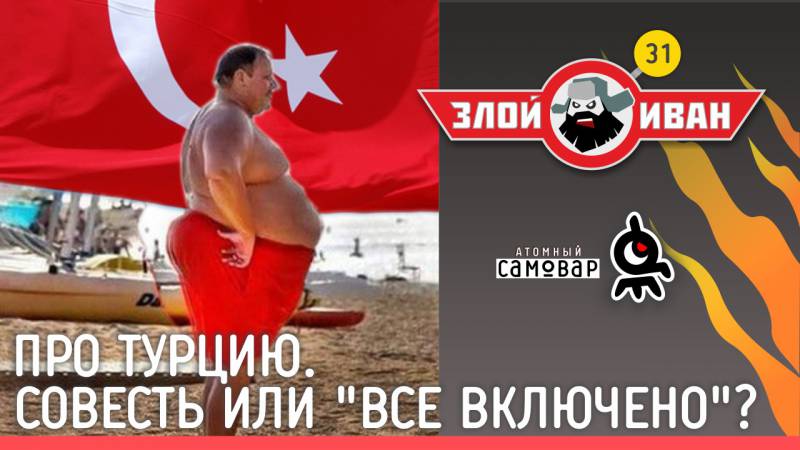 Hello to all ours and not to ours! I am Ivan Victory and I am angry again today.
Expert: Tour operators are frightened by the mass refusal of Russians from the Crimea and Greece in favor of Turkey
Similar
news
tumbled out of many liberal and, unfortunately, even illiberal media.
From all sides, we started to blow our ears, that there was an unprecedented, wild demand for Turkey, that it exceeds supply by a factor of 10. What the Russians massively forgot all the insults and began to buy vouchers to Turkish hotels, as the last time.
And many even refused to have already paid trips to Greece, to Cyprus, to Sochi and to the Crimea. And all this for the sake of Turkey. And through all this news a clear hint slips. What are these Russian miserable and insignificant. No memory, no conscience.
In short, shame and shame!
Soc. demotivators filled the nets and blobs about the fact that the Russians exchanged the memory of the dead pilot for Turkish tomatoes. And the collective choir of liberals, nazis and patriots has tightened the duty song about putinslil. And about the fact that I am ashamed to be Russian, well, and so on ...
Let's try to figure it out.
Reconciliation with Turkey happened unexpectedly and swiftly. Rarely it happens in geopolitics. I do not know all the information, but I can guess that a lot of pressing and urgent problems have arisen between Russia and Turkey. Which in the face of tough confrontation simply could not be solved.
Therefore, Turkey quickly uttered a crumpled apology. And Russia quickly accepted them. It is clear that all this was agreed in advance. Technical details on the final reconciliation are still being clarified. I have no doubt that Turkey will pay Russia material compensation in one form or another. In response, Russia lifts a ban on tourists visiting Turkey. The food embargo will also be gradually lifted.
Yeah, those are the tomatoes.
According to the latest data, Turkey refuses to support ISIS and begins to harry terrorists who have previously felt comfortable and carefree in Turkish territory. How serious this is, time will tell.
In the meantime, Russia, of course, will welcome such initiatives.
But we must remember that reputation in geopolitics has been gained for decades. And you can merge it in one day. So, Turkey ruined its reputation. And thoroughly. And in the leadership of Russia, no one else will treat Turkey with the same confidence. And she will no longer be forgiven for the mistakes that Russia had previously turned a blind eye to.
That is, relations between countries will become emphatically polite and businesslike.
There will be no more ardent friendship and causeless generosity. Everything is strictly according to the price list.
I remind you that all this time we were talking about geopolitics. There is no friendship between countries. But there are interests between them. Therefore, reconciliation is beneficial to both Turkey and Russia.
But it's time to return to our ... tourists.
All statements about the wild rage against Turkey made by the Association of Tour Operators of Russia. Which founded the largest Russian travel agencies. And they are selfishly interested in outbound tourism. After all, there is more margin and bonuses. That is, in fact, nothing personal, just business.
No numbers or exact stats. data is not given. Everything is tied to emotions and hints. Like, faster, faster, and throw everything in Turkey, but you do not have time. And tour operators do not care that they are satisfied with the constant terrorist attacks, they do not care for the safety of tourists. For the sake of the dough, they will lie and lure everyone into the insecure Turkey.
Interestingly, and those who want to rest there realize that they can be taken hostage and set up the whole country, or, even worse, die in the next terrorist act? But the probability of such events only increases.
And what do we get by the facts? The number of aircraft to Turkey has not increased. The tourist flow to Turkey physically could not grow in such a short time. Charter flights are just about to launch. And really planning to rest in Turkey did not become more or less. And all these headlines, sensations about the unprecedented demand and rush ... the usual information stuffing and lying.
Real statistics on the autumn will provide us with the Border Service. And only then it will be possible to draw conclusions about how many Russians flocked to the resorts of Turkey, forgetting about their conscience.
And yes, believe in your people and your country. I believe that Russians, of all nationalities, are able to make informed decisions on their own, without instructions from the authorities. I know that the majority of Russians will not go to raise the economy of a hostile state with their money. And Turkey was and remains our enemy.
Therefore, real Russians will not go there to rest. For them, the concept of Honor and Conscience is above the full belly.
See you soon!