Not far from Palmyra, IG fighters shot down a Syrian Air Force Mi-24 helicopter, the fate of the crew is unknown, reports
Interfax
.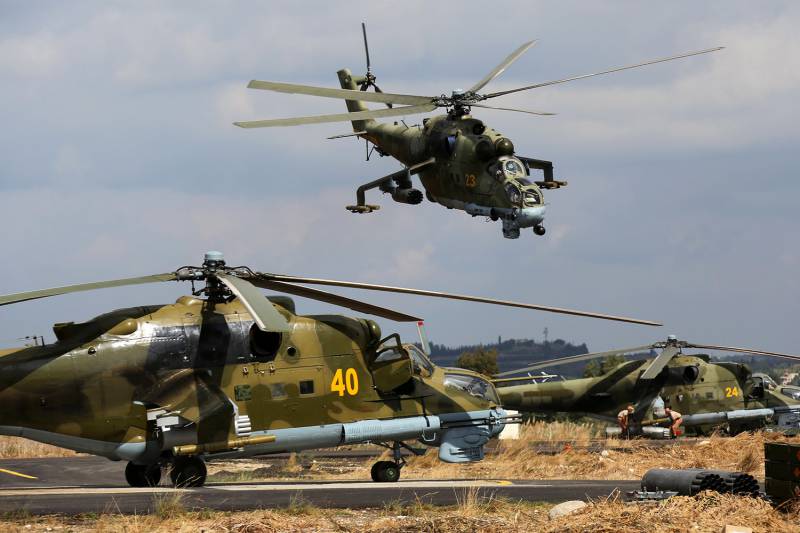 Russian attack helicopters Mi-24 at Khmeimim airfield
"The Mi-24 helicopter of the Syrian Armed Forces is lost in the Palmyra region. He was shot down by terrorists from the ground, "a military source told the agency.
"The fate of the crew is not yet known," he added.
Yesterday, terrorists, through their agency Amaq, stated that they managed to shoot down a Russian helicopter in the countryside east of Palmyra. However, the Ministry of Defense of the Russian Federation denied this information.
"All Russian helicopter gunships in the Syrian Arab Republic returned to the airfields after completing the planned missions. There are no losses of Russian aircraft, "the department said.
The Russian military at the same time reported that in 40 kilometers north-west of Palmyra, the IG units made several unsuccessful attempts to dislodge government troops from their positions.
"During the day, ISIS militants, with fire support of mortars and pickups with anti-aircraft guns ZU-23, repeatedly attacked the positions of the Syrian Arab Republic armed forces units in the Shair gas field in 40 kilometers north-west of Palmyra (Homs province). All the attacks were repelled, the militants suffered significant losses, "said the Russian reconciliation center in the UAR.