Ukraine decided to respond to the recognition by the Polish Senate of the genocide of Bandera crimes against the Polish population during the Second World War. The Foreign Ministry stated that Warsaw "should not be involved in politicizing the historical issue," adding that only historians should deal with the investigation of the facts of crimes in Volyn. Ukrainian? ..
The statement of the Ministry of Foreign Affairs of Ukraine looks particularly interesting due to the fact that in Ukraine itself they are only engaged in politicizing any issues.
stories
. One law on "decommunization", which even renames the streets named after Alexander Suvorov and Mikhail Kutuzov, is worth ... Similarly, the Kiev authorities are dealing with the issue of politicization of the so-called "famine", consciously ignoring the fact that in 20- 30 years in the USSR, not only the citizens who inhabited the territory of the Ukrainian SSR were starving.
Meanwhile, the Polish News Agency
PAP
reports that the President of Ukraine, who is on a visit to Poland during the days of the NATO summit, visited a memorial created in memory of the victims of the genocide in Volyn. Speech about memorial complex Zholibozh. A man who in his own country proposes to admire the "exploits" of Bandera and Shukhevych in Poland put on a completely different mask: he knelt in front of the monument and lit a candle.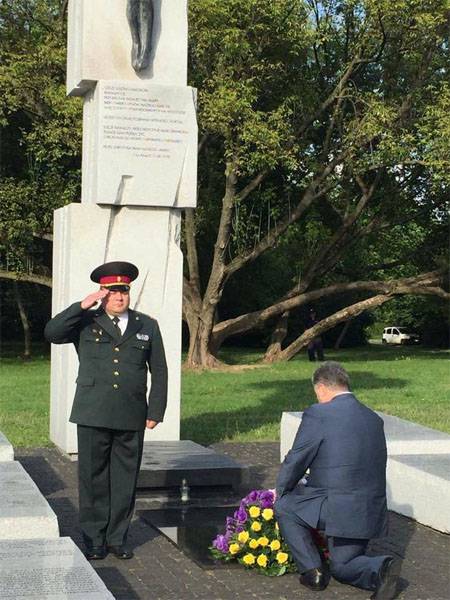 This is yet another testimony of the hypocrisy of the Ukrainian authorities, who, for the promise of loans from the West, are ready to quickly mimic the most original political images ...