On the eve of the press service of the Ministry of Defense of the Russian Federation reported that in Murom for the first time a special engineering and assault strip was worked out. The servicemen who took part in the overcoming of the special bands represented the assault and raiding divisions. From the press service of the main defense department:
The peculiarity of this obstacle is that it works out the procedure for subdivisions, starting from the moment of nomination from one's own positions, overcoming the neutral zone and ending with actions on the terrain of a conditional enemy equipped with dots and bunkers. The length of the route, which is more than 1,2 thousand meters, is filled with more than 20 fortifications, barriers and obstacles, on which military engineering troops can improve their tactical and physical skills.
It is noted that when creating a special obstacle course for engineering troops, the experience of training sappers during the Great Patriotic War was taken into account.
The difficulty of overcoming the engineering and assault strip was checked, including by the full-time division of the barrage company. Military men covered obstacles undercover
tank
T-80 As a result, the Egoza wire spirals, forest debris, various kinds of fences and minefields were overcome.
Against this background, units of engineering equipment for various purposes were demonstrated in Murom. During the gathering with the commanding staff of the engineering troops, about a hundred samples of technical equipment and special equipment options were shown.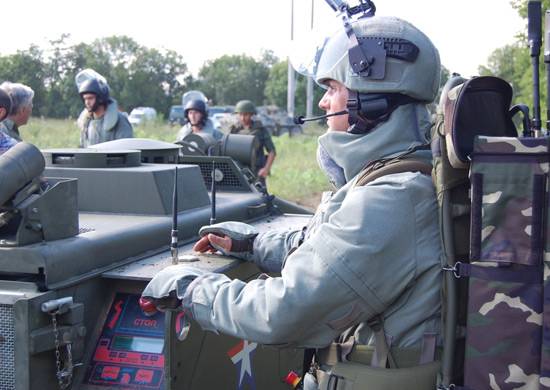 Press Service MO
:
Among the promising models presented at the collection of engineering weapons and equipment are protective suits for engineering and sapper units OVR-2-02 and protective suits for engineering and assault units OVR-3Sh, as well as protected vehicles "Tayfun-K" with a combat module and "Patrol "Designed for their transfer, engineering complex of mine clearance MIKR, wheeled road vehicle, armored, mobile engineering repair complex PIRK, weatherproof windproof suit for pontooners, mobile recompressio nnaya station PRS-VM with diving equipment SLVI-15, mobile mast support system PSMO, military mobile sawmill complex VMLK-1.
In addition, a line of various mines and explosive devices was introduced. Among the objects of technology were special robotic complexes, tow boats and automobile cranes of various capacities.