Senior Assistant Head of the Regional Investigation Department of the Investigative Committee of the Russian Federation in the Republic of Dagestan, Rasul Temirbekov, told the media about the results of the counter-terrorist operation. Recall that the operation began on the eve of the Karabudakhkentsky district of Dagestan after blocking one of the representatives of the bandit underground.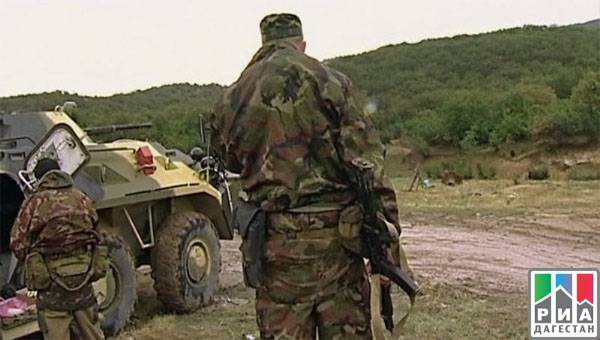 RIA News
with reference to Rasul Temirbekov reports that during the special operation, which involved special forces units of the Ministry of Internal Affairs and the Federal Security Service of the Republic of Dagestan, nine militants were liquidated, including the leader of the so-called Makhachkala gang, Gusein Tagirov.
Tagirov was on the federal wanted list in connection with the charges of murder and attempted murder of police officers.
RIA Dagestan
reports that while conducting a special operation, two of the militants still managed to get out of the encirclement. According to some reports, one of them was wounded. They are actively searching.
From the message of the representative of the Ministry of Interior in the Republic of Dagestan
The seven persons have been identified: the leader of the "Makhachkala" bandit group G. Tagirov, also M. Tagirov, 1988, born, G. Magomedov, 1994, born, E. Mejidov, 1993, born, A. Ismailov, 1996, born, R. Khalilov, 1980 year of birth, A. Zagirov, 1989 year of birth.
It is also reported that two accomplices of militants were detained in the village of Novy Paraul. During the searches they seized improvised explosive devices and several firearms
weapons
.
During the operation to neutralize the militants, a special forces soldier of the FSB died, three more security officials were injured of varying degrees of severity and taken to hospital.