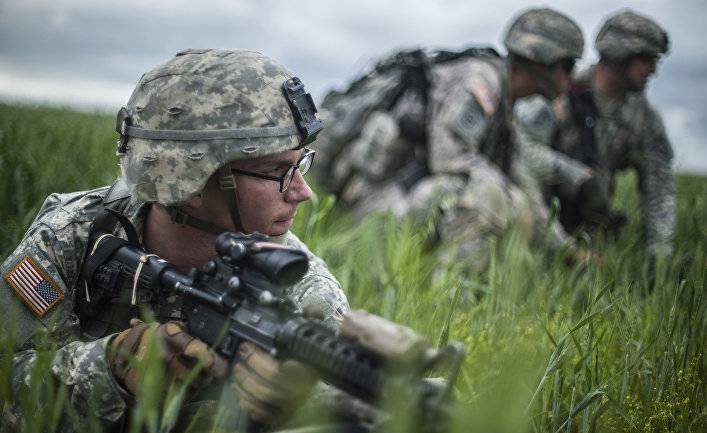 The British decision to withdraw from the European Union was a rough shake-up for the bronzed world order. Now that the EU is shocked by the new reality, it's NATO's turn. When the leaders of the member countries of the alliance meet on Friday in Warsaw for their summit, they will insist that their alliance, as before, is of vital importance because Europe is threatened by Russian aggression. But the reverse is true. This NATO has become an instrument of America in the escalation of a dangerous conflict with Russia. We need less NATO, not more.
The North Atlantic Treaty Organization was founded in 1949 to enable American troops to protect a war-torn Europe from the Stalinist Soviet Union. Today, Europe is fully capable of independently ensuring its security and paying for it, but the structure of NATO remains unchanged. The United States continues to replenish its budget by almost three-quarters. But it no longer makes sense. The US should maintain political intimacy with European countries, but they should stop talking about how these countries should protect themselves. Left alone with reality, Europe can move away from the edge of the confrontational chasm, where the North Atlantic Alliance stubbornly leads it.
Russia in no way threatens America's fundamental interests. On the contrary, it shares our desire to fight global terror, control nuclear threats and solve other urgent problems that challenge international security. Everything depends on the point of view: someone considers Russia to be a destabilizing force in Europe, and someone thinks that it simply protects its border regions. Anyway, this is the problem of Europeans, not ours. Nevertheless, American generals leading NATO, who really want to get a new task, focus on the opinion of Russia as an enemy. Secretary of Defense Ashton Carter, in spite of common sense, put Russia first in his list of threats to the United States. Washington has seized anti-Russian passion.
The NATO summit in Warsaw will become a platform for boastful assurances, numerous warnings about the "Russian threat" and solemn promises to respond to this threat with a demonstration of military force. The United States plans to quadruple spending on NATO military projects on or near Russian borders. The Alliance recently opened a new rocket base in Romania, conducted major military maneuvers in
stories
modern Poland and announced plans for additional deployment of thousands of US troops at the Baltic bases, some of which are within the reach of artillery fire to the Russian St. Petersburg. Russia, for its part, is building a new military base within the reach of artillery fire to Ukraine and is deploying 30 000 troops at border posts. Both sides are armed with nuclear
weapon
.
NATO considers the difficulties in relations between Russia and neighboring countries a military problem. It is reasonable. NATO is a military alliance, and it is led by military, minded military categories. But our conflict with Russia is essentially political, not military. It simply requires constructive diplomacy. NATO is a rude tool, unable to solve such delicate tasks. If Europeans believe that reciprocal escalation is the best way to cope with Russia, let them cope. But it should be a European choice, not ours.
The NATO command and its political masters from Washington are unwilling to yield to the reins of European security. They fear that Europeans will seek reconciliation with Russia instead of pursuing aggressive confrontation. Such a prospect is hated by American generals, politicians, and military contractors. Continuing to finance NATO, we buy ourselves the right to draw swords at the Russian borders.
Some Europeans are unhappy that America is using NATO to increase military pressure on Russia. German Foreign Minister Frank-Walter Steinmeier called the recent maneuvers in Poland, involving 14 US troops, "inciting military hysteria and battle cry." In an open rebuff to NATO, Steinmeier said: "He who thinks is symbolic
tank
a parade on the eastern border of the alliance will provide security, clearly mistaken. We should not create an excuse and an excuse for the resumption of the old confrontation. "
NATO helped preserve peace in Europe during the Cold War. This organization does not meet the requirements of the XXI century. Strengthening tensions with Russia, it destabilizes the situation, but in no way contributes to stability. Europe needs a new security system. Unlike NATO, this system should be created by Europeans for European needs and requirements. It should be led by the Europeans, and they should pay for it. This will allow the United States to abandon its many years of mission, which may be noble, but should not last forever.