It is not excluded that I am already rather fed up with my performances on a patriotic theme, but alas, the topic is still angry, so ... I continue. But today, we will do without shouts and accusations towards individuals taken (well, we will almost do without), and we'll dwell only on facts and conclusions.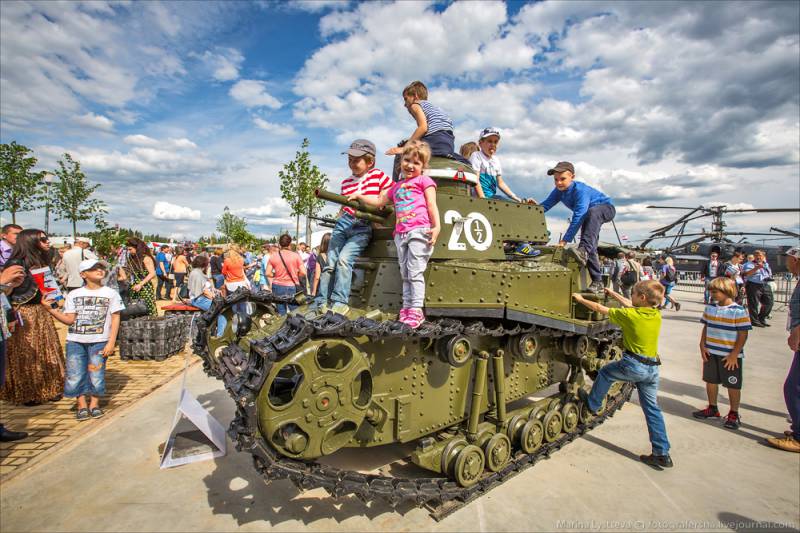 I will not focus your attention on what mushrooms helped me to come to these conclusions, but the fact is that the conclusions are quite realistic and (possibly) useful. But - in order.
So, it is indisputable that the education of patriotism among our rising generations is a matter, as one would say
historical
character, archival. And in our words, more and more attention is paid to this every year. I emphasize, in words. in fact, the cart still stands in the middle of a dirty and deep puddle.
Just last year, I expressed joy about the creation of a Russian union of schoolchildren and students. It was the case, remember? The Union was supposed to solve the problem of properly educating schoolchildren and university students. And who has heard that year about the activities of this union? So I did not hear. "Didn't take off."
It is quite logical, because the main burden fell on the shoulders of our Ministry of Education. It is clear that to demand something more from this cesspool than the Unified State Exam is simply unrealistic. And then there's patriotism ... You remember about the CWP, right? Or, as it is called today, OBZH.
I don't know where the situation is with this, I'll see an example of Lyceum No. XXUMX of the city of Voronezh, where my child studied, for a long time. There OBZH alternately taught music and geography teachers. At half time. So it makes no sense to talk about how high the level of teaching was. Perhaps the only person who thought about the subject is mine. Optional studied with daddy. The rest - alas ...
Summary: NVP destroyed, OBZH - it basically depends on the Directorate and managers. Maybe it may not be at least some kind of substitute for NVP. And in our realities, of course, "not to be" because to whom it is necessary for such a bet?
In general, the next pulling owls on the globe.
This year began a stir from the other side. It was announced about the beginning of the movement of the project "Yunarmiya". Here, by the way, is more complicated, although more understandable. The movement assumes almost everything is the same as in the students' union, but using the DOSAAF base.
Take off? Well, taking into account that everything is being done on the initiative of the first geographer of our country, I think it will take off. Here for some reason he takes off, pops up, walks and drives.
Geographers, they are so ... complicated. History stores many names of geographers who knew how to combine. For example, Jules Verne. Or Alexander Kolchak. Or Sergey Shoigu.
So it remains to hope that this project will be implemented. Because in an amicable way, he was needed the day before yesterday.
But it was all a preface. The essence of which is that today in Russia there is not a single structure that could really take on the proper patriotic education of young people. Will be - great. But today is not.
Meanwhile, we have as many as two implicit armies that could bring invaluable benefits to the state. And the army is not weak, that in size, that equipment. And, most importantly - in terms of potential.
We are talking about reenactors and airsoft.
Indignant shouts and guesses about what I used, as many readers like to express lately, leave for later. First read the arguments.
Exactly, in that order. Reconstructors and airsoft. Two huge armies, more precisely, a large and a huge one, many times more fans of airsoft in the country. We begin to disassemble in order.
Reconstructors.
I have a peculiar attitude to this caste. For the theater. The events are beautiful, of course, and uniquely useful. But - the theater. Gathered, dashed off the script, played for half an hour, patted the blanks, and that's it. Oh yes, also a photo shoot.
Representatives of the authorities are quite willing to cooperate, because here you have a tick in the report, shooting on TV and so on. But - no more than a couple of times a year. For nothing, the budget is not rubber.
At the same time, many of the reenactors are also search engines. That is, they have such knowledge of the history of hostilities and battles that any historian will nervously swallow validol with envy.
And here I quietly turn to our museums.
Museum. The place of concentration of our history. Exhibits under glass, in shop windows and behind fences. In the rarest of cases, the exhibit can be touched. As, for example, in Prokhorovka. But Prokhorovka rather an exception to the rule. Usually: "Do not touch your hands!"
And just with your hands, and you need to touch! It is the hands, namely the kids! Take in handles six odd kilogram PPSH. Realize that it is
Weapon
Victory, uncomfortable, heavy, but Weapon. Or Mosinku. Try to understand what it is like when everyone is banging everything around and howling, lying in a ditch, shove a clip into the rifle with unruly fingers. About the equipment of the disk to the PCA just keep quiet.
None of our museum can provide such an interactive. Weakly.
Now about the technique. Yes,
tanks
and guns at the exhibition sites are now enough. But what's the point in them? Are steel boxes, welded tightly. To avoid. Well, the tank. Well, a gun or a howitzer. So what? Never mind.
Who can boast that was inside T-34? Or IS-2?
Of course, not a single museum will take such a step. It is necessary to answer the same and look into three eyes. What if a trauma? Or will they break the tank? No, no way. Let it stand as it is, we paint it. No more.
Although at the exhibition "ARMY-2015" I watched (and you are in my photos) open tanks, armored personnel carriers, BPM, on which the lucky ones from among those who went to the exhibition crawled just like an ant heap. And not a single BTR broke. Military equipment, it is as if strong. Just museum officials do not know. And the soldiers also stood near the exhibits. And helped, and hands, and language.
Why this can not be done in museums? Well, I seem to understand their position as normal, but look above. There are search engine reenactors. Any one of whom knows about this tank more than all the guides combined.
And here is the thought. Why not give the opportunity to search engines and search engines to demonstrate the technique? Not every day. One to two days a week. By recording or agreeing, as the search engines in Mtsensk do, about which I wrote, with my mini-museum. But after all, the museum worker in Mtsensk is stunned by the fact that there it is possible (and necessary, as the director says) to touch EVERYTHING!
It's simple: they organized an excursion, showed a tank inside, let it sit. They gave to feel-hold the real weapon, which 70 is over the years. You can hold a small quiz, and give the winner (!!!) a shot from this weapon.
I did not invent all this, they do it in Mtsensk. I just screwed the tank.
And even if the recons earn a little money from such an excursion. On blank cartridges, for example. Benefit at times will be more. Moreover, search engines recons for the most part are intelligent, understanding people and, moreover, legally registered.
But how to overcome the inertia of our educational bureaucrats and teachers, alas, I still do not see a recipe. Because everything will be limited to one thing: it is necessary to bear responsibility "in case of anything." And what if someone dislocates a finger? This is an emergency! And how many graduates after the "celebration" in the hospital falls with alcohol poisoning, I am silent. And as these teachers get drunk at the festivities, I am also silent. Looked, thank God, his own. And nothing, if part of the responsibility on the parents - and you can get drunk in snot.
To thump, it is, of course, simpler than organizing an adventure with a similar excursion ...
But it seems to me that such a turn can not only revive the museums themselves, but also really give a new impetus to the interest of history. Our, please note the story.
And museums will cease to be a repository of dead exhibits under glass. About guides just keep quiet. The answer of the director of one of the museums of Brest to our friend, who agrees with him about the excursion, is still indicative for me. "Can you come to an agreement with fortifiers? We have guides, you know yourself ...".
In Brest, I will tell you, guides just are there. In Voronezh, I don't have them at all from the word. These are some mannequins, memorized bleating the same thing and making round eyes, worth at least a little away from the topic.
Now a few words about airsoft fans.
Also caste, living for itself. Not really climbing under TV cameras, for, as practice sometimes shows, it can only be worse. For example, after seeing a report on one of the local channels, the owner of the site, which was used by our local airsoft players, simply decided to raise the fee 10 times. Nothing, you understand, to climb into the frame.
But there are many useful things in the world of scooters too. Unlike reconstruction. There is a theater where everything is directed. Here you, here the opponent, here somewhere you will fall, who should win is also understandable. Still, the story ...
The reconstruction gives a historical picture. Airsoft gives realism. And one that I hadn't dreamed of in the good old days of "Zarnitsa" or "Eaglet", the participants of which I was lucky to be.
Legs. Kilometer, two, three. Crawling to the scapula, from which the machine-gun maniac peels so that the grass falls, cut off by balls. And there's no staging of the reconstruction, you really have to be more precise and smarter than the enemy. Be able to. Move, disguise, shoot, crawl, dig. Realism...
And what kind of vegetables come to tell sad. Over the 7 years that I have been involved in organizing gaming events, I have seen a lot. But the level of illiteracy of our youth is such that there are enough sad examples of three articles. Like when the 18-year-old blockhead miraculously does not cripple itself, opening a can of canned food. And also speaks in justification, when he is bandaged, I am the first time ...
But many, many useful things. Of course, there are in the world of sharometov and frankly rye-commercial events, such as "Day on Armor". And there are those where really, without a strong nervous system, health and skills of extreme being, not to hold out until the end. I am on the "White banks", if anyone understands.
Why all? But to what. We need to save what grows up. For generations are growing up - the dream of a fruit and vegetable supermarket. And it is necessary to save not the creation of the next crowd of officials, leaders, coordinators and other husks. It is necessary to create, relying on those who can, and most importantly, want to teach something and give something. By example and starting from his baggage of knowledge and experience.
And that's probably not worth talking about insane expenses. The dream of any schooler, a white iPhone, in rubles weighs as much as the equipment of three people in full. My child also moaned for "iphone": well, almost everyone in the class has it, but she doesn't. But - they bargained, because the Sonya was no worse than the parameters enough to take a new rifle with good optics and a new outfit. And saved a little. But I do not want a vegetable with an iPhone. Years through 15-20 come in handy.
And what can these, from ministries and departments, give? Except for instructions - nothing. But what are the instructions to the devil, if they will be performed by all the same, adherents of the USE sect?
In general, the vegetable base called "Russia" must be purposefully converted into a slaughterhouse. Yes, it is difficult. But we have to. We, today's need. To tomorrow was exactly tomorrow.
These are the considerations that came from observing much of what is happening around. I don't know how to do everything exactly, but what I'd thought about was what I decided to share. Maybe someone else will have thoughts.