Erdogan has spread a crowd of terrorists, including from the post-Soviet space, and he himself is to blame for his problems
Yevgeny Satanovsky, President of the Institute of the Middle East, commented on recent statements by Turkish President Recep Tayyip Erdogan about the involvement of Russians in the terrorist attack in Istanbul. In the evening of June 28, three explosions occurred at the entrance, exit and parking in the international terminal of Istanbul Ataturk Airport. As a result of the terrorist attack, 43 people died, more than a hundred were injured. According to Erdogan, the attack at the Istanbul airport was committed by immigrants from Dagestan, Kyrgyzstan, and Tajikistan.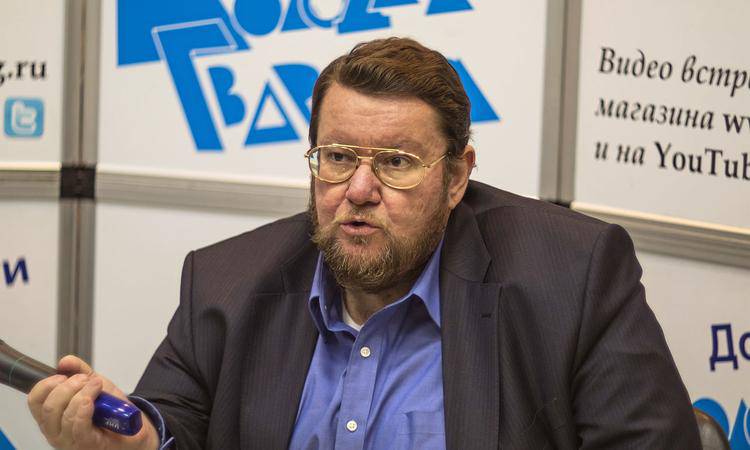 Yevgeny Satanovsky. Photo: A.Savin / Wikimedia Commons
According to Yevgeny Satanovsky, despite the significant improvement in the last days of Russian-Turkish relations, there is no reason to flatter yourself about Erdogan.
Yevgeny Yanovich, does it not seem strange to you that after the "warming" of Russian-Turkish relations, Erdogan suddenly sounded accusations against the citizens of Russia, allegedly found among the terrorists?
Why not? We are to blame for everything! Remember the dinosaurs became extinct? This is also us! The ring around Saturn is very suspicious, I believe that this is a purely Russian operation! What do you want? What should Erdogan pay attention to? It is absolutely useless to take offense at people with such a character and a sick imagination. You just have to take this into account. Erdogan is inadequate: his comments, his words about anyone - the Israelis, us, the Europeans, the Syrian president ... He just has this character. What else do you want from Erdogan? Well, he is such a person, special. For some reason, some ideas about him arose that he turned in our direction. He both turned and turned away. Do you want Erdogan to be Konrad Adenauer or Margaret Thatcher? Unfortunately, this will not work. He is another man, hurt by the power of his whole head. Erdogan's statements are as nonsense as his dairy brother, Saakashvili, both Georgians, Saakashvili's Georgian, and Erdogan's Turkish. But the characters, the logic is about the same, and the words are just as clever. And why from this?
How do you feel about the statement by Ramzan Kadyrov that the alleged fuse of the Istanbul airport, a native of Chechnya, Ahmed Chatayev, left Russia as an ordinary gangster and made him a terrorist in Austria, Georgia and Turkey, who should be responsible for the terrorist attack?
Throughout the entire Chechen war — first and second — Turkey was a front-line state and a rear for militants from the North Caucasus. Tens of thousands of people associated with the Russian Federation settled and settled in Turkey; some of them probably retained even Russian citizenship. Of these people, intelligence was recruited into both the Chechen wars, which worked for the Turks, the militants who were recruited for special operations, including on the territory of Syria. If these people are meant as "Russians" - well, then, probably, Basayev or Udugov are also Russians. But what do these people have to do with Russia? The gangster and the terrorist who is warmed in Turkey and used against Russia, even if he has 20 Russian passports, has nothing to do with Russia.
And Ramzan Kadyrov kindly hinted to Erdogan that he could extradite his gangsters who had stayed with him from Russia. Ramzan Akhmatovich is a very concrete person.
And from the Turkish president, we are not in the first to listen to any nonsense at our address. Erdogan once again suffered somewhere. Oh well! He is not the president of Russia, it is not my headache. Let Turkish voters understand who rules them, what this person is saying and how tomorrow or the day after tomorrow will affect Russian-Turkish relations. And when he needs from us something economic or tourists, everything is sweet and sweet. And when he has a situation, and he needs to explain where he got all the problems, of course, the Russians are to blame. Well, taken into account, understood.
In general, I don't really pay attention to everything that is said about us. Apparently, after eating meldonia under the string and having received direct instructions from Putin that the citizens of Russia blow up Turkey. Well, then what? Kashchenko is ready to accept another patient.
Erdogan in Kashchenko will not accept, he is not a citizen of Russia!
Then it's not our problem at all!
But still, you personally believe that some of our runaway ex-fellow citizens could have blown up something in Turkey?
Yes, I do believe in everything! Whatever I hear, I believe in everything. I'm so gullible - you can't even imagine! I am unpredictable and trusting, like a child.
I repeat once again, there may be Dagestanis, Chechens. There, people from dozens of countries roam through Turkey, any terrorists who can only be thought up, wander around Turkey to and fro. And when you breed rats as a neighbor, who told you that they won't get into your barn? Erdogan spread the crowd of terrorists, including from the post-Soviet space, Central Asia. And who said that they will not do the same for Turkey? And who is to blame, except for the Turkish authorities?
How does Russia respond to Erdogan?
And why should Russia respond to Erdogan? The dog barks, the caravan goes. What is there to respond? For every sneeze not zdravstvueshs. I personally have a calm position, like Kaa the boa constrictor sits on, and the banderlogs from the branch rush at him with dry droppings. Let them rush, they are Banderlog! What should I expect from them? What will they start to behave like British lords? And I do not understand why it is necessary to react differently to this at all. "Oh, Erdogan said something." And what he carries - so he always carries it.
Does Russia need such friends and allies?
Russia has no friends and allies. And Erdogan is not our friend or ally. Such friends - for the trunk and the museum. What is he, to hell, a friend and even more ally?
The Turks themselves, in any case, many, would like to have friendly relations with Russia, on both sides there is an understanding that Russia and Turkey have something to discuss further ...
Of course, there is something to discuss next! We have been discussing 500 for years, if we had either 13 or 14 wars, half of southern Russia is former Turkey. And nothing, we discuss it all the time. Once again, we will continue to discuss - maybe, even Istanbul will have to be taken, although I don't want to die! "Istanbul, Istanbul, carnations wither." What do we bother about this? What friends? For us, Ukraine was not even a friend or ally, but a fraternal socialist republic. That such brothers ... Cain and Abel were such brothers. And then Erdogan ... are you talking about? Do not be clinical idiots!
In this situation, I simply cannot rejoice at the fact that, if they gave you in the face, you are substituting the other cheek, because I am a Jew, I don't have it in the tradition. If we have received something, we must repay the debt, with interest, linking to the price index and, preferably, double the amount.
And how can Russia give Erdogan a debt, which still offends us all the time?
And let it be specially trained people think it is not a question of my salary.