In Ukraine, found another figure, who declared knowledge of the recipe that would avoid war. This figure turned out to be a man who calls himself the Ukrainian patriarch, Filaret (Mikhail Denisenko). According to Filaret-Denisenko, Ukraine would not need to fight if there was a single Orthodox church in the country - the UOC of the Kyiv Patriarchate.
From the statement of Filaret-Denisenko expressed during his visit to Ivano-Frankivsk region (quoted from the site of the administration of the Ivano-Frankivsk Regional State Administration http://www.if.gov.ua):
The future of the Ukrainian people is a single Orthodox church. A vivid evidence of this is the active transfer of the laity from the parishes of the Moscow Patriarchate to Kiev. If we had a single Orthodox church, it would be possible, and there was no war. After all, there would be no reason to support the pro-Russian clergy.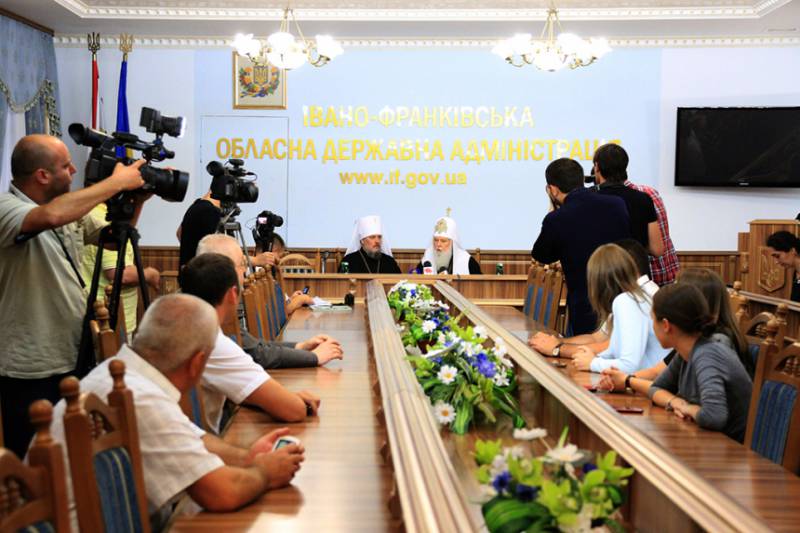 With his statement, Denisenko, firstly, actually confirms that a civil war is going on in Ukraine, and secondly, makes it clear that the Ukrainian clergy represent a real secular structure - "pro-Russian" or "pro-Ukrainian", and that serving God to Ukrainian clergy is far away does not always come first.
In his statement, Filaret-Denisenko said that the UOC of the Kyiv Patriarchate provides material assistance to the participants of the "ATO". At the same time, the Ukrainian "primate" did not say a word about the need to assist the suffering population of the long-suffering Donbass.