The Permanent Representation of the Russian Federation at the OSCE proposed to consider the issue of creating demilitarized zones in Donbas and strengthening the functions of a special monitoring mission, reports
RIA News
Post Russian representative Alexander Lukashevich.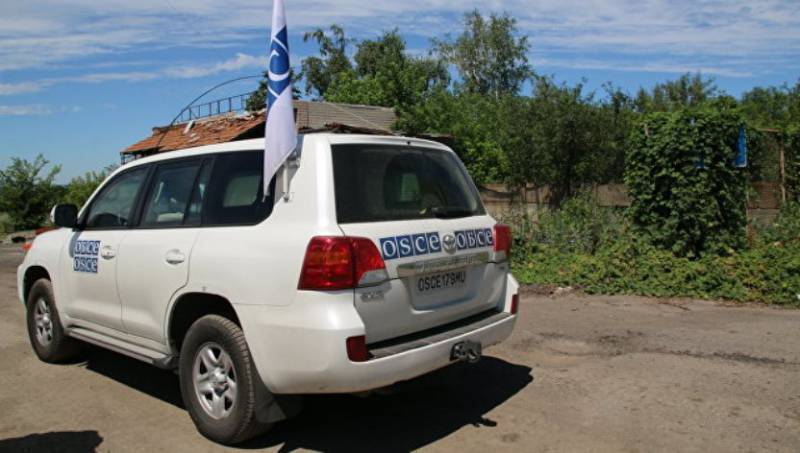 According to him, "the Ukrainian representatives confused everyone on the issue of the armed police mission of the OSCE in Ukraine, and as a result Russia offered the OSCE countries two options that could be agreed upon."
"First of all, we are talking about creating demilitarized zones and strengthening the functions of the OSCE special monitoring mission in these zones to monitor the breeding of the parties and certify warehouses with withdrawn weapons. And here - in the context of strengthening the capacity for monitoring - an additional contingent is possible, not excluding the option of providing it with a standard
weapons
for personal safety, "
said the diplomat.
The second option is not related to the activities of a special monitoring mission.
"This is an operation in support of OSCE ODIHR electoral observation efforts, including an assessment of security conditions, if the parties agree on the modalities of elections in Donbas. We are talking about international experts who will have to ensure the work of the ODIHR monitors in the electoral territories together with the detachments of the people's militia of the LPR and DPR. It is clear that the Ukrainian side is categorically against this model, but options are being discussed, "he explained.
Lukashevich stressed that "the OSCE is a civil organization that, by non-military means, should help resolve any conflict in its area of ​​responsibility, because the mandate does not provide for peace enforcement operations."
"Ideas about any armed component or engaging police functions in the conflict zone were met in Vienna very coolly, even by the Americans, not to mention the governing structures of the OSCE and the mission in Ukraine," he said.
In turn, the representative of the Russian Federation to NATO, Alexander Grushko, said that Moscow was concerned about the transfer of army units trained by the alliance's instructors to the Donbass.
"The aid programs that NATO implements in Ukraine pour water onto the mill of the" war party "and create for some forces in Kiev a sense of the possibility of military revenge. We are also concerned that the units of the Armed Forces of Ukraine, which were trained by instructors from NATO countries, are being transferred to the contact line in the Donbass ",
he said.
"Moscow is also worried about something else: the political course that was chosen by NATO under the pretext of the Ukrainian crisis has now taken the form of military planning, and this is very dangerous. Military planning, which is directed against Russia, will inevitably generate a hostile policy. NATO will have to continually explain to the public why the alliance spends such resources to counter the threat from the east. Everyone understands that such a threat does not exist, "Grushko added.