Since 60, Liberty Island has been one of the most important geopolitical allies of the USSR, having received a significant amount of modern military equipment. As a result, the Cuban army became the strongest in Latin America, both in quantity and quality of weapons, and in the level of combat training, which was demonstrated in the wars in Ethiopia and Angola.
The most important achievement of the Armed Forces of Cuba is their victory in Angola over the formally African, but in fact Anglo-Saxon army of the Republic of South Africa at the end of the 80.
The collapse of the USSR was a disaster for Cuba. Since that time, the country's Armed Forces have not received any new military equipment, which has degraded very much. In order to correct the situation in Cuba, the production of "hybrids" was established. For example, SAU, PU ZRK and coastal anti-ship missiles on the T-55 chassis. In turn, the T-55 towers are installed on the BTR-60P, and the result is BMTV. Similar combinations are made with the BMP-1. The apotheosis of this hybridization has become frigates from fishing trawlers (for more details, "Thunder of Freedom"). Such a "permutation of the components" does not provide a real increase in the combat power of the Armed Forces, since the amount remains the same. There is no real upgrade of weapons, which leads the Cuban army to complete degradation in the foreseeable future.
Ground forces are divided into three armies - Western, Central, Eastern. Western includes 2-th AK (headquarters - in Pinar-del-Rio, in the composition of the AK - 24, 27, 28-I infantry divisions), 70-th mechanized, 1-th armored, 78 and 72- reserve infantry divisions. Central army: 79-th AK (Las Villas, 4, 41, 43 pd), 48, 81, 84, 86-rd, 89-rd infantry regiment of the 242-rd, 24-th armored regiment 12-rn armored regiment 1 armored regiment 5-rd, 50 armored regiment 52 regiment 54 reg. armored division. Eastern Army: 56-th AK (Olgin, 58-I mechanized, 6, 60, 63, 65-I PD), 69-th AK (Camaguey, 3-I mechanized, 6, 9, 31-I PD), 32-I mechanized, 38, 90, 95-i PD , 97, 123 th armored, 281, 28, XNUMX, XNUMX, XNUMX, XNUMX, XNUMX th infantry divisions, Guantanamo border brigade, XNUMX th infantry regiment XNUMX th p. The majority of divisions in peacetime are brigades, deployment is assumed only in wartime.
In service are 65 launchers of extremely outdated TR Luna.
Tank
the fleet consists of approximately 800 T-55s (even up to 450 in storage), 400 T-62s, 60 light PT-76s, and possibly 51 T-72s. There are at least 100 BRM (up to 50 BRDM-1, 50–100 BRDM-2), 16 BMTV BTR-100 (BTR-60 with the T-55 tower), 16 BMTV BTR-73 (BTR-60 with the BMP-1 tower ), from 50 to 60 BMP-1, to 100 BTR-60P, to 100 BTR-40, to 150 BTR-152.
The composition of artillery by 20 to 40 ACS 2S1 (122 mm) to 40 2S3 (152 mm) not less 8 ACS BMP-122 (howitzer D-30 BMP-1 chassis) for at least 8 wheel ACS with guns M -46, A-19 and D-20 in truck bodies. The number of guns is towed approximately 500 - 140 to D-30, 100 to M-30, 90 to A-19, 190 to M-46 to 100 ML-20, 90 to D-20, 50 to D-1. As stated above, some of these guns turned into self-propelled guns, thus ceasing to be towed. There are up to 2 thousand mortars (82 and 120 mm), 178 MLRS BM-21 and, possibly, a number of obsolete MLRS (BM-14-16, BM-24, M-51). In service are several hundreds of "Malyutka", "Fagot" ATGMs, and before 700 VET are on the order of 600 ZIS-2 and 100 self-propelled SU-100.
Branch VOP includes three divisions SAM "Square» (12 PU), about 120 SAM short range (60 «Bolt-1», 16 "Wasp», 42 «Bolt-10), more 200 MPADS (60« Bolt-2 », 50 «Bolt-3», 120 «needle-1»), to 120 SoL (up 23 SoL-57-2, from 36 to 50 SoL-23-4, at least 32 SoL an APC-60 chassis, in Vol. h. 16 with ZN-23-2 and 16 with 61-K guns, up to 900 anti-aircraft guns (approximately 380 ZN-23, 280 X-61).
Due to the antiquity of the technology and the above-mentioned "hybridization", it is extremely difficult to establish the exact number of combat-ready samples of each type.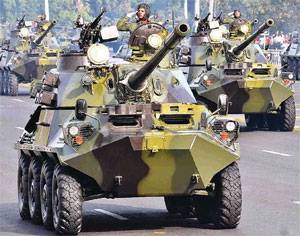 The air force is affected by the obsolescence of weapons and military equipment is much stronger than ground forces, and therefore very close to complete retirement. Organizationally, they are divided into three air zones, each of which includes one air rifle: "West" (2-I brigade), "Center" (1-I), "East" (3-I).
At present, no more than 40 fighters retain their combat effectiveness: 2–4 MiG-29s (another 6–10 in storage), up to 24 MiG-23s, 6–14 MiG-21s. Transport
aviation
fully collapsed. 1 Yak-40, up to 10 An-2, up to 18 An-26 are in storage. The Air Force remains training aircraft of Czechoslovak production - up to 8 Z-142, up to 27 L-39C.
There are four combat helicopters Mi-35 (still 8 and up to 11 Mi-25 in storage). Multipurpose and transport helicopters - up to 30 Mi-17 (another approximately 12 in storage), up to 14 Mi-8, 5 Mi-14 are in storage.
As part of ground defense, there are up to 42 divisions of C-75 SAM systems (at least 144 standard PUs, another 24 PUs on T-55 chassis), up to 28 divisions of С-125М radars (60 standard standard PUs, 36 more on T-55 chassis ).
In the coming years, only Mi-17 helicopters will retain their combat capability as part of the Cuban Air Force, the rest of the equipment will be decommissioned.
The Navy was unable to contain most of the ships and boats of Soviet construction. The submarine fleet currently consists of four Dolphin-type SMPLs (a variant of the North Korean SMPLs of the South type). The largest surface ships are two frigates of the Rio Damuji type. They are former Spanish fishing trawlers, which are equipped with anti-ship missiles P-15 from decommissioned missile boats and the land ZSU-57-2 tower. The largest "normal" warship is the 1241P Corvette.
Remain on 6 missile Ave 205 and patrol boats: 2 – 3 Ave 205P and 18 – 30 Ave 1400, 5 – 8 of minesweepers (2 – 3 Ave 1265, 3 – 5XUMNXXUMNXX1258 – XNUMX – XNUMX – XNUMX – XNUMX – XNUMX – XNUMX – XNUMX – XNUMX – XNUMX – XNUMX – XNUMX – XNUMX – XNUMX – XNUMX – XNUMX – XNUMX – XNUMX – XNUMX – XNUMX.
The sludge may be located up to 3 PL Ave 641, 1 frigate 1159 A, about 12 missile and 9 torpedo boats, 1 – 2 minesweeper Ave 1265 and 7 Ave 1258, 1 – XNXXXXXXXXXXXXXXXXXXXXXXXXXXXXXXXXXXXXXXXXXXXXXXXXYXXXXXXXXXXXXXXXXXXXXXXXXXXXXXXXXXXXXXXXXXXXXXXXXXXXXXXXXXXXXXXXXXXXXXXXXXXXXXXXXXXXXXXXXXXXXXXXXXX of 2 771 However, in reality, at least one of the above is unlikely to be able to return to service.
The Cuban Navy has a Marine Corps of two battalions. Significant potential has coastal defense. It consists of the SCRK P-15 (including the PU of these CRP, taken from the missile boats and mounted on the T-55 chassis), as well as the A-19, M-46, ML-20 guns (among those specified above).
The only potential adversary of Cuba is the United States; the countries of Latin America have neither the capacity nor the desire for a military invasion of the island. Of course, the potentials of the armed forces of the United States and Cuba are currently completely incomparable. Nevertheless, the island position, the continuing high level of combat and moral and psychological training of personnel make the invasion of Cuba quite a complicated operation, even for the US Armed Forces. Washington will only intervene in the event of serious internal destabilization on the island. Therefore, the current degradation of the Cuban armed forces has not yet led to disastrous consequences for the country. The restoration of their potential is unlikely. Russia, of course, could supply Cuba with modern equipment, but in the current situation it is not ready to do it for free, and Havana does not have money and will not have it. Especially since a certain, albeit rather limited, rapprochement between Cuba and the United States began. This only reduces the desire of Havana to spend the missing money on rearmament.