The special operation conducted by the Ukrainian security forces in the Donbass is "a real Patriotic War," Poroshenko said during a visit to Slavyansk on the occasion of the 2 anniversary of the "liberation" of the city.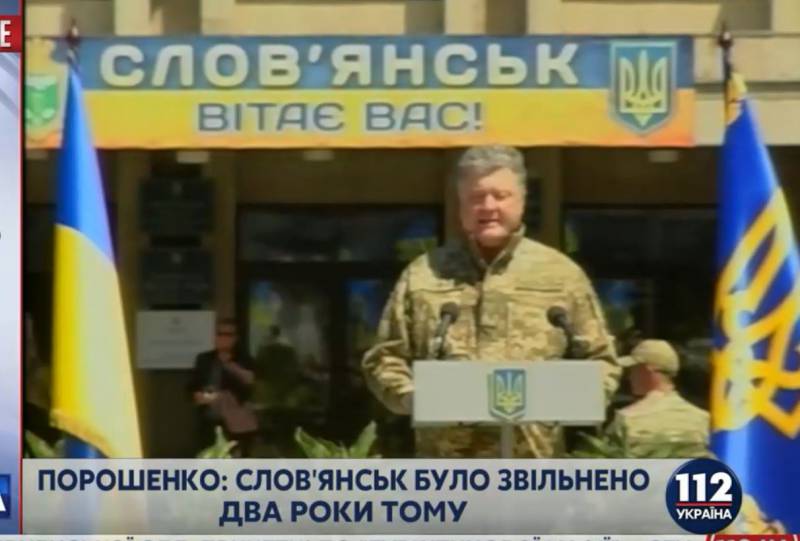 "We can rightly consider those July days as a momentous, turning point in the revival of the Armed Forces of Ukraine. After all, it was then that the Armed Forces were reborn. Passed their first combat exam in this truly World War II. In fact, it was an exam that not every army in the world can pass. She was actually reborn from scratch ",
Poroshenko quotes a newspaper
Look
.
"Two years have passed and two years ago on this square in 12: 00 you reported to me about the liberation of the city. A grenade launcher with a "fly" jumped out of the entrance of this house, trying to convince us that they would still attack the peaceful rally, and was destroyed. This was the end of the fascist Russian occupation of captured Slavyansk ", - said the president.
Meanwhile, the DPR reported the discovery of the next mass burial of Ukrainian security officials near Marinka, which is evidence of the concealment of real losses by the command of the Ukrainian Armed Forces.
"The Ukrainian military leadership continues to hide its losses from the public and does not take any measures to bury the dead servicemen. Another such fact was established in the village of Sladkoe (near Marinka), where 40 bodies were found in abandoned buildings in military uniform with insignia of belonging to the Armed Forces of Ukraine, "said Eduard Basurin, a representative of the Ministry of Defense of the DPR.
The newspaper reminds that the intelligence of the Donetsk Republic has repeatedly recorded the facts of concealment by the command of the Armed Forces of Ukraine the real number of casualties among personnel. "According to the latest data, only for the past week, the loss of the Ukrainian security forces in the Donbass amounted to more than 80 people," writes the publication.