Defense Minister Sergei Shoigu held a conference call with the leadership of the RF Armed Forces. The main issue that was raised during the meeting was related to the construction and reconstruction of military facilities. Before the start of the main part of the meeting, Sergei Shoigu introduced the new leadership of the Baltic
fleet
- Acting Commander-in-Chief of Vice Admiral Alexander Nosatov, Fleet Chief of Staff - Vice Admiral Igor Mukhametshin, MTO Deputy Marine Fleet Major General Ilgar Kakhramanov. In addition, Sergei Shoigu announced staffing decisions to guide the Southern Military District. Colonel General Alexander Dvornikov will act as the commander of the Southern Military District.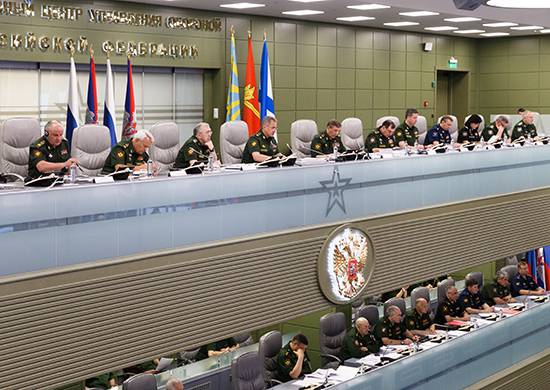 From the statement of Sergei Shoigu on the construction and reconstruction of military infrastructure:
The number of construction projects increased almost 2,5 times. The commissioning of (facilities) was linked to the pace and volume of the re-equipment of the army and navy, as well as the manning of formations and military units.

As a result, the quality of the Armed Forces has increased and their readiness to perform tasks for their intended purpose.

At the same time, the performance of target functions in the current economic conditions required a clarification of the outlined plans. In January 2016 of the year, the On-Site Capital Construction Plan was approved, according to which the budget funds allocated for the current year were redistributed in key areas.

According to the results of the current year, it is planned to put into operation the 602 complex facility, which includes almost 4,3 thousand buildings and structures.
Sergey Shoigu reported that about 123 billion rubles were allocated for the arrangement of combat positions and the formation of the corresponding infrastructure. For military education facilities - 2,5 billion rubles, military medical sports facilities - about 5 billion rubles.
According to the Minister of Defense, special commissions for state acceptance have been set up in each of the districts to control the quality of work.