The latest authorities have pleased Ukrainian citizens today with the latest evropemogy. Since July 1, changes regarding utility bills have come into effect. It is heat and water supply. Based on these changes, the national commission of Ukraine on state regulation in the field of energy and utilities raises tariffs by an average of 75-90%. About this reports portal
"Correspondent"
.
The state regulator calls gas appreciation the main reason for the rise in price of heat and water. Now gas tariffs for both ordinary citizens and industrial enterprises will be the same - 6,8 thousand UAH per thousand cubic meters (about 17,6 thousand rubles at the official exchange rate).
In Russia, since July 1, there was also a rise in prices for housing and communal services, on average at the level of 4-6%. For comparison, the cost of 1 thousand cubic meters of gas for residents of regions of the Russian Federation bordering Ukraine (Belgorod, Kursk, Bryansk and others) ranges from 6 thousand rubles to 7,5 thousand rubles (depending on the region and nature of use).
However, the almost twofold increase in utility tariffs is not the only "peremoga" of Ukraine today. Thus, representatives of the Crimean Tatar population of the Republic of Crimea called on official Ankara to reconsider their statements regarding the Crimea and the choice of its inhabitants, made in March of 2014.
RIA News
With reference to the leader of the movement "Crimea" Remzi Ilyasov, reports that the Crimean Tatars are calling on the Turkish authorities to abandon the same rhetoric that the current authorities in Kiev are exploiting against the Crimeans. The statement says that the Crimean Tatars are calling on Turkey for the sake of normalizing relations with Russia to recognize the results of the popular choice (referendum).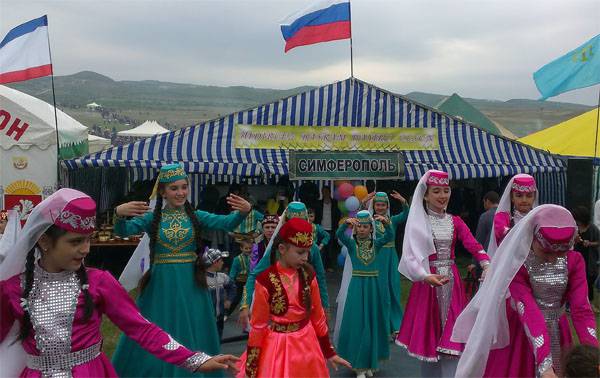 In the Ukrainian segment of social networks, they have already responded to this initiative, saying that this is the "Putin's plan", which so hastily accepted an apology from Erdogan. How to know, how to know ...