Fighter aviation for any state in the modern world is a priority in terms of military power and dominance in the sky. Azerbaijan is one of the leaders in this direction in the Transcaucasian region. Azerbaijan's fighter aviation fleet consists of 16 units of the MiG-29S and MiG-29UB fighters, as well as 5-10 units of partially modernized Soviet-made MiG-25P and MiG-25PD fighter interceptors.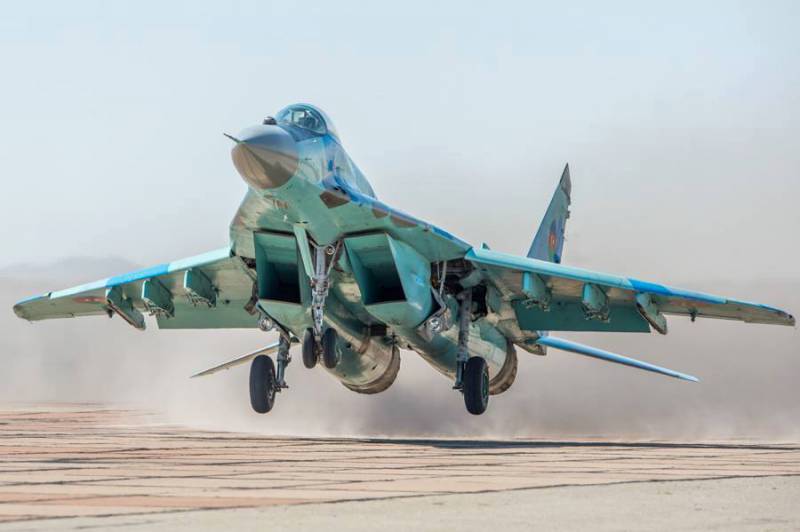 Fighter MiG-29 Air Force of Azerbaijan
It is impossible to call fighter aircraft of Azerbaijan meeting modern standards. The MiG-29 fighters, once purchased in Ukraine by Azerbaijan, have not yet been modernized to increase their combat capabilities. Thus, Azerbaijani MiG-29 fighters remain at the level of 4 generation fighters, while developed countries replenish the fleet with 4 + and 4 ++ generation fighters and only some countries (such as the USA, Russia, China, Israel, South Korea , India and Japan) are beginning to replenish their fleet of air force fighter jets 5-th generation.
For Azerbaijan, in choosing and purchasing new fighters, it is necessary to take into account many factors, one of which is that the potential enemy has a sufficiently strengthened air defense system. Another equally important factor is that not every country is ready to deliver fighter jets to Azerbaijan, citing the fact that we have an unresolved territorial military conflict. An example of such a refusal in the supply of fighters could be the fact that Azerbaijan in the 2013 year showed interest in the Swedish fighters Saab JAS 39 Gripen, but the negotiation process did not produce results due to the refusal of supplies due to the existing territorial conflict. Another similar example could also be Russia's refusal to supply Azerbaijan with MiG-35 fighters of the 4 ++ generation. Azerbaijan also wanted to buy them, but was rejected by Russia, the reason for which was either Moscow's alliance with Yerevan, or the fear that Azerbaijan's air force would be more powerful in the South Caucasus than the Russian air force stationed in Armenia.
However, Azerbaijan did not stop in searching for opportunities to purchase new fighters. The Sino-Pakistani fighter JF-17 Thunder became one of the interested Azerbaijani military. Talks and rumors about the plans for the purchase of these fighters by Azerbaijan have been going on for a long time.
Some sources and the media even called the number in 24 units, allegedly just as many of the JF-17 Thunder fighter jets ordered Azerbaijan. But so far, none of the official sources have confirmed the purchase of JF-17 Thunder fighter jets by Azerbaijan. Moreover, it is possible that Azerbaijan completely refused to purchase these fighters due to the fact that the JF-17 Thunder fighter jets in their tactical and technical parameters are not much different from the MiG-29 fighters of the Azerbaijani Air Force. Thus, the meaning of the purchase of these fighters completely disappears. Directly speaking, the JF-17 Thunder fighter is in fact an 4 generation fighter, no different from other fighters of the same generation, and so far completely raw, while Azerbaijan needs to strive to purchase 4 + or 4 ++ fighter jets .
If we talk about the fighter generation 4 + and 4 ++, they are presented in the following models: Russian MiG-35, European Eurofighter Typhoon, French Dassault Rafale Standart F2, American F-16IN NG and Chinese Chengdu J-39B. Among all these countries, the manufacturers of the 10 + and 4 ++ generation fighters, only one country can become a potential supplier of fighters to Azerbaijan - China. China has made tremendous efforts to build and produce military equipment, and the Chinese
weapon
It has long been competing with arms manufacturers from Russia, the United States and some EU countries. Separately, it should be noted that in terms of production of fighters, China has advanced far enough, and now half of the fleet of fighter aircraft of China are fighters of their own production.
However, in military-technical terms, Azerbaijan has little to do with China, and to be precise, it is not at all connected. Azerbaijan purchased a Turkish-made 21 long-range MRLS "T-300 Kasirga", which are the license equivalent of the Chinese WS-1B MRLS. And in order to fill this gap, the Azerbaijani military and officials of the Ministry of Defense of Azerbaijan can think about establishing a military-technical connection with China. You can start just with the purchase of fighters, namely the fighter Chengdu J-10B.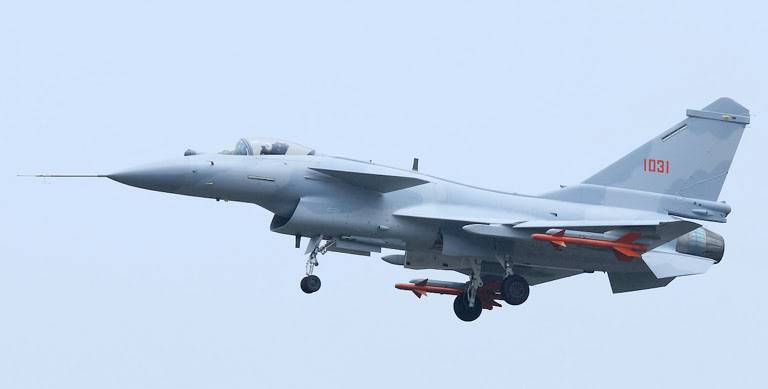 Multi-purpose all-weather fighter PLA Air Force Chengdu J-10B
The Chinese fighter Chengdu J-10B is an upgraded version of the base version of Chengdu J-10А. Chengdu J-10B fighters are equipped with Russian AL-31FN engines, which in the future can be replaced by Chinese WS-10A. The upgraded J-10B differs from the basic version of the J-10A radar with a phased antenna array, supersonic air intakes of a modified design, a new infrared search and tracking system, metallized spraying on the cockpit canopy to reduce radar visibility and a new electronic warfare system. Experts in the field of fighter aircraft refer Chengdu J-10B to the 4 ++ generation and note that the Chinese fighter Chengdu J-10B surpasses even some of its foreign competitors.
The purchase of Chengdu J-10B fighters by Azerbaijan will not only increase the military power of Azerbaijan in the sky, but will also give a tremendous impetus to the development of military-technical ties with China. In the future, Azerbaijan may purchase military equipment in China for other types of troops. And, if it adds even more effort to this process, Azerbaijani-Chinese relations will be developed, new opportunities will open, including obtaining a license to manufacture Chinese military equipment in Azerbaijan.