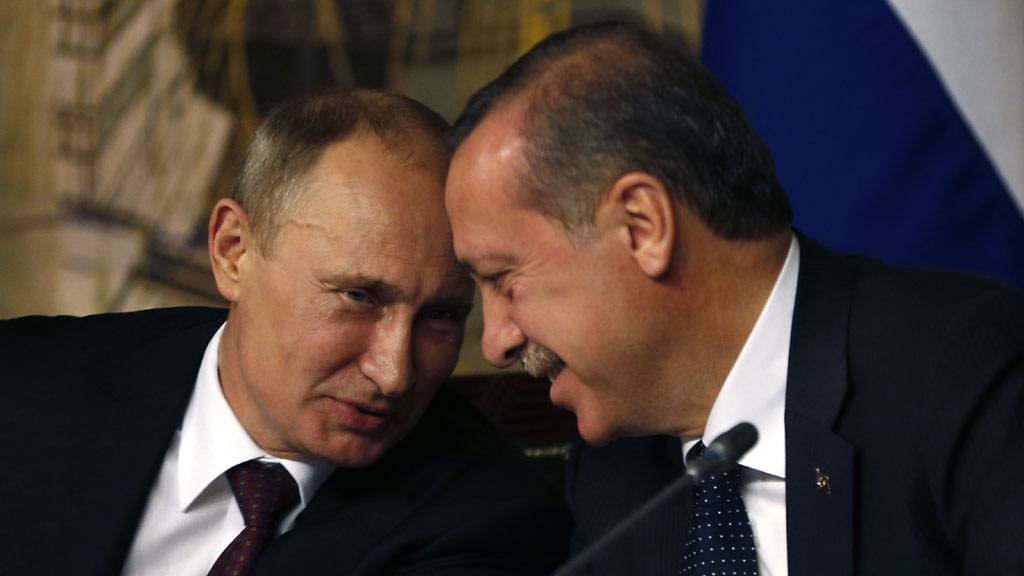 Perhaps, I am not the only one in the country who has been in the past two days, if not in a stupor, then at least in slight bewilderment from what is happening.
Chronology of events. BEGINNING: 24.11.2015 in Syria shot down a Russian Su-24. The commander died. Survival operation survivor navigator Su-24. The death of a marine of the Russian Federation. END: 28.06.2016, letter from Erdogan with "apologies" addressed to President Putin. 29.06.2016 is a telephone conversation between presidents. 30.06.2016 - Medvedev's statement on the development of the issue of lifting restrictions on the importation of Turkish food products. 30.06.2016 - removal of restrictions on charter transportation of tourists to Turkey. Everything. Finita la comedy.
Versions. At once I will make a reservation that I do not claim for the status of a political observer with the experience. These are my personal conclusions and reflections.
1 version. Blackmail.
Taipych is well aware of and believes the loss of the Russian "tourist embargo." And the situation with tomatoes is also not happy. According to some data, losses from the first and second since the end of last year amount to 3 billion dollars. And 6 billion losses in "other areas of trade." It is also necessary to take into account the lost profits from the freezing of the Turkish Stream, the suspension of the construction of a nuclear power plant on our money, by the way, I mean Russian taxpayers. What to do? Need to solve something. When considering the situation, we must bear in mind that Erdogan is a deeply oriental person, with an inherent mentality, with his worldview. Add to this his considerable Ottoman ambitions, etc.
Delving into the Montreux Convention, in a number of articles on this topic, I never saw a single reason that would unequivocally prohibit the formal closure of the Straits by Turkey by international law. The convention itself? Not.
But the reasons and reasons to close them - the mass. Who helped write this law? Right. And they know their stuff. According to Art. 20, 21, if Turkey is a belligerent or considers itself to be under direct military threat, according to the articles, it has the right to regulate the passage of ships at its discretion. It's enough. Was Turkey under direct military threat after the conflict with Su-24? Yes.
What prevents Erdogan from being again under a direct military threat? Nothing. Of course, this raises the conflict to a completely different level, but nobody thought about the downed Russian bomber either ... The version is so-so. But has the right to life.
2 version. Terrorism.
Strange, but the letter and the conversation took place on the eve and during the terrorist attack, which, if it happened in a well-fed and tranquil Europe, would be called at least MYSTERIOUS. Everyone remembers the resonance caused by the terrorist attacks in France. Politicians went hand in hand, flags on each avatar of the closest teenager, etc. And in Turkey it is permanent. Almost every month.
The thought does not leave me that people are somehow strange about life. A European's life is more expensive than a Turk, a Turk is more expensive than a Syrian, and the Kurds are generally vegetables, I don't feel sorry. However, it is unlikely that the Turks for Erdogan are less valuable than the Europeans. And when the inhabitants of your country are dying, one by one, the money from the oil stolen and mixed with blood is considered to be somehow slower, and the crunch is no longer so loud ...
I am most alarmed by the fact that at first there was a letter, then a terrorist attack, then a call and cancellation of a tour embargo, and then it turned out that the bombers were a Kyrgyz, an Uzbek, and a Russian. It is interesting. Looks like some kind of political order. Or, probably, the security services of Turkey attacked the terrorists on the trail earlier, and they knew that they had this kind of "international" cell, or the security services of Turkey themselves created this cell, so that later we could add this topic to us.
But, one way or another, the version is that Erdogan already ate a lot of terrorist oil, by the way, its flow was greatly diminished, he was tired of this disadvantageous gangster underbelly. So it's time to collect stones. You see, the terrorists are not at all friends, all the more yours are there.
3. Drain the hosts.
It has become boring somehow recently. Ukraine faded into the background
News
. Yes, and everyone once loved the Poroshenko, especially in Europe, they have had enough of their problems lately. Savchenko was released. The offensive in the Donbass is impossible. Sucked out the Ukrainian theme. Not interested.
In Syria, too, is not entirely interesting. Government troops are gradually pressing ISIS on a couple of Kurds, despite the fact that there are not many resources for this. Russia seems to be no longer there ...
But Erdogan fun. Billions in losses, refugees, terrorist attacks, Kurds-armed Americans, have not taken to Europe, and they have already forgotten to talk about it, they have deceived.
Who prompted Turkey to attack the Su-24? What kind of sauce did it serve? Take the European Union, help with money, deal with Russia in Syria, a direct bribe? Did not take, did not help, did not understand. Instead, they also began to help the Kurds. Erdogan is an oriental man, sly. And the deception should worry much more painfully, for it has got used to deceive itself. Why is Russia not a partner, even if it is less profitable? But honest and direct.
We do not know what was in the last letter to Putin, and it is unlikely to know. But it is possible to assume that in the next telephone conversation there was a balance on US foreign policy on the Middle East, ISIS, savory secrets and subsequent geopolitical bargaining. Pilot and infantry sorry, honor, pride. But "the state always has interests in the first place" (V. Putin), and, therefore, Tayipych suggested something that was very interesting. And it was impossible to disagree.
But, be that as it may, in the fact that all this time we were just waiting for a formal apology to quickly embrace and forgive the useless misguided neighbor, it is hard to believe.