The press service of the Prosecutor General's Office of Ukraine publishes a report that an indictment was sent to the courts against the commander of the Black Sea
fleet
Alexandra Vitko. Recall that earlier in the Prosecutor General's Office of Ukraine they stated that they sent a subpoena to the address of Admiral Vitko with the help of the international courier service in Sevastopol.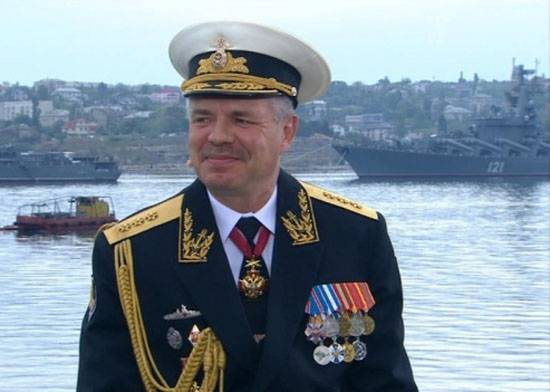 UNIAN
cites the statement of the press service of the GP of Ukraine:
The 30.06.2016 indictment against A. Vitko was sent to the court for consideration on the merits according to the special court procedure.
The prosecutor's office notes that according to Ukrainian law, Oleksandr Vitko is accused of committing crimes under ch. 3 art. 110 (encroachment on the territorial integrity and inviolability of Ukraine); h. 4 Art. 27, h. 1 Art. 111 (incitement to high treason); h. 3 Art. 27, Art. 113 (sabotage organization); h. 2 Art. 28, h. H. 1, 2 Art. 437 (preparation, planning and conducting an aggressive war) of the Criminal Code of Ukraine.
Exactly a month ago, the Prosecutor General of Ukraine, Yuriy Lutsenko, under whom the prisoners are really "crying" again, declared that the Pechersk district court of Kiev had granted permission for an extramural condemnation of a high-ranking Russian soldier.
Interestingly, when the Pechersk court of Kiev starts issuing permits to arrest, for example, the heads of foreign ministries of Germany, France and Poland, who acted as guarantors of the terms of the agreement between the opposition and Yanukovich, and who then simply "merged", pushing Ukraine to blood, chaos and schism.