Information continues to come from various sources regarding the details of the "meeting" of the Russian patrol ship Yaroslav the Wise and the American destroyer Gravely. Recall that a few days ago, the Russian Ministry of Defense issued a report that the destroyer of the US Navy made a dangerous approach (at a distance of approximately 60 m) with the ship of the Russian Navy Yaroslav the Wise in the Mediterranean. The Ministry of Defense of the Russian Federation called such an approach unprofessional actions of American sailors.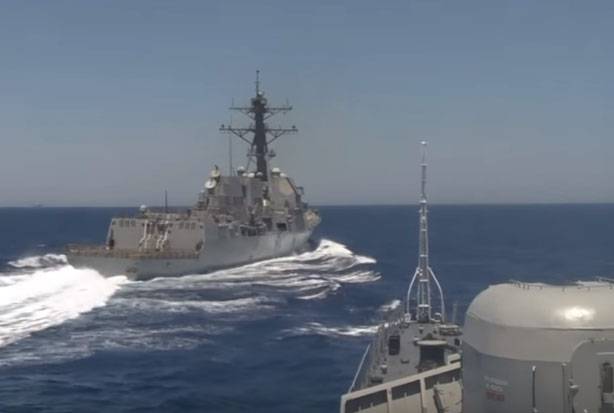 After several days of meditation, the Pentagon decided to issue its own interpretation of the events. According to the top of the American military department, the Yaroslav the Wise outposts allegedly deliberately tried to interfere with the actions of the American aircraft carrier Harry Truman, which was accompanied by the very same destroyer Gravely.
American portal
Defense News
Publishes a statement from the Pentagon spokesman, referring to the Gravelly commanders:
He ("Yaroslav the Wise") tried to prevent the "Harry Truman" operation. The Russian ship approached the Gravely destroyer accompanying the aircraft carrier at a distance of about 300 m. At the same time, it was located approximately 5 nautical miles from the Harry Truman.
Further, the Pentagon claims that at Yaroslav the Wise they behaved unprofessionally, announcing via radio communications that space for maneuver was limited and that the corresponding signal flag was hung out.
That is, the logic is something like this: "we have shackled ourselves in the movements" ... Somewhere we have already heard something similar.
From the statement of the representative of the US military:
We are very concerned about the unsafe and unprofessional actions of Russian ships. Such maneuvers can exacerbate tensions between countries.