After yesterday's breakthrough in the area of ​​the village of Debaltseve, the Ukrainian security forces were rejected by the troops of the armed forces of the Donetsk People's Republic beyond the contact line - to the "initial positions". Portal "
Russian spring
"Cites a statement by the former commander of the Gorlovka garrison, Igor Bezler, about the beginning of the offensive of the Armed Forces of Ukraine:
In 2: 30 nights (29 Jun) APU intensified. They took Sanzharovka into the entourage, then took the heights of 216 and 220 under Logvinovo, "Gryashchevskiye Rates" - this is 2,5 – 3 km up to Uglegorsk approximately. Most likely, Uglegorsk and Debaltseve will be cut off. Taking the city forehead is stupid and not effective. By evening, "lay down" Milk. The best option is to "cut" the territory, like a puff pie, with the isolation of Uglegorsk-Debaltseve, Gorlovka and Enakievo and separately Donetsk and Yasinovataya. 6351,6350,6348,6149,6148,6147 squares are already occupied by the enemy.
According to the latest data, the breakthrough of the contact line was carried out by the divisions of the 54 th OMB of the Armed Forces of Ukraine.
Later, special units of the Armed Forces of the DPR were deployed to the area where Ukrainian security forces were breaking through. Two such detachments were commanded by well-known militiamen - Givi and Miner. After several hours of fighting, the Ukrainian forces were defeated in the heights near Logvinovo, and they had to retreat.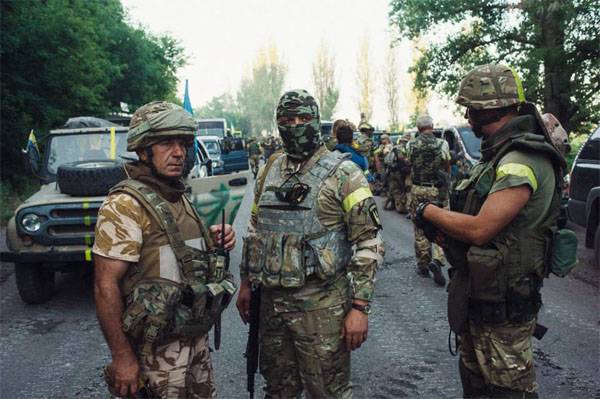 From the message of the Ministry of Defense of the DPR (results "
Donetsk News Agency
"):
Ukrainian security forces retreated from the positions captured in the morning and left the territory, which still remains under the control of republican forces. The Ukrainian Armed Forces consider their losses; there are no dead among our servicemen. Not a single meter of our land will be given to the enemy.
Colonel Basurin, commander of the DPR Defense Ministry Corps, reports that the APU lost three armored vehicles in the Debaltsevo area - 2 BMP and 1 BTR.
Edward Basurin:
At the moment, the situation has returned to normal, there are no clashes.
Detachments of the people's militia of the Luhansk People's Republic took part in the opposition to the Ukrainian side.