The phrase "we live in an interesting time" turns into something utterly banal and erased. Eight months ago, the presidential replica "you won't get rid of tomatoes alone" with regard to Turkey, which shot down the Russian Su-24 bomber, as if hinted that Erdogan is unlikely to get off with tomatoes. And seemingly only sedatives
news
the plots of Channel 1 separated Russia from the great war with Mr., who played with Sultan's ambitions.
And now - about a miracle ... Just one letter, just a couple of pseudo-excitatory remarks and a dozen four minutes of telephone conversations, and ... Did Recep get off with tomatoes? ..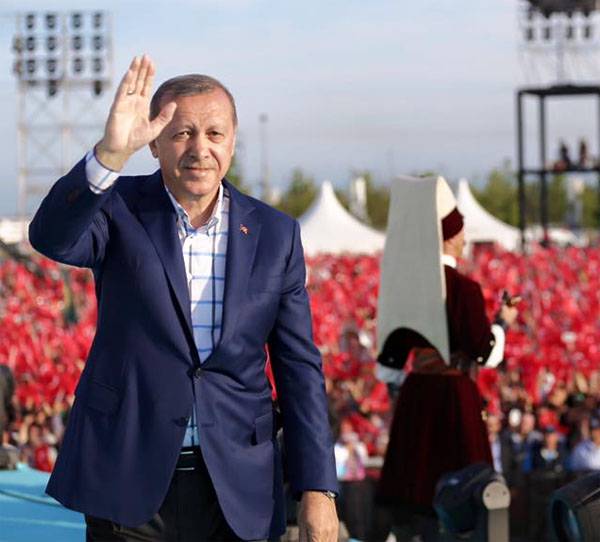 The news of the upcoming personal meeting between Vladimir Putin and Erdogan is one, there are two statements about following the path to normalizing relations, and three restrictions have been lifted by Russia on Russian tourists traveling to Turkish coast. A few days ago, the previously detected terrorist trail of ISIS and its ties with individual officials from the Turkish apparatus did not allow Russians to rest in Turkey, and now, you know, even a terrorist attack at the airport of the country's largest city, when a whole group of militants, allows you to open rest in Erdogan's estate turned the air harbor into a bloodstained territory. In general, logic ...
And according to this logic, it is not at all clear by whom the ordinary Russian average citizen will now represent the president of Turkey, who was still unsubstantiated yesterday (including the Turkish media themselves) accused of dealing with terrorist groups. Just yesterday, talking about the likely normalization of relations with Turkey, something like this was heard: "Only without Erdogan!" And now, it seems, it's okay ... Well, I turned a blind eye to the crossing
weapons
the militants in the north of Syria and smuggling of crude oil by igilovtsami from the Syrian fields - indeed, who does not happen ...
No, of course, economic ties, promising billions in revenues to the budget, need to be taken into account. Here and Akkuyu nuclear power plant, and the Turkish Stream gas pipeline, and all the same Turkish tomatoes ... And, apparently, they took into account. But who after this remained in a rather clean suit? There is an opinion that with their "excuse me" and, as it were, "did what they did," the suit quickly launders, not without Russian help, the very Erdogan who was accused of all mortal sins just now. It must be that now the Turkish President himself, who in the Russian media was somewhere between a fascist, terrorist number one and a failed sultan, wonders how Russia will continue to build relations with such as he.
And if these relations are restored as quickly as Mr. Erdogan ruined them with a blow to the Su-24, then it's time to ask whether this is not a dangerous precedent? Indeed, in fact, any distraught "strategist" who will decide to open confrontation with Russia can now get away with "tomatoes". Undoubtedly, the author can be blamed for excessive conspiracy and absurd interpretations (I would even be happy if this were the case), but such a dramatic difference in degree from minus to plus in relations not even with Turkey itself, but with Mr. Erdogan is quite capable of becoming an a priori indulgence for future provocations and provocateurs against Russia. I would like it not to, but whether the "friends and partners" of Russia will perceive this correctly ...
For obvious reasons, the press service of the Kremlin does not publish a transcript of a telephone conversation between two presidents. But you can try to assume that Mr. Erdogan, as the modern youth says, sculpted excuses. They say that it is not he who is to blame for everything, and that he was generally framed ... What he did not give an order to strike a Russian plane, has nothing to do with sending weapons to Dzhebhat an-Nusra militants in Aleppo area, he did not give orders to iron from long-range artillery the Syrian government troops, who are pushing terrorists in the north of Latakia, did not merge the investigation into the execution of the Russian pilot Oleg Peshkov. In general, clean aki angel ...
And, if we consider only the outer shell of what is happening, then, it turns out, the Russian president believed it. Well, or at least pretended to believe.
Well, okay, tomatoes, okay, Turkish construction projects together with Turkish foremen ... But after all, hundreds of thousands of Russian tourists now really, sorry for inappropriate slang, will rush to Turkey with joyful hoots and shouts of "Hurray! All-inclusive returns ... "After all, we have (and everywhere) a category of people who, for an extra bottle of beer in the mini-bar and animator Mustafa, dancing in a suit of Mickey Mouse, in a Turkish hotel are ready to shut their eyes to the bloody terrorist acts in Istanbul , and the civil war in the east of Turkey, and the fact that in the Turkish ports tankers are loaded with oil extracted from the blood of civilians in Syria. They are simply far from politics, and this is not a reproach, but the usual statement of fact. What is Syria, what is oil? - Give us a Turkish cut of fruits and vegetables and a cheap Turkish fur coat ...
The logic of such people is the same: "This will not affect us. This is generally far from the beaches. "
And if the Russian authorities decided that she did not want to be a nurse for such an unbearable child, then another question arises: what was the impact? Is it possible that a couple of words of "Sultan" Erdogan, who now clearly kicked the ball on the Russian side and are awaiting how Russia will dispose of the ball? So far, again outwardly, we rush with this ball to our own goal. And even the portraits of the dead Oleg Peshkov and Alexander Pozychnich stop noticing behind the billboards of the "Turkish Stream" and all the same Akkuyu NPP? ..
In general, there is a reason to scratch the back of the head and raise the eyebrows higher with an "all-encompassing" thought looking for a way out: "If only for a multi-step ... Well, at least multi-flow" ...