Russian President Vladimir Putin held a telephone conversation with Turkish President Erdogan. According to the press service, the conversation lasted about 40 minutes. The Turkish side rated the telephone talks of the leaders of Russia and Turkey as "productive and positive." In this case, it is indicated that Putin and Erdogan agreed on a personal meeting.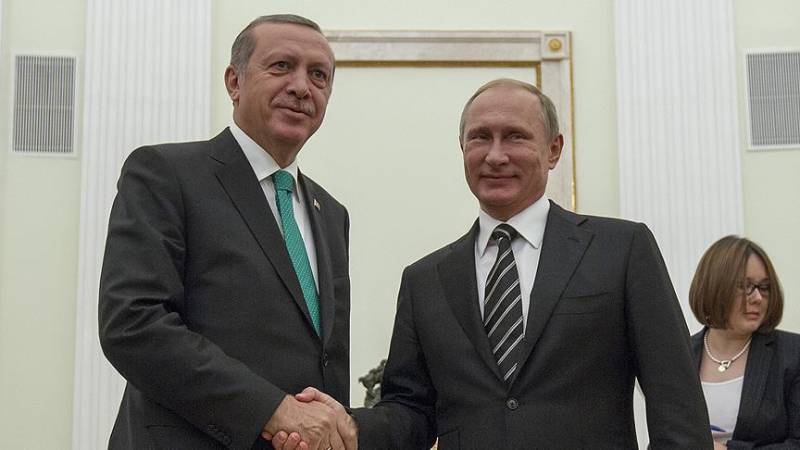 Archival photo of the meeting of the presidents of the Russian Federation and Turkey
Turkish TV channel
NTV
reports that during the conversation, issues of normalizing bilateral relations were discussed, which in fact were frustrated as a result of the attack of Turkish fighters on the Russian Su-24 bomber.
According to
RIA News
, Vladimir Putin expressed condolences to Erdogan in connection with a major terrorist attack in Istanbul, which occurred on the night of June 29.
Sources from the presidential administration of Turkey, to which the news agency refers
Anadolu
It is reported that during the conversation emphasis was placed on interaction in the face of political and economic crises in the region, as well as on joint efforts to overcome differences in bilateral relations.
As a result, the presidents of Russia and Turkey agreed on further contacts, the purpose of which, as announced, is to restore the former relationship between the two countries.
The Russian leader urged Erdogan to focus on conducting an objective investigation into the case of the death of the Russian pilot Oleg Peshkov. At the same time, the Kremlin's press service notes that it has been instructed to begin the process of removing barriers to the travel of Russian tourists on holiday to Turkey.
It is surprising that the speed of development of events with which Moscow decided to improve relations with Ankara. As if nothing had happened. Erdogan's slippery "half-blame" (which yesterday was the official authorities of the Russian Federation called an accomplice of international terrorism) and a telephone conversation - and all that matters ...