The MFA training center located on the territory of the 4 State Central Interspecific Test Site of the Russian Federation (Astrakhan region, Kapustin Yar test site) passed the ceremony of handing over to the Ground Forces the next brigade kit of the Iskander-M OTRK.
press office
Research and Production Corporation "Engineering Design Bureau" JSC (KBM, Kolomna).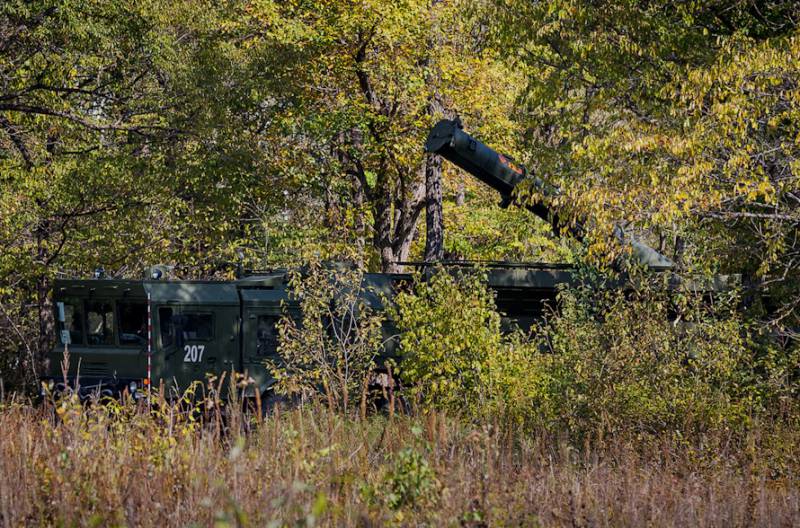 Self-propelled launcher of operational-tactical missile system 9K720 "Iskander-M" 107-th separate missile brigade of the Eastern Military District. Jewish AO, 19.09.2014
The ceremony was attended by representatives of the command and management of defense enterprises.
"The cooperation of more than 150 accessory enterprises, headed by the Engineering Design Bureau, carries out the equipment of high-precision mobile tactical missile complexes in accordance with the long-term contract concluded with the Ministry of Defense of the Russian Federation. Without exception, all deliveries over the past three years were carried out in accordance with the schedule, without a single day of delay, "the release says.
"The whole set of equipment came to the missilemen back in May of this year. A team of specialists from KBM and related companies spent several weeks at the testing site for checking and fighting the vehicles. A set of 51 units of equipment works as a unit, without the slightest failure. OTRK "Iskander-M" is fully ready for combat use ",
reported in the press service.
Blog comment
bmpd
: "We are talking about the transfer of the brigade kit of the Iskander-M PTRC to the 20th separate Berlin Guards Missile of the Berlin Red Banner Brigade of the 5th All-Army Army of the Eastern Military District (the brigade is stationed in Spassk-Dalny of Primorsky Territory).
The set of the Iskander-M complex transferred to the 20 rocket brigade became the seventh brigade set delivered under the state contract of 4 of August 2011 between the Ministry of Defense of Russia and the Scientific and Production Corporation Mashinostroeniya OJSC for the supply of ten brigade sets of the Iskander complex -M ", and the first set, transmitted in 2016 year."