Indeed, few museums have such exhibits.
Tanks
, guns, howitzers, trucks, self-propelled guns are somehow more familiar. Plus, the sizes are also suitable. Meanwhile, not only they won the war. Steam engines were, perhaps, not so noticeable, but, nevertheless, a very significant component of any army.
Moreover, losing the battle due to lack of tanks or guns is likely. But to lose the battle without starting it because of the lack of locomotives is no less logical. For it was with their help that tanks and guns could get from the factory to the front. In some countries the size of a handkerchief, maybe it would be otherwise. But not in ours.
In Brest, opposite the main entrance to the Brest Fortress, there is a small museum. And there ... I would say there is the maximum concentration of horsepower per square meter of museum area. However, judge for yourself.
Entrance to the museum. Neatly so. And immediately after the entrance begins the exhibition.
To begin, we will show all small things, and leave the most delicious for dessert.
Motodrezina TD-5. The tiniest exhibit in the museum's collection.
Motor vehicle AC1A. Self-propelled car for official use.
Narrow-gauge diesel locomotive TU-2. Such diesel locomotives were used on children's railways. This specifically worked in Minsk, and I watched his brother in Baku. Maximum speed - 50 km / h, the power of the diesel 300 l. with.
Snow plow SDPM. 1965 gv, power about 2000 hp
Shunting diesel locomotive TGK-603. 1962 GV Power 240 hp, speed up to 60 km / h. Weight 28 t.
Locomotive M62, 1970 GV, power 2000 hp, speed up to 100 km / h. Weight 116,5 t.
Locomotive 2TE109. Power 3000 hp, speed up to 140 km / h, weight 120 t.
Diesel train DR1. 1969 onwards, speed up to 120 km / h.
Locomotive TEM15. Power 1200 hp, speed up to 100 km / h, weight 120 t.
Actually, not a museum piece, his brothers still plow. And this one is chilling ...
Locomotive TEC. 1968 GV, cargo, two-section. Power 4000 hp, speed up to 100 km / h, weight 252 t.
Now go to the main part.
Locomotive series LV. One of the last Soviet locomotives. Power 1660 hp, speed up to 85 km / h, weight 190 t.
FD20 series locomotive ("Felix Dzerzhinsky"). 1936 gv, power 3100 hp, speed up to 85 km / h, weight 135 t. Produced from 1931 to 1941 years. Honored front-line soldier.
Locomotive TE series. German, which can be seen on a narrow rail track. TE - "Trophy, identical to the series E". Released in 1943 g, power 1400 hp, speed up to 80 km / h, weight 135 t.
The 52 type steam locomotive, or BR 52, was developed in the first half of 1942 as a "military" locomotive. The main task of the designers was to create the cheapest and most technologically advanced and at the same time reliable and easy to maintain locomotive. In this case, the possible duration of operation was allowed to be neglected: the estimated lifetime of the locomotive should have been about 5 years.
In total, during the war, about 2200 of such locomotives, which were operated on the railways in 1940-70, were received by the USSR as trophies and reparations.
Another German, but already converted to our track. Russified.
Steam locomotive PNNUMX. 36 GV The last Soviet main steam locomotive. Power 1956 hp, speed up to 3000 km / h, empty weight 125 t.
Hulk. Wheel diameter 185 cm.
Locomotive series KC-4. "Skoda", 1947 g. Power 200 hp, speed up to 50 km / h, weight 106 t.
Tank locomotive of the 9P series. 1953 onwards, power 320 hp, speed up to 35 km / h, weight 53 t.
Tank - this does not mean that there is a gun. This means no tender with coal. It is replaced by a relatively small box. Shunting engine.
Steam engine PNNUMX "Victory". 32 onwards, power 1946 hp, speed up to 2200 km / h, weight 80 t.
The steam locomotive of the CO series ("Sergo Ordzhonikidze"). 1948 onwards, power 2100 hp, speed up to 70 km / h, weight 130 t.
Locomotive Series Su. 1948 GV Power 1560 hp, speed up to 115 km / h, weight 120 t. Produced from 1924 to 1951. Our "workhorse" of the war years.
Service (headquarters) car with a study.
Even with the stove inside.
This incomprehensible structure is a pneumatic coal loader.
Coach.
I went inside one of the exhibits, after the tour. Everything is complicated and incomprehensible there.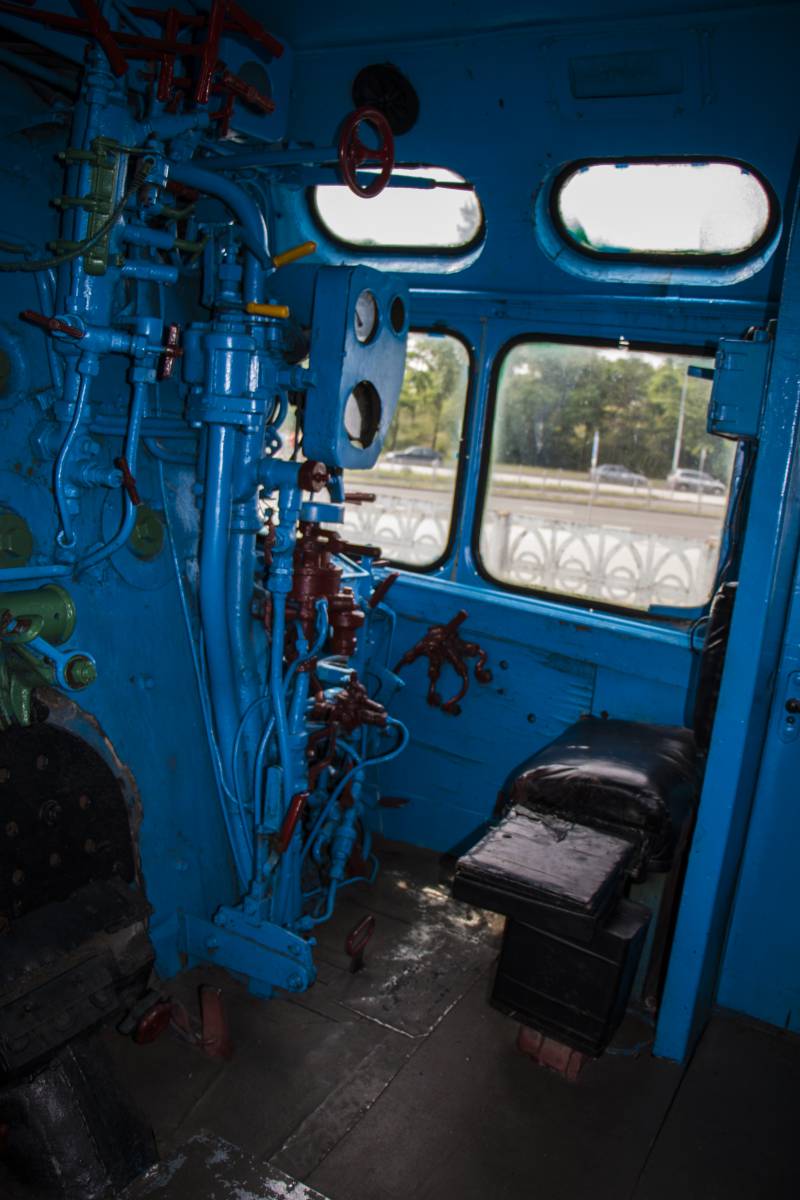 [/ Center]
Here is a museum ...
Separately listed all the heroes of war and labor.
In general, there are a lot of impressions from 1500 meters of canvas with exhibits. Power and beauty.