The solemn ceremony of the transfer of two Russian military transport helicopters took place in Belgrade Nikola Tesla Airport. Press office of the company
Rostekh
reports that we are talking about the Mi-17B-5 helicopters. Deliveries of these rotary-winged machines to Belgrade became the first contract for the acquisition by Serbia of helicopters from Russia.
From the statement of the Director General of the holding "Russian Helicopters" Alexander Mikheev:
This is the first contract with the Ministry of Defense of Serbia for the supply of new helicopter technology. Its timely implementation is of great importance and will serve the further development of relations between our friendly states. When a request comes from the Serbian side, we will be ready to provide timely after-sales service for helicopters.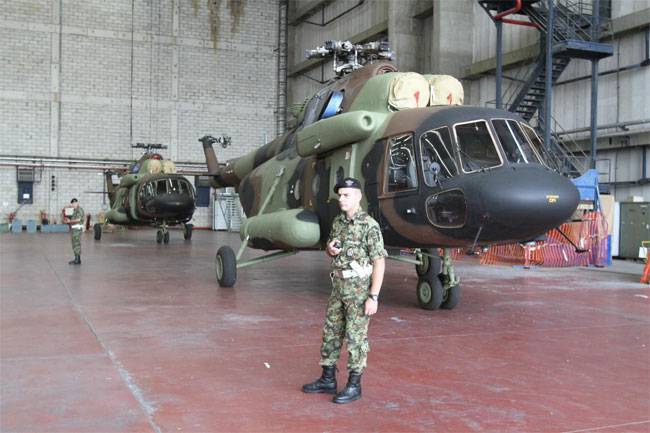 It is reported that the amount of the contract with the Serbian partners was 25 million euros.
From the statement of the Prime Minister of Serbia, Alexander Vucic:
Thanks to the new helicopters, the Serbian army will become more equipped and modern. Despite its peaceful policy, Serbia attaches great importance to the country's security.
Further, Vucic quoted former Yugoslav leader Tito as saying:
We live and work as if there will be no war, but we are always ready to defend and defend our homeland.
In the holding company "Helicopters of Russia" note that the Serbian crews in the composition of 4-x pilots and 2-x flight engineers underwent training at the aviation training center of the Kazan Helicopter Plant. In the course of the training, Serbian servicemen practiced the practice of both day and night flights. In addition to representatives of the crews, three masters of ground support for helicopters and an 4 specialist in radio electronics were trained at the KVZ center.
During the ceremony at the Belgrade airport, one of the journalists asked the Serbian Prime Minister whether Russia is going to open a military base at the Ečka airfield. Vuchich said in surprise that he heard about it for the first time.
Apparently, the journalist who asked the question was not familiar with the contract between Serbia and the Russian Federation, which indicated that the Russian specialists at the said airfield would carry out on-site training for Serbian pilots and maintenance personnel. These specialists will be representatives of the Kazan Helicopter Plant.