Frants Klintsevich, First Deputy Head of the Committee of the Federation Council on Defense and Security, commented on information about the approach of the American destroyer Gravely close to the Russian Yaroslav the Wise patrol. According to the Russian senator, this is an American provocation.
Interfax
cites Klintsevich's statement:
This is a provocation, this is a blatant case - the convergence of such ships at a distance of 180 meters threatens with a possible sharp accident, because anything can happen there.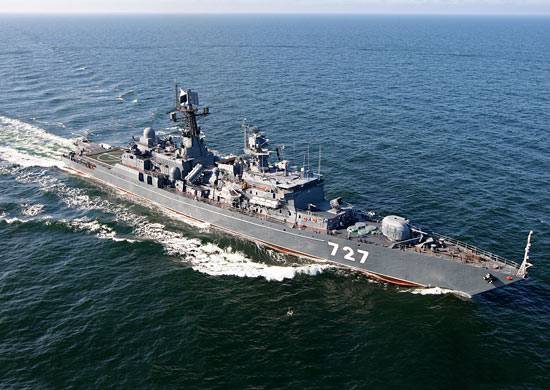 It should be noted that
Press Service of the Ministry of Defense of the Russian Federation
spread the message that on June 17 in the Mediterranean, the US Navy destroyer approached the Russian patrol ship at close range. In this case, we are talking about 60-70 m.
From the statement of the official representative of the Ministry of Defense of the Russian Federation:
On June 17, in the eastern part of the Mediterranean, the American destroyer Gravely made a dangerous rapprochement with the Russian warship to the 60-70 meters on the left side and crossed the route of the Yaroslav the Wise patrol ship on the dangerous 180 meters. At the same time, the Russian warship followed a constant course and speed in international waters and did not carry out any dangerous maneuvering with respect to the American ship.
The Russian defense ministry said that lately the Pentagon constantly accuses Russian military pilots and sailors of incompetence, but it does not say anything when American seamen violate safety standards at sea.
Press service of the Ministry of Defense of the Russian Federation:
This incident, involving the dangerous maneuvering of the "Gravely" destroyer, shows that American naval sailors allow themselves to forget about the basic principles of safe navigation and not think at all about the consequences of dangerous maneuvering in areas of intensive navigation. The commander and crew of the destroyer "Gravely" grossly violated the international rules for preventing collisions of ships (MCPSS-71). The American sailors ignored the 13 rule ("Overtaking"), which requires each vessel to overtake to steer away from the course of the vessel being overtaken, and the 15 rule ("Course crossing situation").
The Russian patrol ship "Yaroslav the Wise" enters the Mediterranean squadron of the Russian Navy on a rotating basis. Naval affiliation - the Baltic Fleet of the Russian Federation.