It seems that the Turkish authorities are starting the game "in the daisy" - "we will not, we will not", "we will compensate - we will not compensate". Just a few hours ago, Turkish Prime Minister Yıldırım declared its readiness to pay compensation for the shot down Su-24 Bomber Bomber of the Russian Federation, and now Yıldırım managed to get his words back.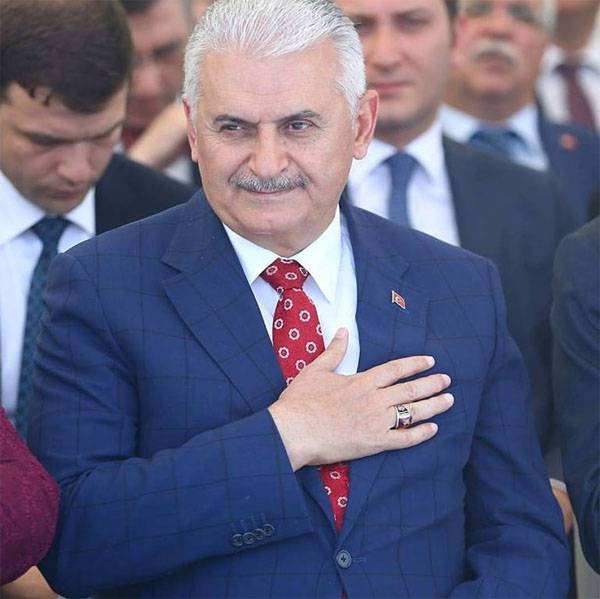 The Turkish television channel NTV cites a new statement by the Turkish prime minister, who contradicts himself:
Payment of compensation (for the downed aircraft) Russia is not discussed. We only expressed our regret to the Russian Federation.
At the same time, the same Yıldırım declared that the ice in relations between Moscow and Ankara began to melt. Turkish Premier quotes
TASS
:
Finally, the indirect contacts between our leaders gave results. Ice in the relationship began to melt. The stage of normalization between Russia and Turkey has begun. I wish happiness to both nations.
If you believe Yıldırım, Azerbaijan and Kazakhstan played a big role in the "melting of ice" between the Russian Federation and Turkey:
We especially thank our brothers - Kazakhstan, Azerbaijan, other regional countries, their leaders - for their great efforts in this matter. We will not confine ourselves to Russia and Egypt. The development of friendly relations with all countries of the Mediterranean and the Black Sea region is our priority.
If Yıldırım stated today that there was no compensation, what prevents Erdogan from announcing tomorrow that he didn't offer any apologies, especially since the Turkish president's official statement about the letter to the Kremlin hasn't yet been made .