Atomenergomash JSC (engineering division of Rosatom) completed the manufacture of the RITM-200 reactor installation for the Arktika icebreaker, launched on June 16 in St. Petersburg. June 26 2 reactor was sent to the Baltic plant, the first was shipped X on May, reports
press office
company.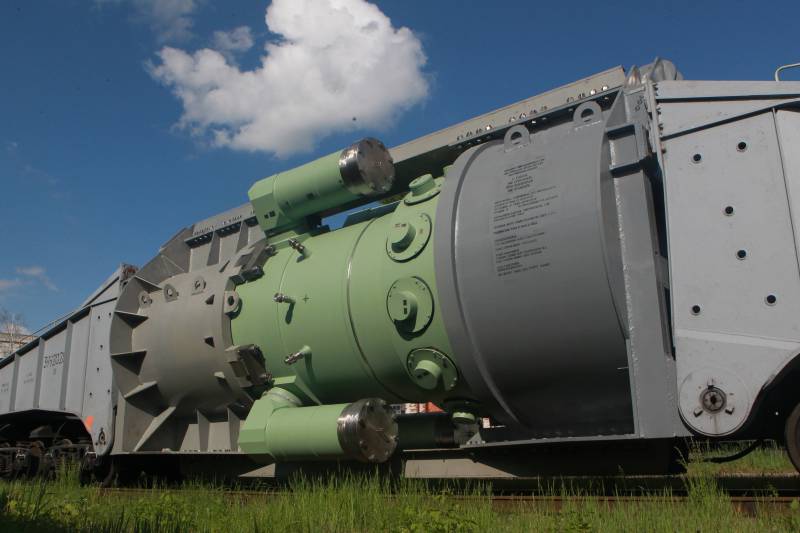 "RITM-200 the latest reactor installation for icebreaking
fleet
developed by JSC "Afrikantov OKBM". It is part of the main power plant of the icebreaker and includes two reactors with a thermal capacity of 175 MW each, "the release says.
"RHYTHM-200 is a new generation of reactor facilities, therefore, non-standard engineering solutions and very well-coordinated teamwork were required for the production of equipment. Several companies of the division took part in the project implementation: Afrikantov OKBM, as a designer and complete supplier, ZiO-Podolsk, as a manufacturer of case equipment, and EMSS, TsNIITMASH. In the course of production operations, the specialists of the division developed several new technologies and tools that were not previously used not only in Russia, but also in the world. Among them, the new technology of ultra-precise drilling of deep holes, new types of cutting tools, etc. Therefore, the successful shipment of RHYTHM-200 is an important event not only for the division, but also for the nuclear industry and domestic engineering, "the Atomenergomash CEO reports. Andrei Nikipelov.
"The construction of an atomic icebreaker is an extremely complex process, in which close coordination between manufacturers of various components and elements is very important. The timely delivery of the reactor facility allows us to move in the schedule in order to transfer the icebreaker to the customer in strict accordance with the approved deadlines, "said Sergey Chernogubovsky, project manager at Baltiysky Zavod.
"The main advantage of the new power plant is its compactness and efficiency. It has a unique energy-efficient integrated layout, which provides placement of the main equipment directly inside the housing of the steam generating unit. Due to this, it is two times lighter, one and a half times more compact, and on 25 MW it is more powerful than currently used reactor installations for icebreaking fleet of type KLT. In particular, this allowed the icebreaker to be a two-pack icebreaker and provides improved technical characteristics of the vessel in terms of the icebreaking speed, etc., "the message says.
The service life of the reactor 40 years. "As a nuclear fuel, an active cluster zone with low enrichment of uranium-235 is used. Nuclear fuel is reloaded once every seven years. For example, during this time a diesel icebreaker would have to spend 540 thousand tons of Arctic diesel for work. And one CHP of the same capacity would have consumed 1 a million tons of coal to provide the 30-thousand city with energy, "the company said.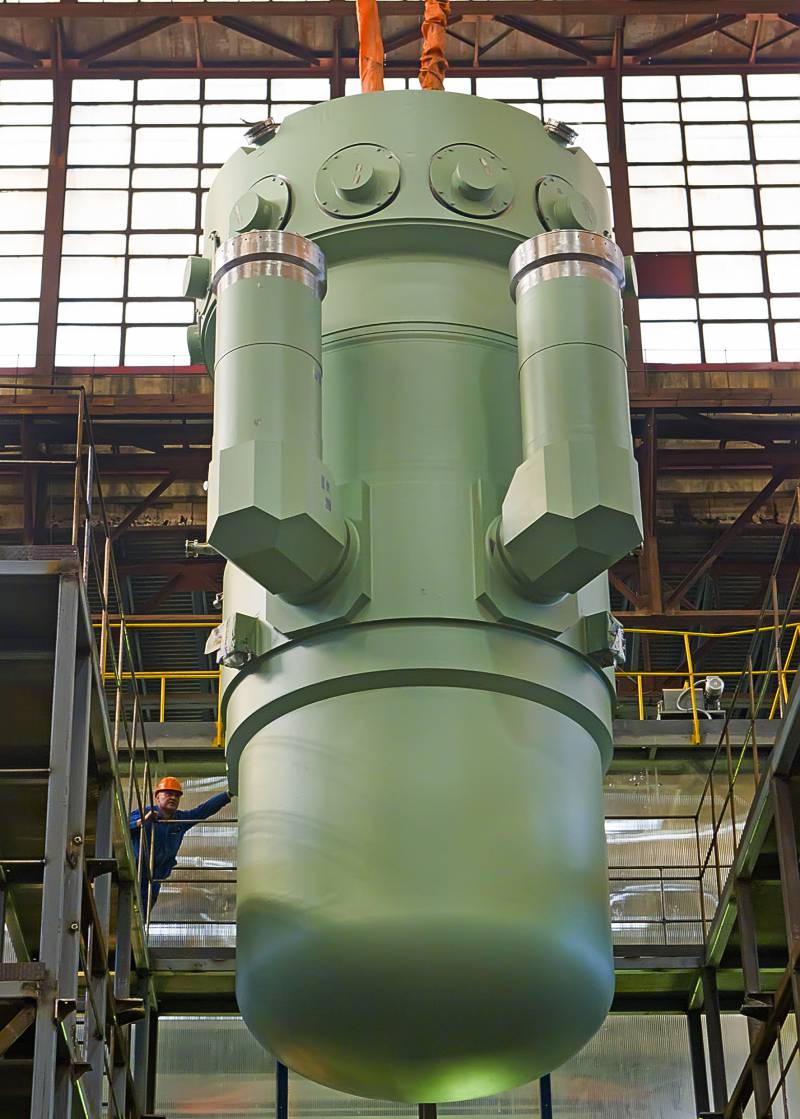 It is noted that "for the transportation of the icebreaking reactor, AEM specialists produced a special transport package made of metal, and since the reactor is an oversized cargo, it is delivered to the customer on a special railway conveyor of articulated type with a load capacity of 240 tons."
Help of the press service: "The Arctic nuclear-powered multi-engined nuclear-powered icebreaker will be the largest and most powerful nuclear-powered icebreaker in the world. Its length will be 173 meters, width - 34 meters, minimum working draft - 8,5 meters, displacement - 33,5 thousand tons. The construction of the icebreaker is carried out at the shipyards of the Baltic Shipyard (part of the United Shipbuilding Corporation) in St. Petersburg. An atomic-powered vessel will be able to conduct caravans of ships in arctic conditions, punching ice up to 3 meters along the way. "