Honorary polar explorer, Honored Master of Sports, he reached the North Pole four times autonomously, without any support from outside, and autonomously crossed the Arctic Ocean from Russia to the shores of Canada, full member of the Russian Geographical Society, organizer and leader of more than thirty expeditions in high latitudes. The problems faced by our army in the process of developing the northern territories of the country are discussed by Vladimir Chukov, head of the Arktika expedition center, with the Military Industrial Courier.
- Vladimir Semenovich, since what year did you start your Arctic travels?
- The Arctic began for me from 1979, not a single season has been missed from 1982. And before I retired, before 1992, I spent all the polar expeditions of the holiday in the rank of an active officer.
- How much was the Defense Ministry interested in your Arctic experience?
- Invited, some reports did. But I did not see a direct interest in the practical implementation of the Arctic experience of our group. I reported in the relevant structures, because I worked at CIVTI - the Institute of Military-Technical Information of the Ministry of Defense. The main focus of our activity was the study of the military potential of foreign countries. Having a huge information base at our disposal - we could order documents even from the Library of Congress, I optionally collected data on how the defense policy of the USA, Canada and other countries is being built in the regions of the Far North. I understood that sooner or later it will be in demand, and it was just interesting. And already then I realized: how everything is arranged there, we can only envy. First of all, the system of training specialists for work in high latitudes - without a difference, it is the Arctic or Antarctica. And the main burden of work lay on the power structures - the army, the National Guard, and the coast guard. Scientists went about their business, but the military ensured their activities. Our "probable partners" annually released a detailed guide that summarized the new experience gained in the next season.
I somehow got the idea, and since, while still a colonel, I had two autonomous campaigns to the North Pole, I made a detailed report on each expedition with a generalization of experience, with some recommendations. And when they found out in such offices that such reports existed, they asked me for copies. How they were used was not reported to me, but when, after a while, instructions on survival in the Arctic began to appear, it was obvious that they took it as a basis ...
- What, in your opinion, should look like a military presence in the Arctic?
- The number there just will not solve the question. The main thing - the highest training and qualifications of small units. Like alpine arrows. Trained people and light weapons - this model is absolutely suitable for the Arctic. Surely we need large bases - cities, towns, they are. But there at any time you will not deliver people to the right place, even a hundred kilometers away, weather conditions will not allow. Accordingly, at key points, bases of the type of outposts or winter houses are required, where the units will be on duty. How it will be organized is not the point; the main thing is that all personnel must have special training. There are many subtleties. First, service in the North cannot be a service; a person should want to serve here - with such motivation he will learn differently, and all the experience of his predecessors will try on. Secondly, the personality factor is great. I am sure that the backbone of the Armed Forces in the Arctic should consist of small mobile teams in which the commander not only knows the subordinates by name and is aware of all their problems, but is able to control everyone. And this is ten people, hardly more. Then a certain psychological comfort is ensured - everyone can rely on each other, and without this there's no effectiveness in the local conditions. This is an expeditionary experience, but I suppose it is quite applicable for army groups.
And in general, people far from the North consider survival at low temperatures as the main problem. Nonsense is, having the skills and knowledge, you can survive in all conditions. I would put another thing at the forefront - the military must have high professional training and understand why they are there, must realize their role and accept its necessity.
- It seems to me that it is difficult to motivate a soldier: he serves on some god-forgotten island, where one nerpa sails once every three years, pulling the strap of military training. And he understands that the probability of meeting the enemy among these ices is minimal ...
- Two-thirds of the territory of Russia is the Far North and the Far East. Nowhere else in the world are there such spaces of pristine nature. What is not a thing for pride? And why is there no reason to be there? Any island can be considered tmutarakan, and you can see in it one of the stages of the great path by which our ancestors mastered the North. And be where they were made
historical
discoveries, to be worthy of those who made them - a powerful motive. The Arctic is contraindicated for people who are not able to realize its greatness. I would never send people there by force, there will be no sense.
- Suppose a pipe called: "Colonel Chukov, you are instructed to provide military cover for the territories of the Far North. You get every imaginable power, but do everything according to your mind. Follow! ". Your actions, Vladimir Semenovich?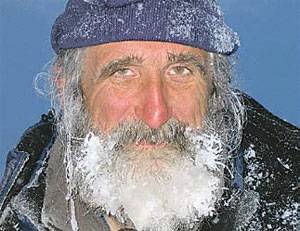 "I'm not a red commander, but a techie." But if you make decisions, you would start by acknowledging that there are no large schools of military specialists for the North. There are some attempts, but not the system. This is not just training a fighter who must run fast and shoot well. We are talking about the preparation of an appropriate psychological platform in humans. He should not be afraid of the natural environment in which he will live. And so that he could feel confident there, he needed to accumulate necessary experience bit by bit. Sitting at the desks, you will not get it. 90 percent training should take place in real conditions - we light a match in the wind like that, and go to the toilet, sorry, we walk like that. No trifles. And if you theoretically shoe it and immediately throw it into those conditions, the result will be deplorable. When I was a colonel, attempts were made. The same border guards: we sit here, we serve here, we all know here. Five people are sent to the route - four frostbitten, one died. Nobody knows anything and teachers, consider, no. Our polar explorers are accustomed to live permanently. Even on a drifting ice floe there is a warm CAPSH tent, there are food, fuel and communication. If something happens - the Ministry of Emergency Situations will arrive and save, in the extreme, an icebreaker will be sent. But neither the military nor the EMHE men can count on it - they have to save it, not theirs. And for this you need to be able to do everything better in the North. In Canada, the Arctic coast guard rangers are a separate caste, they are trained for life. Moreover, they themselves, having served both in 30 and 40 years, continue to learn. They understand that the solution of any new task gives additional experience, and in those conditions it is an invaluable thing.
Therefore, study, practice, advanced training should be the rule for both beginners and for those who consider themselves to be polar aces. But it is necessary to organize. Serious funding is now being allocated for our military presence in the Arctic. And I am sure that some serious work is being done on the training programs. But there is no uniform policy. A year ago, I was invited by the old memory to the Ministry of Defense, and I was in a stupor. We talked with one responsible person, showed his work, I, respectively, "Vladimir Semyonovich, thank you, everything is great!". But during the conversation I took the line - they say that you, the Ministry of Defense, the Ministry of Emergency Situations, other departments, so you need to do some kind of a single training system, this is a state problem. No, they tell me, we just do it ourselves. This disunity does not allow to gather in a fist all the intellectual forces for solving a major problem. That departments, even in the neighboring offices of one ministry, generals and colonels secretly create their own projects from each other. And I do not understand who they work for. Instead of accumulating those very particles of experience in a single center, everywhere they do it in their own way. Each in itself creates and tests some kind of equipment or equipment, develops clothes, conducts exercises ... But among those who are in charge of the Arctic programs, there are no real experts - they get some sort of nonsense like electrically heated shoes, but they are conducted, they think it is normal.
- That is, all the same, it was the turn to create the appropriate equipment ...
- What the Arctic divisions are now trying to equip has practically nothing to do with what they really need. Under the current competitive system, it is pointless to expect normal results - some offer for a hundred rubles, others for five. We take for five, we have budget savings.
- If you go back to the same Canadian chasseurs - what exactly are they preparing for?
- Everything is simple - they are prepared to fulfill the received order. These are people who, under extreme conditions, are able to provide any kind of activity - whether a rescue expedition, the work of geologists, the control of boundaries ... They will do what they say. But they are also provided for solving practically any task - they have the most modern and efficient equipment, excellent equipment, equipment, weapons, and communications equipment. All of this, they have excellent ownership. And it is clear that if something they can not, then no one will do it.

And we have? I even feel uncomfortable in front of the paratroopers, a hundred people jumped to the pole - an achievement! Where jumped to explored the site? To the crowd of greeters? Here we are in 1992 as jumped to the pole - were you with us? At an unprepared site, with a strong wind, with all the junk landed, set up tents and were ready to act. As a matter of fact, from personal interest, they proved that skiers can be landed anywhere in the Arctic - we then not only raised the Russian tricolor over the pole for the first time, but also passed the route. And no one said: "The weather is so-and-so, I allow jumping."
In 1995, we conducted joint exercises with the special forces of the Russian Emergencies Ministry in the North Pole area. He took part in the exercises and the Deputy Minister, Hero of Russia Valery Vostrotin. Also parachute landing, multi-day skiing with full display. And the paratroopers waited, when there was calm and grace, they flew in, jumped - what did they learn, what skills did they master? But in the graph of achievements is conducting exercises at the North Pole. And they should be able to jump there and then even when it will not be possible for athletes. In calm you will not learn anything.
And the Americans have long been working on the landing system, including without a parachute, in deep snow. I don't say that we need to compete with them, but the fighters are preparing not for parades, but for real extreme situations. And those who will command in the Arctic should not be theorists, they must feel the extreme extreme there, understand the boundaries of the possible ... Accordingly, programs are needed in military schools and academies, and not an abstract course, namely a great practice, with the acquisition of skills and experience, which is acquired only in high latitudes.
- Maybe in the Ministry of Defense to create the Academy of the Arctic? On Wrangel Island or on Severnaya Zemlya. Given the tasks facing the army, she will be left without work ...
- Yes, at least a special department created - would have been a giant progress. I listened to a theoretical course and be kind - for an internship in the Arctic, snot freeze. So that the commanders understand what it is. And when it comes time to order equipment at the next competition, at least they will know the specifics in which they will have to work. And think about those who manage this technique.
But the understanding that specialists in the North need to be trained there comes, already in several of our expeditions, representatives of the Vytegra Emergency Situations Training Center are participating. They are my eldest grandson of the same age, 25 years - but they have never been to the Arctic before meeting us. At the same time they are teachers! And immediately after school, the cadets finish some sudden courses, get the "crusts" of the Arctic rescuer, and even the right to teach others. But if a person with a certificate "Arctic rescuer" never saw the Arctic, did not sleep in a tent in the snow, which one is an Arctic rescuer ...
- Maybe we should talk about the supra-departmental structure that would deal with security in the Arctic?
- We are returning to what already existed and successfully destroyed. The Glavsevmorput Directorate, headed by Papanin, was a gigantic structure that was responsible for virtually everything from Murmansk to Anadyr. The system worked. And all the cities that are along the coast, appeared just then. Now they are talking about the creation of the Ministry of the Arctic, but if everything is done the way it has been in recent years, zero sense - again, those who come to the pole once a year to take a photo will answer for the Arctic.
We have lost the system of training specialists, this is important. Same polar
aviation
- where do they prepare pilots for her? When we needed to deliver all-terrain vehicles to the Northern Earth from Vorkuta several years ago, we stayed for three weeks in perfect weather. There is Vorkuta, there is an airfield on Sredny Island (Severnaya Zemlya), there are spare areas - and until the weather is at all points, the existing instructions do not allow to take off. But this is the North, here the weather can change five times in an hour. Read the memories of the polar pilots - they were not scumbags with suicidal tendencies. They knew the local conditions well, their experience in the Arctic was generalized, young people were taught by those who had flown over hummocks for more than a dozen years ... They were professionals. The pilot could take responsibility and take off even in a small clearance, when the weather calms down a bit, then courage is not needed, but experience, a sober risk assessment. You can't prepare such pilots with any orders in a year or two.
- Already twenty years, as your group from skis moved to all-terrain vehicles of their own design. What kind of cars are these and why have you not taken something commercially made for your expeditions?
- These are wheeled cars on tires of ultralow pressure. When enthusiasts just came up with them at the dawn of the 70, they called the snow and swamp vehicles, there is no other name. We started with the route on Antarctica in 1999, reached the South Pole and returned in record time. Since then, cars have continuously improved. For their manufacturing, we need a workshop with the simplest machines, mass-produced components and an intelligent designer who can create a truly unique machine. In the north, after watching us, many want to acquire something similar - the demand is great. A lot of our all-terrain vehicles have already been registered in the tundra forever, they work long and successfully to the joy of the owners.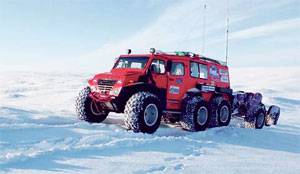 With regard to serial technology, the real universal vehicle for the Far North has not been created, which is to blame for the same system of tenders and tenders.
To create the right technique, there must be someone who is able to make a competent technical assignment - problems arise already at this stage. Development, testing, implementation in series, capacity building ... You can do otherwise. Let you out let's say
Tanks
or snowmobiles. And with the help of certain levers you prove to those on whom the final choice depends that your tank or snowmobile is exactly what polar explorers dream of. And since amateurs, and often selfish amateurs, decide now, it is not worth expecting that the best equipment will go to the North. No her. The maximum is a kind of cosmetic refinement under the terms of the tender, which does not solve the problem. We are not industry with our all-terrain vehicles - enthusiasts, for example. But we hope that our experience will be necessary. And we look forward to conducting joint comparative tests, the results of which could finally make sure the validity of our proposals. But serial or small-scale production requires initial funding and, of course, without this we are not able to take part in ongoing competitions.
- Technique is important, but where, in my opinion, equipment of personnel is more important ...
- Progress compared with Soviet times, when the main subject of the field of the Arctic form was toe-toe, enormous. But the fact that now gradually begins to penetrate the army - multi-layered sets of modern fabrics, was originally developed for tourists and travelers. For soldiers' equipment requirements must be stricter. A fighter should not just overcome a route, survive, not freeze and not get sick, but also complete the task. He may fall through the ice, find himself in a situation where he will have to spend several days without a tent, be in an ambush, crawl around, and there will be no place to dress and dry out. There is progress, it pleases. But supplies for the army are a tasty morsel, and manufacturers willingly hang noodles to customers. Advertising is contrary to the laws of physics? So what? If the moisture from the body evaporates, then somewhere in the cold in minus 40 it should condense and freeze. Travel clothing is not an option. A specialist will understand this, an amateur buys for promises.
We found a solution based on the Chukchi Malitsa: this is such a spacious outerwear made of reindeer fur, with a crown inside. Everything that evaporates, condenses on the fur and falls down. We sewed similar garments from modern fabrics, in which all the layers on the sleeves are not sewn down to the bottom, that is, the ice can also quietly get enough sleep from under clothes. But when we asked the production workers - and these were serious pros in the manufacture of extreme ammunition - not to hem the sleeves and hem, they said that they could not produce a "semi-finished product", they say, it looked ugly.
So to say that in military equipment for high latitudes everything is already invented, early. It is necessary to work, to invent, and most importantly, to spare no time, effort and money for testing.
- What is your opinion about modern modular houses that the Defense Ministry began to build in the North - Cape Schmidt, Wrangel Island?
- A house in the North lives only when there is a master. We went to the polar stations, built in 30-s. If all these seventy-eighty years worked, if they were followed, they still serve excellently. Probably, with proper care, new homes will serve, but there is one feature of modern life. For example, together with the Germans, we created a station on Samoilov Island. There is even a huge water purification system, which, in my opinion, is absolutely unnecessary, is located in a heated unit. Warm, light, cozy ... I ask: how much fuel does this whole civilization require? Answer that at least tons per day. It turns out that if the slightest failure occurs in the supply, the entire current high-tech will be powerless against nature.
- If we sum up our conversation, do we need to create some kind of responsibility for the entire Arctic department?
- This talk on the sidelines has been going on for many years, but it seems to me that a collegial body could be created with serious powers. There should be military and rescue workers, production workers and scientists ... It can be done so that all departments that solve their tasks in the Far North will be able to act together more productively at times.