The heads of the foreign affairs agencies of Germany and France voiced ideas about the reform of the European Union, which is clearly overdue in connection with the results of the referendum on leaving the UK Great Britain. Frank-Walter Steinmeier and Jean-Marc Eyreau point out that in the current conditions the European Union needs "substantial integration". One of the types of such integration German and French ministers called the expansion of the currency of the eurozone.
Authors of the project quotes
RIA News
:
France and Germany are generally responsible for building a strong monetary union that can compete internationally. The existing architecture is not enough to withstand external shocks and internal imbalances. If we leave the monetary union unfinished, we will put the euro at risk in the long run. Completion of the architecture requires the simultaneous strengthening of political management and financial load distribution. Against the background of the existing imbalance, the deepening of the monetary union cannot be done simultaneously, but will be the result of a pragmatic, gradual evolution that takes into account the necessary results in growth and employment.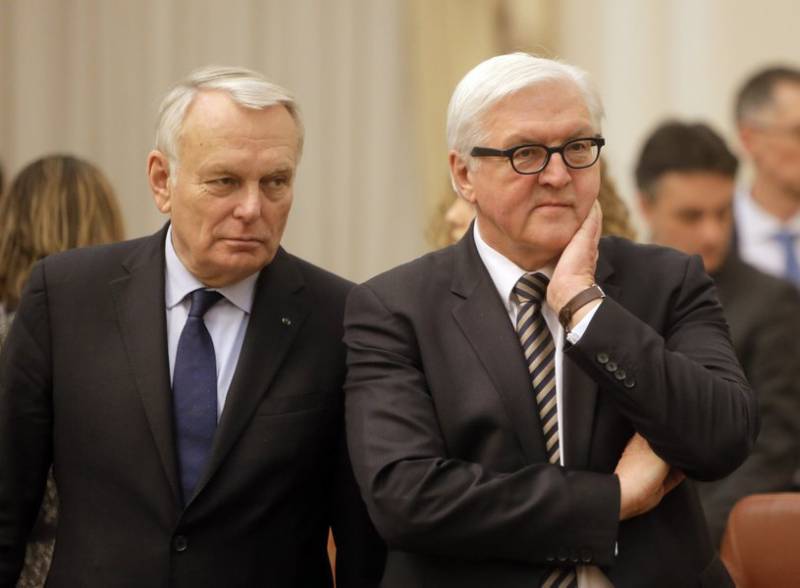 Recall that at the moment in a number of EU countries, the euro is not the main currency. This state of affairs in Britain, Poland, the Czech Republic, Denmark, Bulgaria, Romania, Croatia, Sweden. At the same time, Britain and Denmark initially declared their unwillingness to enter the eurozone.
In addition to currency issues, it is proposed to settle the security issues at the external borders of the EU. Steinmeier and Eiro declare that the migration crisis cannot be solved alone. Their idea is to create and finance a single security service for the borders of the European Union. We are talking about the service FRONTEX, to fork out on the contents of which everyone is offered now.
Another proposed measure is to consider the concept of general security. The materials state that the European Union should be a single entity when it comes to assessing external threats.
If this is the future "reform", then we can assume that the EU will fall in with double the activity, since the "innovations" again resemble the directives calling into question the sovereignty of each of the EU states.