The Mi-28N "Night Hunter" helicopter has a special pilot protection system and can "see" the enemy at a distance of 35 kilometers even in the dark. Test pilots call it a "fighter helicopter," and the people have already dubbed it "flying a tank".
"This is a complex that allows the pilot to fight at night, these are thermal imagers. In this helicopter they are implemented in two versions - for the pilot and operator, there are night-vision goggles," said RIA in an interview
News
Deputy Chief Designer of the Moscow helicopter plant Dmitry Sergeyev.
According to the creators, the helicopter is equipped with an impressive stock of weapons. The built-in mobile ten-shot cannon installation can literally smash an enemy armored personnel carrier into parts; The Igla missile complex is designed to destroy enemy helicopters and unmanned aircraft. However, the main force of the "Night Hunter" is the "Attack" anti-tank missiles, against which no enemy tank can stand.
"Night Hunter" is equipped with a special survivability system. The rotary-wing machine is designed in such a way as to protect the crew as much as possible - a fully armored cabin can withstand even a direct hit with 12.7-mm bullets. The crew is located in a special way - the pilot's seat is located above the shooter's place, thus, it was possible to make the car flatter, and therefore less vulnerable in combat.
Mi-28H "Night Hunter" helicopters are already being used by the Russian army. First of all, they will equip them with military districts in the Caucasus and the Far East.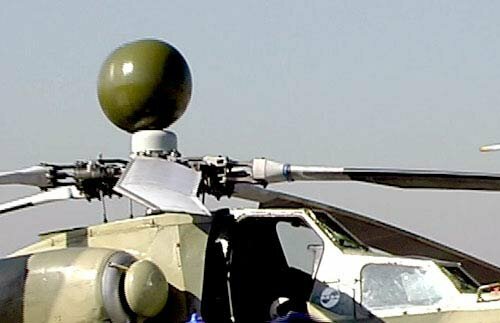 A round-the-clock combat helicopter Mi-28НЭ is a double (pilot and navigator-operator) classic single-rotor helicopter with a five-blade main rotor and an X-shaped steering rotor, controlled by a stabilizer, a fixed wheel retractable landing gear chassis. The wing is used for the suspension of weapons and additional fuel tanks. Mi-28HE is designed to search and destroy tanks and other armored vehicles, as well as low-speed air targets and enemy manpower.
To perform these tasks on the helicopter uses the following weapons: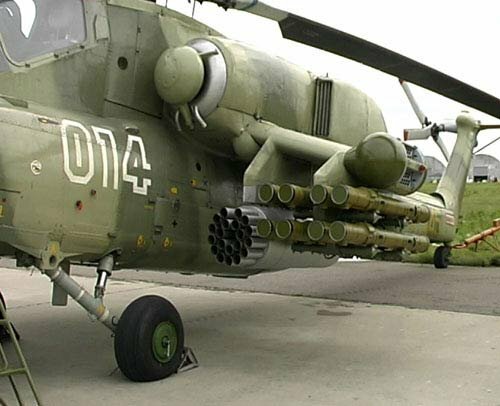 the fixed mobile gun installation NTPU-28H with the 2А42 cannon of the caliber 30 mm with the 250 ammunition round of shells;
universal gun containers UPK-23-250 (2 pcs) with a gun GSH-23L caliber 23 mm and ammunition 250 shells in each container;
anti-tank missile system 9-А2313 "Attack-V" with guided missiles 9М120, 9М120Ф, 9А-2200 (up to 16 pcs);
guided missiles with a thermal needle homing "Needle" (up to 8 pcs);
unguided C-8 missiles of 80 mm caliber in B8В20-А blocks (up to 4 blocks);
unguided C-13 missiles of caliber 122 mm in blocks БХNUMXЛ13 (up to 1 blocks);
unified containers of small loads KMGU-2 (up to 4 blocks).
The helicopter is equipped with a complex of on-board radio electronic and instrumentation equipment (avionics), ensuring the use of
weapons
and solving flight and navigation tasks day and night in simple and complex weather conditions at extremely low altitudes with automatic rounding of the terrain and flying over obstacles.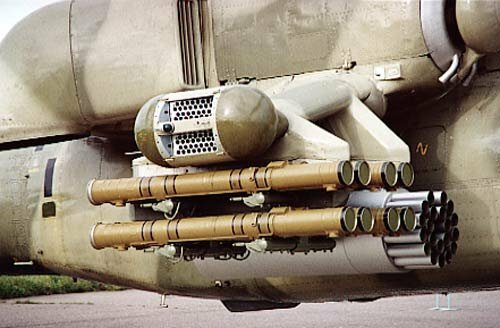 Avionics also provides control over the operation of the power plant and other systems; crew voice notification; radio communication between helicopters and with ground stations; communication between crew members and the recording of their talks. The avionics include: navigation system, aerobatic complex, on-board computer system, information management system, multifunctional information display system, weapon control system, observation station, pilot thermal station, on-board radar, missile control system, target designation system and indications, night-vision goggles, a set of communications, a warning system for radar and laser irradiation, and radio identification equipment.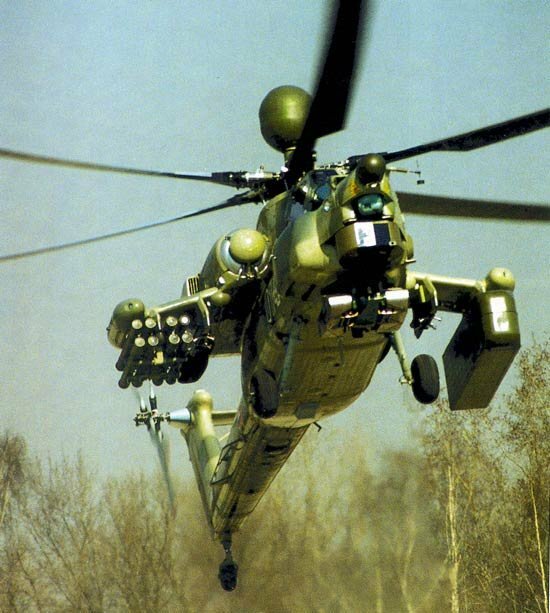 Design features provide high survivability of the helicopter. The survival rate for emergency landings with vertical speeds up to 12 m / s is ensured by the use of a passive protection system with energy-absorbing structural elements (chassis, chairs, fuselage elements).