Yesterday, late in the evening, the units of the Supreme Court began shelling the positions of the People's Militia of the LPR in the Veselogorovka area of ​​the Trinity District, reports
RIA News
message of the representative of the military department of the republic.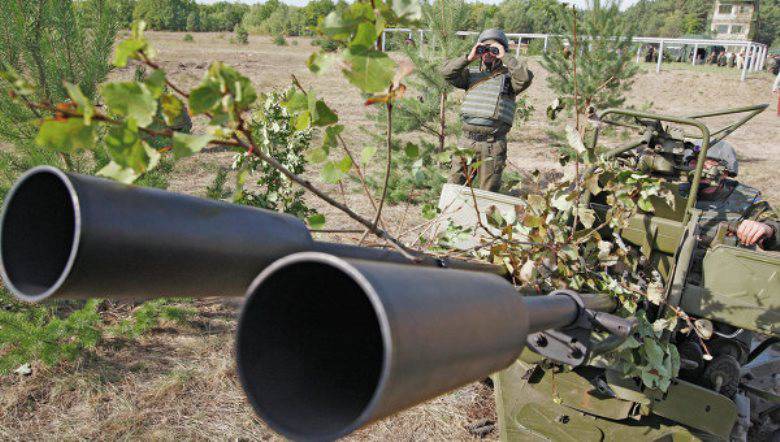 "Literally a flurry of fire brought down the units of the Armed Forces of Ukraine from the village of Troitsky to our positions at Veselohorovka. The fire is conducted from 120-millimeter mortars, automatic machine-gun grenade launchers, they are also firing intensively from BMP, "said the source.
"The shelling began around 23.15 and continues to this day. Only mines to our positions during this time flew at least twenty, "he added.
According to him, in total "in the LC from 25 of June to 26 of June of 2016 of the year, 12 of attacks from the side of the Armed Forces of Ukraine was recorded".
"Ukrainian security forces shelled positions of the republic from 152 mm caliber artillery, self-propelled artillery guns (122 mm), mortars 82 caliber and 120 mm, grenade launchers and small
weapons
. The shelling was conducted on the positions of the republic's military personnel near the settlements of Stanitsa Luganskaya, Logvinovo, Khryashchevka, Veselogorovka, Kalinovo, "the source said.
According to preliminary data, there are no losses, he specified.
And in the DPR that night Gorlovka was shot at. "At night, Gorlovka was a fairly serious shelling. Worked artillery large caliber. According to our preliminary information, there are victims among the civilian population. The number of victims and the extent of the damage are being specified now, "said a spokesman for the republican armed forces.
In turn, the Ukrainian Armed Forces on their page on Facebook reported 55 shelling from the militia.
"Over the past day 55 confirmed cases of opening fire, 25 of them in the Donetsk direction, 19 - in Mariupol, 6 - in Lugansk and 5 - in parts of the area," - said in a release.
It is noted that the Ukrainian army "was forced to return fire."