Airborne units began to replenish
tanks
and large-caliber self-propelled guns "Octopus-SD", report
News
with reference to the representative of the Airborne Forces headquarters.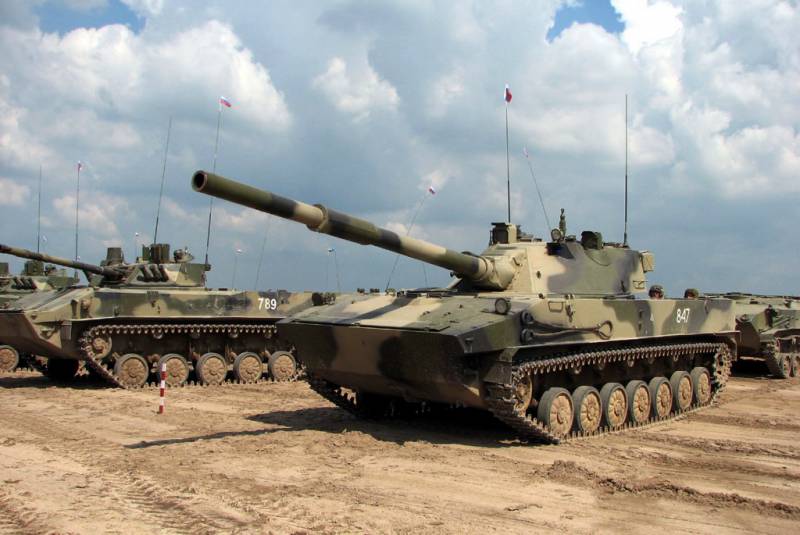 2C25 "Sprut-SD" - 125-mm self-propelled anti-tank gun
"We never had large calibers. We were forced to request support from ground units. Today, the tasks of the Airborne Forces have changed. The tactics of dropping airborne troops and seizing strategic areas for deployment remain the same, but the strategy has changed. In modern conditions, the delivery of the landing force to the combat area can be carried out both by air and by land. Therefore, we need our own heavy machinery, "the source told the newspaper.
"The creation of tank companies as part of air assault units, announced by the commander of the Airborne Forces Vladimir Shamanov, will ensure the landing force unimpeded movement on the marches, guard and defense of strategic objects captured by parachute units and break through the enemy's deeply echeloned defense," he added.
According to the director of the political conjuncture Center Ivan Konovalov, recently in all Airborne Forces exercises "demonstrate a new tactic to seize a strategic advantage in a theater of military operations."
"The Center-2015 exercises, recognized as the largest since the times of the USSR, showed the ability of the Airborne Forces not only to capture bridgeheads, but also to interact with other types and branches of the Armed Forces on 20 land, sea,
aviation
training grounds and areas of the Central and Southern military districts, - said Ivan Konovalov. "The latest exercises near Pskov showed that, having captured strategic airfields near the settlements of Ostrov, Gdov and Kislovo, the landing troops held them until the main forces approached, using heavy equipment."
He stressed that "increasing the firepower of the airborne assault brigades through the transfer of large-caliber equipment to them - airborne self-propelled artillery systems with the Sprut-SD 125 mm, T-72B3 tanks and BMD-4M combat vehicles with BMD-XNUMXM tanks and armored combat vehicles. it is an opportunity to create subunit breakthrough units, well-protected enemy infrastructure ".
"In Italy, Germany, Belgium, the Netherlands and Turkey there are five storage facilities for American nuclear bombs B-61, there are at least 200 units there. There is a control point for NATO troops, the US National Missile Defense System. The Airborne Forces is the spearhead, which is intended to be the first to neutralize the threat from these objects. It is possible to break through their defense only with the use of heavy equipment, "said Konovalov.
"Giving new combat capabilities to the Airborne Forces is one of the latest trends in army reform. We are creating not just highly mobile rapid reaction units, but units capable of independently organizing both an attack and a defense. That is, in fact, a self-sufficient form of the armed forces, "said Vadim Kozyulin, a professor at the Academy of Military Sciences.