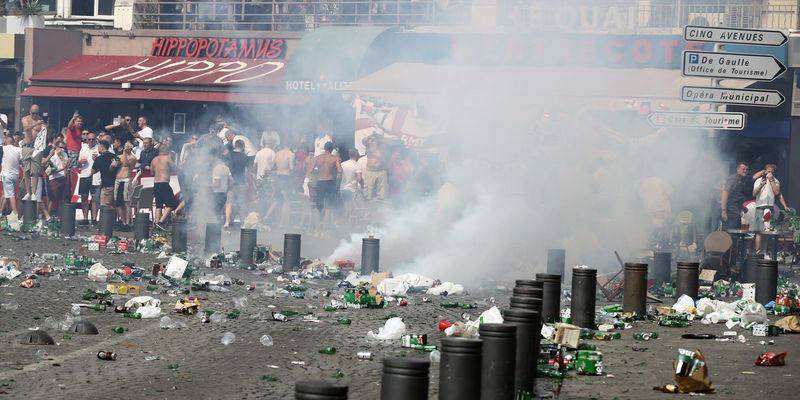 Everyone probably already knows this
история
with Russian fans blocked by French special forces on the bus. The story is, indeed, very strange, and from what point of view: after all, it was the official delegation of Russian fans from the All-Russian Association of Fans (PSA). Official, full official. All those familiar with the Soviet-Russian reality know how such public organizations act - no one would ever bring random people to France. Well, you know our realities and "making lists." Plus, the bus was (and is now being deported) the head of this glorious organization.
Why am I all this? And the fact that the bus passengers had very little to do with the "wild fans" throwing chairs and empty bottles. It was, in fact, the official delegation. Delegation from Russia on football. Something like this. Workers and party affiliate. There seemed to be there (I myself, alas, was not on that glorious bus) women and children, who, it seems, were also "swept up". Here immediately there are several "funny" thoughts. First: in Soviet times, we all got used to a "special" attitude towards foreigners. Not that everything was allowed to them, but the demand from them was completely different. These are foreigners, and we are hospitable people.
So is it? In principle, today it is. In operational work, for example, for French hooligan fans, the police in modern Russia would inevitably have to take into account political and diplomatic factors and act very carefully. And if they had not been detained directly on
location of the offense
then it is unlikely that someone can then incriminate someone. There is such a thing: "presumption of innocence." And there is such a funny thing as the right not to testify against yourself. A person can deny everything or be silent like a fish. And he is a guest, and he is a foreigner. Or you need to have great video quality, and that is not the fact that it works.
The funny thing is that in "civilized Europe" all this does not work. This means that the "prosecutor of the city of Marseilles" orders to detain an integral bus. Notice, not specific offenders, but just a bus with Russian fans. Moreover - the official delegation of fans from Russia. Why is it funny? Well, firstly, this indicates a complete failure of the operational activities of the French law enforcement officers. Yes, the Englishman suffered. This should not be and offenses need to be fought. So fight against offenses and offenders. Collect operational information, conduct operational activities ... Flag in your hands - this is your work.
Once the French police was considered the best in Europe: "In France, even a mouse under the supervision of the police." It seems that those days are hopelessly gone, otherwise what is this "proactive arrest of the bus with all its contents"? And if the criminals went by other bus? Or even by train? In a normal situation, normal law enforcement officers arrest specific people, having concrete evidence against these "radishes". What is this "bus arrest"? Who works like that? From my humble point of view, this is evidence of the complete collapse of the law enforcement system in France.
They lost control of the situation in Marseille and "missed"
literally everything
. A badly hurt English fan has formed, and something needs to be done. Marcel is defeated in many ways, but, as we understand, these are trifles. And here "the prosecutor of the city of Marseille" begins to make sharp gestures. And even such an obvious move, how to detain a group of Russian football hooligans, does not occur to him (or it is impossible to quickly work out). Cynical, but this is customary in many countries (grab some Mexican wanderers ...).
There would be at least some logic, albeit extremely dirty. No, he works with the information that he has: and this is information about "official Russian fans." That they themselves and provided. Provided to the French authorities. For which they suffered. It turned out quite funny: to come savage and smash the skulls of the British with their fists and beer bottles is safer (from the point of view of the law) than sour as part of the official delegation of official fans. And who, excuse me, after that, is that organization interesting? What is her status and what can she guarantee?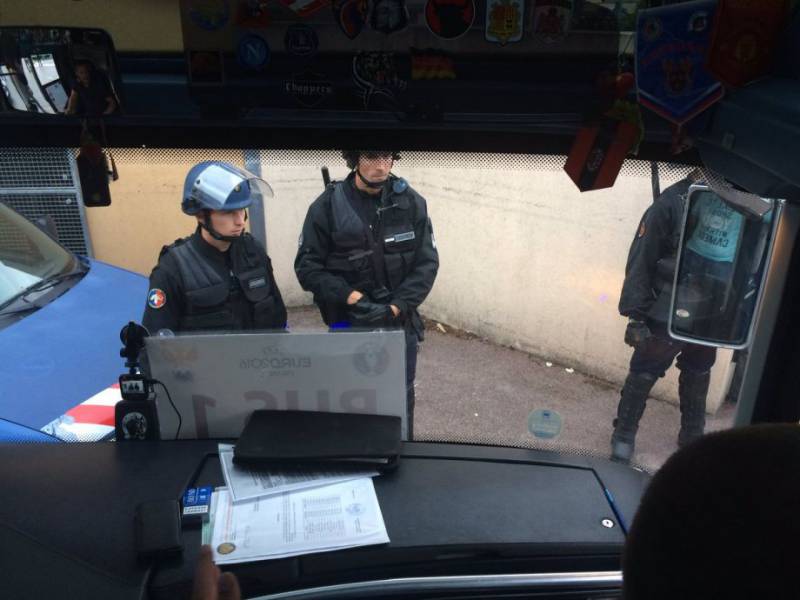 Just the first from the bus came a representative of this organization to resolve the issues and was immediately arrested. Here we are often blamed for the fact that we "do not respect international law." This is especially worried about Mr. Steinmeier. So here we have a clear demonstration of the meaninglessness of compliance with it. Why? Because it does not work. In general, it makes sense to abide by the rules if they are followed by all parties. Otherwise, you will simply be fools every time. In general, French special forces and French law enforcement officers showed about the same attitude towards the Russians, as demonstrated by SS units toward people of the Jewish faith. Funny analogy, isn't it?
From their point of view, the fact that a person is Russian (Jewish) already implies that he can be a danger to the Fifth Republic (Third Reich). Other evidence is, strictly speaking, superfluous. Imagine that somewhere in 38 the prosecutor of the glorious city of Munich learned that a tourist bus with Jews was moving around Bavaria. Would he look for evidence of guilt
each
a Jew? What for? Isn't everything clear anyway?
Although I do not know, maybe the prosecutor of the city of Marseille is a medium? And he had a vision? Bus And he wrote down the number. On cuffs, chalk. Why so straightforward? Just people were detained "for nationality." Just for being Russian. And everyone pretends that this is normal. Here, then, were the statements that it was necessary to "obey the legitimate demands of the French authorities," but, excuse me, what are they legitimate for? Our tourists did not commit any offenses at the time of "blocking the bus" ... Do you have any operational information? Well, work it out! The work of law enforcement officers, that ours, that the French - is, first of all, not dashing raids and assaults, but everyday, gray, boring work with papers and informants ... Dig, guys, dig!
And even if a person was caught at the scene of a crime ... then in order to send him "to the north", you have to fill out a hell of a lot of papers ... Did you think? And everything must be strictly in accordance with the letter of the law! It's a legal society, baby! That's quite often in
the news
show the police raid on the meeting of the leaders of the criminal world. After checking the documents, almost everyone is released. Corruption? No, in order to detain a person in Russia, he must be presented with something specific: illegal wearing
weapons
, drugs ... otherwise nothing. And then the "prosecutor of the city of Marseille" begins to "chop off the shoulder." First send all, then arrest all. That is, one person, in his whim and without any evidence, decides to deport 43 a person from the country. Half an hour later, he decides to arrest them (the Briton is very bad). Maybe he is the royal prosecutor? From the time of Louis XIV?
In this case, no official channels of work with Russia are used, Russian diplomats are not informed, why? But everything is strictly according to the law. I do not in any way cover those who participated in the fights, I'm talking about something else: if somewhere in Marseille, the Russian fans beat the English, then this is not a reason to miss anyone with a Russian passport. What is this "principle of collective responsibility"? Even in the harshest 90s in Russia, they categorically "crawled" from the declaration of certain nationalities as criminals. And it is clear why: the very principle of modern jurisprudence implies personal responsibility, but not collective, not family, and not clan. And here, you know, civilized European France, and the principle is simple: grab some Russians. And these people taught us the rule of law?
The paradox is that French law enforcers have not so much rights as duties. France takes the European Championship, and they are obliged to ensure the safety of fans from all countries. In many respects, because this enterprise is commercial and designed for economic return. So, I am a tourist, I have arrived: take care and nurture me! Somehow it doesn't work, but something strange turns out: violent fans present a non-illusory threat, and valiant French police pose a threat no less. Reminds Russian 90-e (sorry for repeating, but reminds). On the one hand, the "bandyuki", on the other - the "cops", on the third - the "riders", and where should the "poor peasant" go?
And, damn it, they are so tough, concrete and unsmiling ... First, you are criminally pressed, then riot policemen fly in ... But this is gangster 90 Russia, and then the center of civilization and culture ... Marseille, an ancient city with a rich history. And what do we see? I understand, now someone will say that security is incredibly difficult to provide, and it is impossible to curb the fans. I beg you, in my native Yekaterinburg not at all football, the Ural megaclub is playing, and so, in the days of the games at the Central Stadium, everything was stupidly closed by police and riot police. Who will you beat? To whom to rush bottles? You pack in forty seconds, and you do not have time to utter a word. There, from the abundance of law enforcement, even the aura changed, and it was just unpleasant to walk there (I did not go).
I imagine what will happen in the days of the World Cup 2018 ... There all the guys in the form of mobilize. So much catching up that there will be farting scary, not like fights. I have already read in the local news that Yekaterinburg, after watching the news from Marseille, are afraid of a repetition of the similar in their hometown. Naive. Naive Chukchi boys. No, we have problems with the World Cup 2018 will be the sea, but no one will hit the windows. I guarantee it. For a whole month the center will be closed and the movement will be paralyzed. And everyone will walk, but not everywhere ... And the police will, the police, riot police and cadets ... But there will be no clashes of fans. And in general, because of the abundance of epaulettes and caps, life will change dramatically, but not in the direction of smashing shop windows and physiognomy. Do you guys live in Russia? Break the showcase in the days of the championship and you will hear the sound of "forged boots" behind your back ... These are bonuses from living in a "totalitarian empire".
In Marseille, several beautiful rainbow soap bubbles burst. The first of which: there is some wonderful and beautifully equipped Western Europe, from which we learn and learn. How long in Russia, with aspiration, said: "But in civilized countries ...". Well, here it is, "civilized France": first the outrage of the "strike groups of fans", then the police outrage ... It strongly resembles some third world country. For example, Mexico. In such countries, the police do not protect you, it "presses" all those who fall under the hot hand. And it's absolutely useless to make any claims. And even unhealthy.
You can paint for a very long time how everything in France is great and beautiful, and post colorful photos, and freeze in admiration. However, in practice, everything turned out to be very, very sad. In principle, everyone saw it on television. Not impressive, you know, the effectiveness of the French state. It is not able to ensure law and order on the days of public events.
The second bubble that burst is the idea that we can and should negotiate with the West exclusively at the negotiating table. There were dozens of channels: diplomatic - the French could protest and make a claim to Russia officially, and this would be a strong move. They could work on football channels: gentlemen, if you behave yourself so badly ... There were options, and there were a lot of them. And it would not be an empty talking room - our functionaries are from football, the diplomats would have to be seriously puffed up by the art of hooligans. You see, this is Russia's reputation, and such claims could not be ignored. Only a very naive person can think that our "tiffozi" are heroes, and to spit on the frustration of the French.
Stupidly it was possible to call the Russian ambassador to France "on the carpet", and Lavrov would have added problems. There are civilized methods for solving such issues. When someone blocks your car in the parking lot, do not you rush to beat him glasses and cut tires? If someone stepped on your leg, you do not beat him in the face with your elbow? Or beat? So, all the "civilized" methods of work were ignored by the French and immediately began to "swing their fists in front of their nose." Once again: only a naive teenager (or the head of the Foreign Ministry of Ukraine) may not understand that a quiet, calm conversation between two diplomats, in which serious, substantiated claims are made, is nonsense, and a drunk crowd in the square is cool. Politics is mostly done behind closed doors.
But the diplomatic and official football channels were not involved in any way. As if there are no diplomatic relations between Russia and France (and they, by the way, at least three hundred years!). But compared to other issues of politics, this question is a foolish one (yes, football fans will excuse me). The question was not good, but the tactic of "pressing the official delegation" was chosen. And now, Mr. Lavrov makes a claim to the French ... Absurd and nonsense in one bottle. Even on such a childish, nonsense question (compared to the world revolution), it is not possible to agree on anything.
Everyone probably knows that even two gangster groups, when confronted, as a rule, try to come to an agreement, and do not immediately start firing from all trunks (life is not exactly a movie). For some reason, the French and our diplomacy do not work. And where is it, the very "international law"? I understand perfectly well and I guess that the excuse was used more painfully to "kick" Russia. But, excuse me, gentlemen, this is a "kindergarten", not a state policy.
By the way, the third beautiful soap bubble burst on the spot - the absence of nationalism, xenophobia and universal tolerance in Europe. Allegedly, people there already have neither gender, nor religion, nor nationality - everyone is equal and everyone is the same. But. However, in practice, everything was not so beautiful. We are often called upon to accept those very European values, but, forgive me, where are they? The theory should always be verified by practice, and here there is an obvious discrepancy: people are openly accused of some kind of crimes just because they have a certain nationality. Funny.
We all understand that, for example, some complaints about the Russian model of society from, for example, Uzbekistan can only cause a smile. But for some reason we got used to treating France with reverence. No need to throw anything at anyone, but it seems to me that we must begin to perceive the same Western Europe more adequately, without "sincere admiration." To relate exactly as they deserve it, and nothing else. Calm and cynical. If they claim some kind of superiority and "cultural leadership" - for God's sake! Just every time they have to prove it in practice. That is, it is not a given fact, but a certain theorem. Prove it. Mel just do not lose from zeal.