In St. Petersburg, work has begun on preparations for the return of the Aurora cruiser, which is going through a process of repair and restoration work, to returning to its former position. According to the administration of the governor of the Northern capital, repair and restoration work on the Aurora is completed by about 90%, and the entire range of work will be completed no later than Naval Day
fleet
RF (July 31).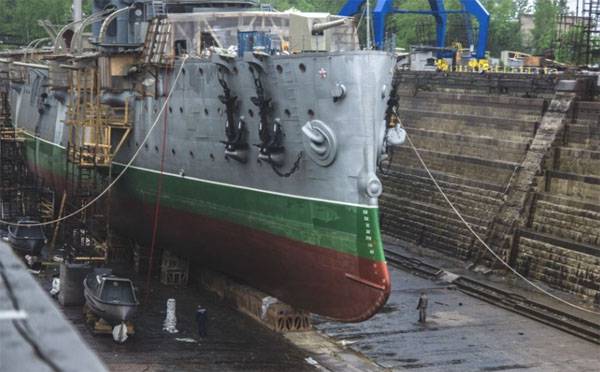 At the same time, it is noted that the final measures of a restoration nature will be held after the return of the cruiser to its "legal" place. Information Agency
TASS
cites a statement from the press service of the governor of St. Petersburg:
The ship will come to the parking no later than two weeks before the Navy Day - 31 July, during which time the cruiser will be connected to the city communications and an exposition will be installed on it. We are talking about a new part of the exhibition, the idea of ​​which appeared already in the course of repair: the Aurora will restore the medical unit, which was the first to use X-ray equipment in Russia. The arrangement will be completed by 30 September 2016.
It is noted that the total estimated repair work amounted to about 836 million rubles.
For reference: the cruiser "Author" moored at the Petrograd embankment in 1948 year. From 1956, the cruiser is a museum. To date, the Aurora has the honorary status of the ship number one of the Russian Navy.