In the Lviv region, preparations are under way for the next US-Ukrainian exercises with the involvement of NATO countries and "partners." Teachings
Rapid Trident-2016
will begin on june jnumx. About 27 thousand troops from 1,8 countries will take part in them. In addition to the USA and Ukraine, these are countries such as Georgia, Moldova, Turkey, Poland, Romania, Britain, Sweden, Lithuania, Belgium, Norway, Canada and Bulgaria.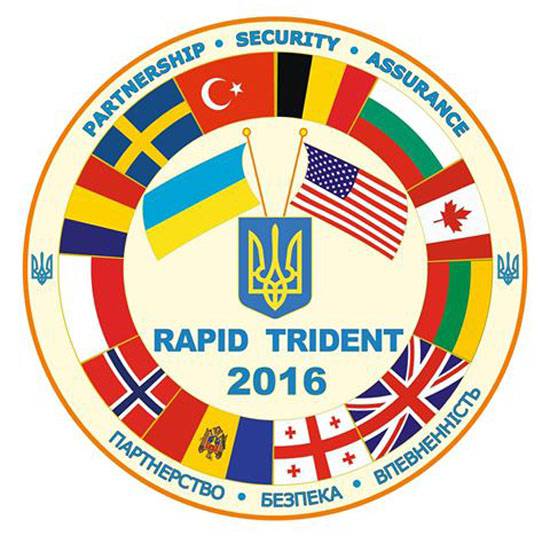 The exercise is planned to be held at the Yavoriv training ground, where American and Canadian military instructors are engaged in training Ukrainian security officials. The Ukrainian command spreads the message (given by the newspaper "
AiF.Ukraina
"):
The leadership of the exercise for the safety of the civilian population strongly recommends not visiting the location of the training sites of the test site during this period. Do not enter or drive in any type of transport in the areas indicated by signs. Observe the rules of the road during a meeting on the roads with military convoys and individual units of military road transport and armored vehicles. Residents are asked not to collect berries and mushrooms at the site.
The exercises of the mixed contingent in the west of Ukraine will last until July 8. The main declared goal of the exercises is combat coordination between units of NATO countries and the so-called "partners" of the North Atlantic military bloc.
Last year, similar exercises in Ukraine have already been held. Then the soldiers from 12 countries took part in the maneuvers. Now the geography of the participants has expanded somewhat.
Against this background, the Ukrainian security forces continue shelling the territory of the DPR. As a result of a night shelling of Gorlovka, 30 houses were damaged. According to DAN, in the first half of the day, the environs of Yasinovataya were fired from large caliber guns. From the statement of the interlocutor
DAN
:
In 10: 45, the Ukrainian side opened fire on the village of Vasilyevka with 122 caliber mm guns.