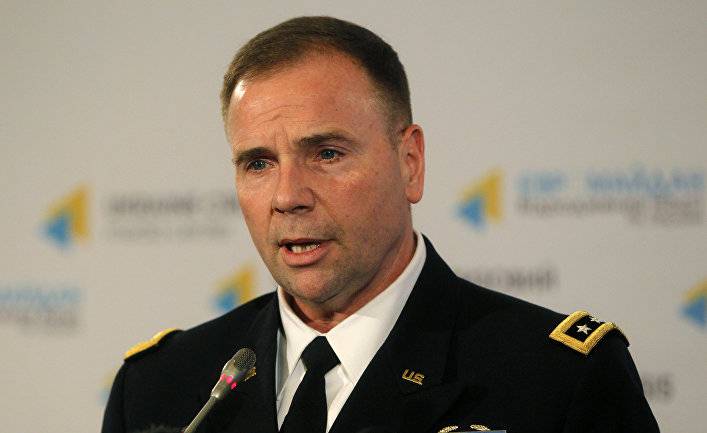 In an interview with Bild, Commander of US Forces in Europe, Lieutenant General Ben Hodges talks about hybrid ways of conducting hostilities on the part of Russia, its methods of conducting electronic warfare and the difficulties associated with rapid response in the event of an attack.Bild: Mr. General, is Russia now the greatest threat to NATO?
Ben Hodges: Yes, but it is important to remember that this is not about the only threat. Nevertheless, Russia is the only threat that can destroy an entire country, even if Russia did not show such intentions. The so-called Islamic State (a terrorist organization banned in the Russian Federation), on the contrary, proved that it has a clear desire to destroy us all. But he has no opportunities for that.
- How big is the risk that the Anaconda scenario becomes a reality (hidden attack on Poland)?
- Such an attack is unlikely, but the best way to keep the current situation is to conduct exercises and demonstrate that we are prepared. Effective containment works only when the necessary capacities exist. When you show that they are, and you are ready to use them.
"But if the attack does happen, how confident are you that you can respond quickly?"
"If an attack occurs in which the enemy resorts to cyber-weapons, disinformation, and other hybrid methods of warfare, it is very important to understand what exactly is happening. I am really concerned about the possible aggression in the framework of hybrid action. In addition, the challenge for us is the rapid acquisition of multinational connections. We do not have the same freedom of movement as the Russians. Therefore, we must create a kind of military Schengen zone.
- What do you mean by the military Schengen zone? What do you need to change for this?
- We need a military Schengen zone to ensure freedom of movement. Thus, we can quickly prevent a crisis or, if necessary, respond to it. One representative (from an Eastern European member country of NATO) told me: "I hope we will quickly get the appropriate permission." But planning cannot be based only on hopes and wishes. We know how long it will take to transfer troops and equipment with equipment. The problem is diplomatic resolution.
- Do you think that NATO in the event of an attack will be united?
- Absolutely sure. Since the founding of NATO, all member countries of the alliance have been kept together.
- How much has the condition of the Russian army improved in recent years?
"The Russians have greatly improved their electronic methods of warfare." This means that if someone sends an electronic signal, they will be able to interrupt, interfere with, or determine the location. Thus, they can shoot, not seeing you, even being at a great distance. This is very dangerous, and I am very concerned about this.
- We are ready for this threat?
"We learned a lot by observing how Russians used electronic methods in Ukraine. Every time the Ukrainians wanted to do something, the Russians fixed it in a timely manner and quickly opened fire. We need a safe radio communication, first of all, with international cooperation. Otherwise, the Russians will be able to easily determine our location, aim and open fire.
- German Foreign Minister Frank Walter Steinmeier criticizes NATO exercises, calling them "a symbolic parade tanks"And" military roar. " How do you comment on his words?
- I respect the Foreign Minister. And I am proud of the work done by the soldiers of 23 countries during these exercises.
- Russia was invited as an observer. Why do you think the invitation was rejected?
- Russia, being an observer, along with the rest of the countries, would then have to admit that we are talking about exercises. Therefore, Russians prefer to come as supervisors. So they sort of say: These are not legitimate teachings. This is a provocative preparation for the attack, so we come here to check. With similar games they try to distort what is actually happening. All this relates to the methods of handling Russian information. We call this approach "4 D" - dismiss, distract, distort, dismay (reject, divert, distort, intimidate).
- Are there any indications that Russia has already deployed nuclear weapon in Kaliningrad?
- I do not know whether she has already placed nuclear weapons there. But I know that she conducted exercises to deploy Iskander missiles in Kaliningrad. The Iskander missile systems can be equipped with nuclear warheads. It is extremely irresponsible on the Russian side, to talk openly about the use of nuclear weapons and to threaten European countries such as Denmark, Sweden or Romania with a nuclear attack. This is a much bigger provocation than Anaconda 2016. Russia claims to be a superpower and wants to be treated like a superpower. Then she must and behave as responsibly as it should be a superpower.
- Does Germany participate sufficiently in international missions?
"German soldiers are in Mali and Afghanistan, they train Kurds in Northern Iraq, these are just a few missions. For three of the nine NATO corps, Germany is a framework nation. I will not say whether this is enough. I will only say that I feel more involved and I highly welcome it.
- What do you expect from the summit in Warsaw?
- I believe that the alliance after the summit in Warsaw will produce the impression of a single organism. We will be united in the fact that in NATO it is about the general security of all 28 member countries of the alliance. This is not only about security in the context of Russia. There are also other threats to the security of the alliance, for example, ISIS (a terrorist organization banned in the Russian Federation) or mass migration.
Ben Hodges is the commander of the US ground forces in Europe, the commander of the American forces during the Anaconda military exercises that are currently taking place in Poland.